[ad_1]

The San Francisco 49ers invade the Edward Jones Dome for
a NFC West clash with the St. Louis Rams in Week 6 Monday Night
Football action.
There's been no shortage of off-field rumors throughout the
first five weeks of the San Francisco 49ers' season, but that
hasn't affected their play on the field, as the Red and Gold
are riding a mini two game winning streak heading into Monday.
The Rams fell just short of a fourth quarter comeback against
Philadelphia last week, and have just a single victory so far
in the campaign.
Oddsmakers opened the 49ers as 3-point road faves for the
contest, and most shops haven't changed that number since.
In order to get a grasp on this primetime matchup, we've
enlisted the help of those who know these teams the best.
Expert NFL bloggers Ryan Sakamoto of San Francisco blog
Niner
Fans and Will Horton of St. Louis blog Rams Herd strap
on the pads to debate not just who wins, but which team will
cover the spread in the contest.
WHY SAN FRANCISCO WILL COVER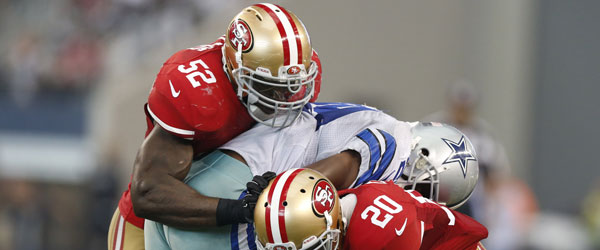 Ryan Sakamoto writes for Niner Fans. You can follow them on
Facebook and Twitter
@NinerFans
49ers strength vs. Rams weakness

The San Francisco 49ers are built for smash-mouth football. A
team that prides themselves at imposing their will down in the
trenches, it will be the 49ers third ranked rushing attack that
helps propel them to victory. Led by an offensive line where G
Mike Iupati ranks No. 1 by Pro Football Focus among all guards
in run-blocking, it's no wonder the 49ers average a whopping
145.0 rushing yards per game. With football being about
matchups, the run game clearly favors the 49ers offense as they
face a Rams run defense that ranks 29th in the NFL as they
allow 152.5 rushing yards per game. A true matchup of strength
vs. weakness, look for 49ers OC Greg Roman to expose this on
Sunday all while winning the time of possession.
49ers run defense will be too much for Rams
offense

The 49ers have already faced four of the top 10 running backs
in the NFL in DeMarco Murray, Matt Forte, LeSean McCoy and
Jamaal Charles, so St. Louis Rams RB Zac Stacy should be easier
to contain. A task easier said than done, as Stacy plays with
good pad-level all while extending runs after initial contact,
it will be the 49ers front seven that eventually sets the
tone.

A stingy 49ers defense that ranks fifth in the NFL in run
support, look for them to bottle up Stacy early and often as
they gang tackle the bruising north-south runner. If the 49ers
can maintain their gap integrity all while setting the edge,
they should hold Stacy to under 60 yards rushing, and I believe
they will as Stacy will have a hard time getting yards
throughout the night.

With the 49ers containing Stacy, that will then force the Rams
to be one-dimensional through the air, which does not
bode well for them as players like CB Perrish Cox and FS Eric
Reid will be patrolling the secondary.
49ers secret weapon – P Andy Lee

A defense's best kept secret is their special teams punter and
the 49ers have a good one in Andy Lee. If Lee is forced onto
the field, look for him to have a big night as he pins the Rams
deep in their own territory as he ranks No. 1 in NFL history
with a 42.4 net -average when kicking in domes. A true test for
the 49ers special-teams to make something happen, as they have
struggled all season in coverage, the return of S Bubba
Ventrone should help that cause as he's routinely the first one
downfield. Look for Lee to gain the advantage in field-position
as he forces the Rams offense to go 70+ yards on their
offensive drives.
WHY ST. LOUIS WILL COVER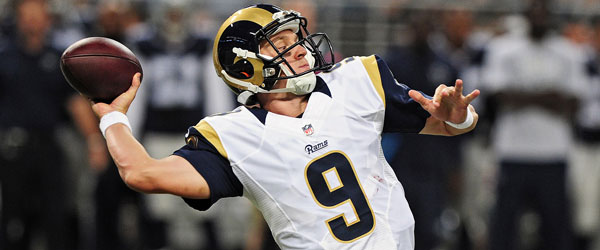 Will Horton writes for Rams Herd. You can follow them on
Facebook and Twitter
@RamsHerd
Austin Davis is playing out of his mind
As an undrafted and relative unknown playing in the horns,
Austin Davis often gets compared to Kurt Warner by wistful St
Louis fans. I won't go so far as that, but I see a lot of Tony
Romo in Davis. He moves well inside and outside the pocket, and
has the moxie to ignore the safe pass in favor of the big
downfield target. San Francisco still has one of the league's
best base run defenses, but they are vulnerable to big plays in
the passing game. This could be Davis' signature win.
49ers are not aging well up front
The 49ers once boasted one of the most dominant offensive lines
in the game, but suddenly Colin Kaepernick's protection is old,
gimpy and slow. And Kaepernick tends to hold the ball too long
while posing for the cameras looking for his receivers. That's
ominous facing a still-potent Rams defensive line that is
overdue for a get-right game.
Magic in throwbacks
The Rams always seem to play better – and get better luck –
when wearing their Greatest Show throwback unis, which they
will be wearing on Monday Night. The last time they wore them
vs San Francisco was 2012, when they rode a shocking goal-line
fake punt and a fumble recovery for a TD to a 16-13 overtime
winner.
Join the debate. Which team covers on Monday
Night Football – San Francisco or St.
Louis?
[ad_2]

Source link