[ad_1]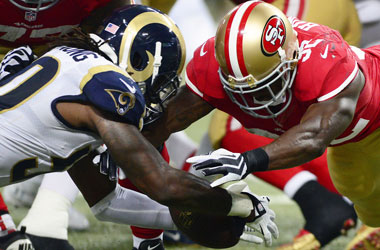 US PRESSWIRE
Monday Night Football features the San Francisco 49ers visiting
the St. Louis Rams in an NFC West division matchup which is
proving more difficult to handicap than oddsmakers would like.
What looks like a blowout on paper hasn't been as such when
it comes to setting the lines, despite the fact the Niners
have been perennial contenders the last four seasons, while
the Rams are starting their third string quarterback.
"This is a far harder game to handicap than it should be,"
says an
oddsmaker from Sports Interaction. "We've changed between
three and three and a half points for the Niners all week,
and we might have to change again before kickoff."
The problem with the game is the public is weary that the
Niners won't be consistently good and the Rams will be
consistently bad and with the number hovering around 3,
bettors are finding value with both sides.
"Normally, when we hang a three on a game, the three stays
hung," says the
oddsmaker from Sports Interaction. "But what's happening
with this game is that people are noticing that -3 is great
value on the 49ers while +3.5 is great value on St Louis as a
home dog. It's just that sort of a matchup.
Where bettors might find true value is betting the under with
the total currently set at 44.
"People love to bet the over on Monday Night Football," says
the
Sports Interaction oddsmaker, "and we have to factor that
into the total along with everything else."
[ad_2]

Source link