[ad_1]

This week, Monday Night Football brings us to MetLife
Stadium where the New York Jets host the Chicago Bears as 3-point
home favorites in the Week 3 finale.
The Jets have used a combination of great running (179 yards
per game) and run stopping (52.5 yards allowed per game) to get
out to a 1-1 straight up record and hung around with the
Packers at Lambeau Field one week ago.
The Bears dropped their Week 1 game to the Buffalo Bills, but
rebounded nicely to spoil the San Francisco 49er's debut at
Levi's Stadium with a 28-20 victory, covering the spread as
7-point road dogs.
In order to get a grasp on this primetime matchup, we've
enlisted the help of those who know these teams the best.
Expert NFL bloggers Adam Oestmann of
"Chicago Bears
Huddle" and Joe Caporoso of New
York blog "Turn on the Jets" strap on the
pads and debate which team will not only win, but cover the
spread Monday night.
WHY CHICAGO WILL COVER
Adam
Oestmann is the managing editor for Chicago Bears
Huddle on ChicagoNow. You can follow them
on Facebookand
Twitter @BearsHuddle.

Firepower

Marc Trestman honestly doesn't care about run-pass balance,
despite the fact that he talks about it each week, if only for
the sole purpose of appeasing the media. And on the road versus
the Jets' secondary, I assure you he plans to attempt an
offensive clinic through the air. If one Jets fans fan can tell
me how that secondary stops Brandon Marshall and Alshon Jeffery,
please feel free.

Tucker will stack the box

The Bears aren't worried about Geno Smith beating them through
the air, but they should be worried about the Jets' rushing
attack. All Mel Tucker needs do is stack the box and find ways to
put pressure on Smith when he does drop back. Easier said than
done? Maybe, but it's a strategy that can work, as evidenced by
the way Green Bay adjusted and held New York in check last
week.

Santonio coming home

Santonio Holmes isn't exactly what he used to be, but he has
shown some flashes with the Bears through two weeks. Leading up
to this game, there has been a little bit of bulletin board
chatter around Chicago that Holmes always caught a bad rap from
the New York media, not so much because he was a "locker room
cancer," but more because he simply didn't care for reporters. I
believe in motivation and intangibles, and if all else fails,
Holmes could be an X-Factor in this game.

WHY NEW YORK WILL COVER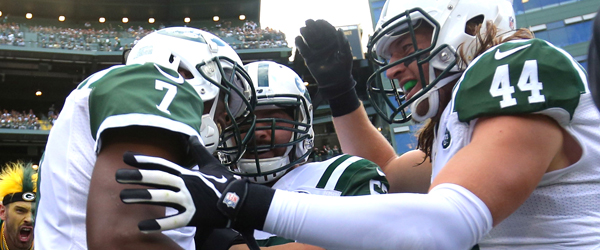 Joe
Caporoso is the Owner/Editor-In-Chief of Turn On The Jets. You can
follow them on Facebook and Twitter
@TurnOnTheJets.

The Running Game
Chicago has the 27th ranked rushing defense in the NFL right
now, while the Jets are first in the league in rushing. It
doesn't take a rocket scientist to figure out that we will see
plenty Chris Ivory, Chris Johnson and Bilal Powell. When the
Jets get rolling on the ground they are tough to beat. A well
established running game should help Geno Smith play well and
keep Jay Cutler off the field as much as possible.

Strong At Home
Since Smith has taken over as the starting quarterback, the
Jets are 7-2 at MetLife Stadium. In his last three home games,
Smith's QB Rating is 88, 91 and 96. I'd anticipate a strong
outing from the Jets still erratic quarterback and for the rest
of the young roster to play well at home.
Sons Of Anarchy
The Jets have a defensive line (Sheldon Richardson, Muhammad
Wilkerson, Damon Harrison and Quinton Coples) that should be
able to get after Jay Cutler and force him into a few
turnovers. Chicago is a different team when Cutler is sloppy
and the Jets should have the personnel in the front seven that
could potentially force him into that type of game.
Join in the debate. Who covers on Monday night:
Chicago or New York?
[ad_2]

Source link