[ad_1]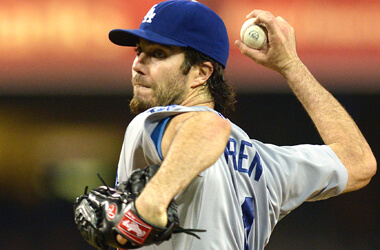 USA Today Sports
The Los Angeles Dodgers continue their series against
the lowly Colorado Rockies at Coors Field and bettors are
loving the visitors leading into first pitch Tuesday.
Dan Haren gets the ball for the Dodgers who is 1-5 in his
last six road starts versus teams with losing records, and
hasn't been such a hot bet in recent outings at Coors Field.
That has not deterred bettors, however, as Brad Kennedy of
TopBet tells
Covers.
"We are seeing heavy one-sided action which is to be expected
when the NL West leading Dodgers travel to play the National
League's worst team in Colorado," Kennedy says. "Dan Haren
has lost the last two outings at Coors Field, but our
player's feel like that streak will end tonight. We are
seeing a whopping 98 percent of all moneyline wagers being
placed on the Dodgers. The line for LA opened at -136 and we
have adjusted it twice to the current line of -132."
Bettors interested in the spread market are also coming out
in droves to support the Dodgers. Kennedy confirms that 95
percent of spread of wagers are backing the -1.5 (+115).
[ad_2]

Source link