[ad_1]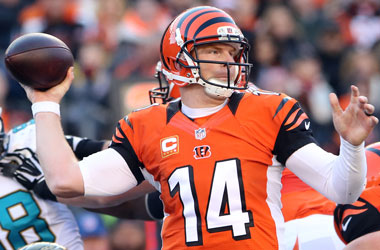 USA TODAY Sports
The Cincinnati Bengals host the Cleveland Browns in a showdown
for first place in the AFC North and bettors are backing the
Bengals to get the job done in the jungle.
The Bengals opened as 6-point home favorites and most of the
initial money came in on the home favorite, quickly moving
the line to Bengals -6.5, according to Peter Childs of
Sportsbook.ag.
"At 6.5, we still saw mostly Bengals action and that pushed
us to -6.5 -115 on the Bengals. At this number we're starting
to see a bit of Browns money taking the points," Childs told
Covers.
So far 75 percent of the overall action is on the Bengals and
if that trend continues
Sportsbook.ag might be forced to move the line to -7,
Childs added.
"If we do that we will assign some juice to the +7 like a
-115. We haven't seen any sharp money come in on the side yet
and I have a feeling they're waiting to see if we get to 7,
at which point they'll fire in but for now, we're sticking
with our -6.5 -115."
When it comes to the total, the number 45 is a bit inflated
due to the nature of primetime games. Bettors are wagering
all these games over and all these games have been flying
over.
"The real total on this game, factoring these teams power
rating and scoring stats, should be at around 44 points, but
again we opened high and with 70 percent of the action
already on the over, we're now at 46," Childs said.
[ad_2]

Source link