[ad_1]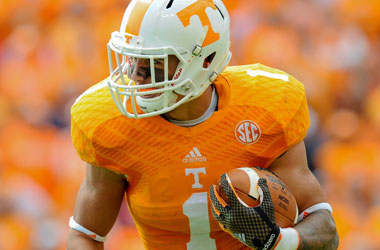 USA TODAY Sports
Each week during the college football
season, Covers Expert Steve Merril looks at the NCAAF odds and
tells you which spread to bet now, which one to bet later, and
which total to watch as the week plays
out.
Spread to bet now
Tennessee Volunteers (+17) at Mississippi
Rebels
Mississippi opened as 17-point favorites over Tennessee, and
some books are already down to 16.5 on this game. I expect
this line to drop throughout the week, especially since
Mississippi is off back-to-back big wins.
Tennessee is one of the most improved teams in the country,
and the Vols are still flying well under the radar. They've
been competitive against a brutal schedule, and even though
Mississippi is one of the best teams in the nation, bettors
should play this game now and take the best of the number.
Spread to wait on
West Virginia Mountaineers (+8.5) vs. Baylor
Bears
This line came out with Baylor as a 9.5-point road favorite
at West Virginia, and early money quickly came in on the
underdog, dropping the favorite down to -7.5. Subsequent
money has come in on Baylor pushing the line back up to 8.5
at most sportsbooks.
Baylor is a high-scoring public team, so I wouldn't be
surprised to see this line go up higher closer to kick
off. The Bears are off a big comeback home win over
TCU, and this is a tough spot on the road at a much-improved
West Virginia team. Wait and take the Mountaineers at a
better line closer to Saturday.
Total to watch
UCLA at California
UCLA and California have payed little defense this
season. The Bruins have allowed 27, 30, and 42 points
in their three conference games. The Golden Bears have
allowed 49, 56, 59, and 31 points in their four conference
games. Combined, the UCLA and California defenses are
allowing 42 points per game in conference play.
Both teams also possess potent offenses. Overall, UCLA
is averaging 35 points per game while California is averaging
42.8 points per game. The Bruins and Golden Bears are
both coming in off losses while playing lackluster offense,
so this game provides both teams the perfect opportunity to
explode and score a bunch of points. If this total
comes out lower than 70, the value will be on the Over.
[ad_2]

Source link