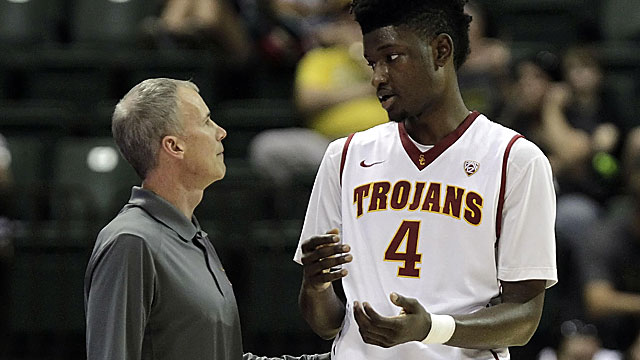 (Gambling is a huge part of sports these days, and degenerate drunks are forever looking for a late situation to get them back to even. Gary Parrish is here to help. Every night, by 8:30 p.m. ET, he'll post a prediction for a college basketball game scheduled to tip no earlier than 9 p.m. ET. Then you can bet it and get rich. This is #LastCallForDrunkBets.)
Thursday's game: Cal Poly at USC
Tip time: 10 p.m. ET
TV: Pac-12 Network
Line: USC -9
Did UNLV fall apart on us late Wednesday or did UNLV fall apart on us late Wednesday?
What a disaster.
Dave Rice's team was up 14 in the second half.
Lost by 10.
That means Arizona State closed on a 35-11 run on UNLV's home floor, and Arizona State did this despite the fact that its leading scorer and rebounder, Savon Goodman, didn't even play. Incredible. Totally maddening and just incredible for #LastCallForDrunkBets.
But let's move on …
#LastCallForDrunkBets committed to Cal Poly earlier this week when the Mustangs played at Saint Mary's. Naturally, Cal Poly lost by 30. So I'm totally out on Cal Poly. And I'm going to trust USC's Andy Enfield to get us back on the right side of the world.
#SoMadAtUNLV
#StillMadAtCalPoly
#FightOn
The pick: USC -9
Now let's go get that paper!
(Parrish's record in #LastCallForDrunkBets this season: 14-17-2)
[ad_2]

Source link