[ad_1]

The New York Giants enter Monday Night Football fresh off
a bye week, but are in tough against one of the best bets in the
league – the Indianapolis Colts.
The Colts (5-3 SU, 6-2 ATS) opened as 3-point road favorites
for the game and that line has held pretty firm since post. The
Giants (3-4 SU, 3-4 ATS), on the other hand, have dropped
two-straight games both straight up and against the spread but
those were both on the road so a home game will be welcome for
Big Blue.
In order to get a grasp on this primetime matchup, we've
enlisted the help of those who know these teams the best.
Expert NFL bloggers Kyle Rodriguez of
Indianapolis blog The Colts Authority and
Tim
Merritt of New York blog Bleed Big Blue strap on the
pads and debate which team will not only win, but cover the
spread Monday night.
WHY INDIANAPOLIS WILL COVER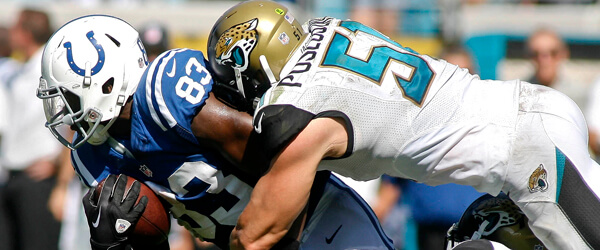 Kyle Rodriguez is a
senior writer and assistant editor at The Colts Authority. You can
follow them on Facebook and
Twitter @ColtsAuthority.
Dwayne Allen
The Giants are one of the league's worst defenses when it comes
to covering tight ends. Football Outsiders lists New
York as allowing the league's highest receiving DVOA to tight
ends. Meanwhile, the Colts have one of the NFL's best tight
ends in Dwayne Allen, who is third in DVOA for tight ends.
Allen has caught a touchdown in six of eight games so far this
year, and while his usage isn't super high (due to the Colts'
wealth of weapons), Luck targets him at an efficient rate.
Allen is also fifth among all tight ends in yards per reception
(14.8), despite not having top-end speed.
Vontae Davis' Health
The Colts defense had a bad week against the Steelers last
week, but it was a bit of a perfect storm. Not only was Ben
Roethlisberger a bad matchup for the Colts' blitz-heavy scheme,
but the Colts secondary was depleted after Vontae Davis left
early with a hamstring injury. Davis is easily the Colts' best
defensive back, and their man-to-man scheme depends heavily on
Davis' ability to lock down one side. With Victor Cruz out, and
Davis back healthy, the Colts' secondary should bounce back
against the Giants.
Improved Coaching
The Colts' coaching staff has been much improved this season,
from Chuck Pagano's aggressive special teams and fourth down
calls to more effective playcalling from both coordinators.
After an embarrassing loss in Pittsburgh and a long week to
prepare, the Colts should start fast against the Giants.
Indianapolis has started fast in most games this year, and have
been very prepared to start each week. Expect Pagano and the
Colts coaching staff to have Indianapolis ready to play on
Monday night.
WHY NEW YORK WILL COVER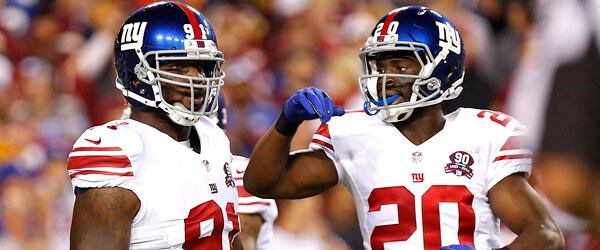 Tim
Merritt writes for Bleedbigblue.com. You can follow
the blog on on Facebook and twitter
@bleedingbigblue.
Turnovers
Did anyone see the last game Andrew Luck played vs. the
Steelers? Well he threw two interceptions. I know what you are
saying. "Please, Eli threw two interceptions a game – it seemed
like – last year, who cares?" But so far this year, Luck has
thrown nine INTs compared to Eli's five. (We all know most of
the five were not his fault). Every fan of an NFL team knows
this simple fact: if you don't turn the ball over, you have a
far better chance of winning and the Colts have been turning
the ball over while the Giants haven't. Again, Luck had two
picks but those were against a team that does not have a good
defense. (sorry Steelers, but you know its true). I feel (and I
hope) the Giants have a better defense than the one the
Steelers have so I feel more turnovers can happen.
Giants secondary vs. Colts wide receivers
Am I crazy that I think the Giants win this battle? T.Y. Hilton
is going to be a tough matchup. He is fast but Dominique
Rodgers-Cromartie can stick with him. If you have watched
Giants games, small Wrs are not the problem, it's the ones that
have size that give the Giants problems. But the Giants know
how to play speed receivers such as DeSean Jackson, so the
experience is there. Reggie Wayne is not playing as of right
now and Hakeem Nicks is coming back to Giants Stadium but he
hasn't done anything this season or last season or the season
before that. (Sorry Nicks, I thank you for your help with the
Super Bowl wins but you lost what you had). Prince (three INT)
and Antrelle (two INT) are right up at the top of the league in
this stat. I feel the secondary is up to the task and can win
this battle.

Prep time
The Giants had a bye week while the Colts just had Big Ben
throw for over 500 yards on them. The Giants should take it as
an insult if the Colts are confident going into this game after
the one they just played. Yes, the Giants have lost two
straight but they had the bye week to clear their minds. We
know Tom Coughlin has prepared the Giants for this game (like
he always does) but he had extra time to do it. The Giants have
come up with plans to deal with short comings such as the
losses of Cruz and Beason. They are ready. Is Big Ben better
than Eli? I don't think so. I expect at least a 300-yard plus
game from Eli and he has had more time to get used to this
offense. The defense has had time to heal and come up with
schemes to cover up their weaknesses as well.

Join the debate. Who covers the spread Monday night: Colts or
Giants?
[ad_2]

Source link