[ad_1]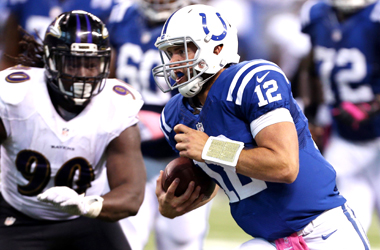 USA Today Sports
Going into the 2014 NFL season, nobody thought too much
about the Dallas Cowboys. They've been the poster child for
mediocrity for pretty much the entire 21st century.
But after five weeks, Dallas (4-1 SU, 3-2 ATS) looks
surprisingly solid, and it will play in the marquee game of
Week 6 when the Cowboys travel to Seattle to face the
defending Super Bowl champion Seahawks (2-1 SU and ATS). The
Cowboys outlasted Houston 20-17 Sunday, falling short as
5-point home chalk but winning SU for the fourth consecutive
week.
The Seahawks had a bye in Week 4 after edging Denver 26-20 in
overtime as a 4-point home favorite in Week 3. They still
have unfinished business in Week 5 – they travel to face
Washington in the Monday night game, so there's no line on
the Cowboys-Seahawks contest yet.
John Lester, senior lines manager for bookmaker.eu,
expects an uphill battle for Dallas, despite its current
upswing.
"Bettors are hopping back on the Cowboys bandwagon, but I
think they'll shy away from this one," Lester said. "The
Seahawks are on a short week, but with the massive home-field
advantage, we'll have to make Dallas at least a touchdown
dog."

Indianapolis Colts (-2.5) at Houston
Texans

The AFC South is either mediocre or awful – Indy and Houston
are both 3-2 SU, Tennessee is 1-4 SU and Jacksonville is a
dismal 0-5 SU. So the best of the batch meet in Houston for
the Thursday night game.

The Colts (4-1 ATS) fended off Baltimore 20-13 Sunday to cash
as 2.5-point favorites, while the Texans (also 4-1 ATS)
came up short in a 20-17 overtime loss at Dallas, but covered
as 5-point underdogs.

"The Colts are the better team, which is why we made them
road chalk," Lester said. "Defense will have to keep the
Texans in it, and it could, because I don't think they have
enough offensively to hang with Indy."

Chicago Bears at Atlanta Falcons
(-3)

Back in Week 3, Atlanta (2-3 SU and ATS) plastered Tampa Bay
56-14. But the Falcons have had nothing since, getting
trounced 41-28 at undermanned Minnesota as a 5-point fave,
then losing 30-20 Sunday to the New York Giants as a 4-point
road pup.

Chicago (2-3 SU and ATS) has also been up and down and is
also coming off back-to-back SU and ATS losses, falling 31-24
at Carolina on Sunday as a 1.5-point dog.

"Atlanta's offensive line is in shambles. Both O-lines in
this one are pretty bad, actually," Lester said. "The Falcons
are much better at home, and with the NFC South wide open,
they really need this."

New York Giants at Philadelphia Eagles
(-3)

Philly (4-1 SU, 3-2 ATS) is tied with Dallas atop the NFC
East, and New York (3-2 SU and ATS) is back in the chase with
a three-game SU and ATS winning streak after dumping its
first two games. The Eagles held off St. Louis 34-28 laying
3.5 points at home Sunday, and the Giants bested Atlanta
30-20 giving 4 points at home.

"For the time being, the NFC east is looking pretty
competitive – a far cry from where it was last year," Lester
said. "Neither defense can be trusted here. These are two
teams with loyal followers, but I'm guessing the money from
the Philly fans and the public will outweigh New York's for
this prime-time affair."

Colin Kelly is a Las Vegas-based contributor for Covers.
Follow him on Twitter: @ColinPKelly29.
[ad_2]

Source link