[ad_1]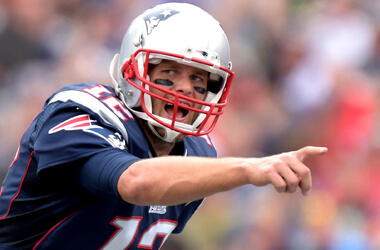 USA Today Sports
Each week during the pro football season, Covers
Expert Art Aronson of AAA Sports looks at the NFL odds and
tells you which spread to bet now, which one to bet later, and
which total to watch as the week plays out.
Spread to bet now
New England Patriots (-4) at Kansas City
Chiefs
Angst is in no short supply in New England, where the offense
looks worse than it has in more than a decade and there are
rumors that at 37 years old, Tom Brady can no longer cover up
whatever might be ailing the rest of the skill-position
players.
When word starts to creep across the country about New
England's issues, the line could melt down to a field goal.
Meanwhile, the Chiefs are fresh off a big victory over the
Dolphins (who manhandled the Patriots only a few weeks ago)
and look like they at last have a little life.
Alex Smith may not be the new Bart Starr, but he's still
better than any QB the Patriots have faced this season.
Kansas City backers should grab the extra point ASAP before
this becomes a field-goal line.

Spread to bet later

Detroit Lions at New York Jets (Pick)
Early money is heavily on the Lions as bettors were no doubt
influenced by Detroit's victory over Green Bay Sunday. But
hang on a bit.
The Lions are not the same team on grass as they are on turf,
and while the Jets aren't football Einsteins, Rex Ryan has
some talent to work with.
If serious public money continues to flow in on the Lions, in
a few days the Jets might even be getting a point or a point
and a half before this one kicks off. If so, it would be an
ideal situation for bettors who recognize that the Lions are
two different teams – depending on where the game is
played.

Total to watch

Tennessee Titans at Indianapolis Colts (45.5)
Yes, games against the Jaguars still count. The Colts put 44
on the board down in Jacksonville Sunday and should be pedal
to the metal again this week against the 1-2 Titans.
Tennessee has given up 59 points in its last two games after
taking advantage of a Chiefs team that couldn't get out of
its own way on opening day. With the Titans no more than an
average defensive team and the Colts lighting it up and
playing at home, the 45.5 frankly looks like a gift for Over
players.
[ad_2]

Source link