The first edition of Monday Night Football in the 2015 NFL campaign features a doubleheader as fans will be treated to the Philadelphia Eagles taking on the Atlanta Falcons in Georgia and the Minnesota Vikings colliding with the San Francisco 49ers in the Bay Area.

If you're still on the fence about who to bet for the aforementioned tilts, Covers enlisted the help of expert NFL bloggers to make a pitch for their favorite team. First up is Dave Choate of Atlanta Falcons blog The Falcoholic and Brandom Gowton of Philly blog Bleeding Green Nation.
WHY FALCONS WILL COVER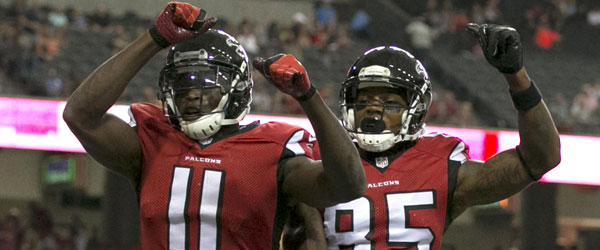 Dave Choate is one of the editors-in-chief of The Falcoholic, SB Nation's Atlanta Falcons team blog. You can follow them on Facebook and Twitter @TheFalcoholic.
Julio Jones Is Still A Beast
The Eagles have a decent secondary, and I think Byron Maxwell solidifies cornerback for them. That hardly matters when you're facing Julio Jones, one of the most gifted wide receivers in the NFL and a man who necessitates double coverage. Even if Jones has a relatively quiet game because of that coverage, the need to bracket him with a safety opens up things for Roddy White, Leonard Hankerson, Jacob Tamme, and the team's pass catching backs.
An Improved Front Seven
This isn't the same defense that looked inept, out of sorts and pathetic rushing the passer a year ago. With Vic Beasley roaming the field, Adrian Clayborn available to wreak havoc opposite him and pass rushing presence O'Brien Schofield, this team is equipped to harry Sam Bradford. Add in Justin Durant's excellent coverage work and Ra'Shede Hageman's big step forward at defensive tackle and you have a front seven that should be able to at least cause some problems for the Eagles' offense. In a likely shootout, that may be enough.
A Real Ground Game
Tevin Coleman looks fast and sharp, and Devonta Freeman is a well-rounded back who should be returning this week. The Falcons have prioritized run blocking, athletic linemen in their new front, so I'm hopeful the Falcons will achieve balance on offense at last, enabling their offense to hang with the Eagles in a high-scoring affair.
WHY EAGLES WILL COVER
Brandon Lee Gowton is the site manager of Bleeding Green, SB Nation's Philadelphia Eagles team blog. You can follow them on Facebook and Twitter @BleedingGreen.

Eagles offense against Falcons defense
Atlanta's defense
ranked dead last in the NFL last season per Football Outsiders. The
Falcons made some changes this offseason, including the hiring of former
Seahawks defensive coordinator Dan Quinn as head coach, but it's hard
to expect this unit to be completely rejuvenated. There are still a lot
of question marks. The Eagles have a lot talent on offense. Philadelphia
shouldn't have a hard time scoring.
Falcons' offensive line is a major concern
The
Eagles finished with the second most sacks of any NFL team in 2014.
There's no question Philadelphia's defense can get after the passer.
This is bad news for the Falcons because their offensive line is very
suspect. The team recently traded for former Titans starter Andy
Levitre, who was benched by Tennessee. The team also has a new starting
center. Right guard Chris Chester was cut by Washington this offseason.
The Falcons have been so desperate for offensive line help that they
worked out the injury-prone Jake Long leading up to this game. Matt Ryan
might not have much time to throw to his weapons.
Monday Night perfection
Chip
Kelly is 3-0 in Monday Night Football games. His team generally seems
to show up big in night games, and it's hard to see the Eagles
overlooking their first game of the season. After an offseason filled
with crazy moves, Kelly's team looks like it has the making of a
championship contender. It's his team now and it could be better than
it's ever been.
In the late game, the San Francisco 49ers will be seeking to put an incredibly rough offseason behind them and start the new season on a good note at home versus the Vikes. Fresh off a solid debut campaign, sophomore signal caller Teddy Bridgewater leads a revamped Minnesota team that has an energized Adrian Peterson ready to prove once again why he's one of the best running backs in the league.
We talk to Christopher Gates of The Daily Norseman and Ryan Sakamato of Niner Fans to uncover why they think their teams will cover the spread with the eyes of the nation upon solely them.

WHY VIKINGS WILL COVER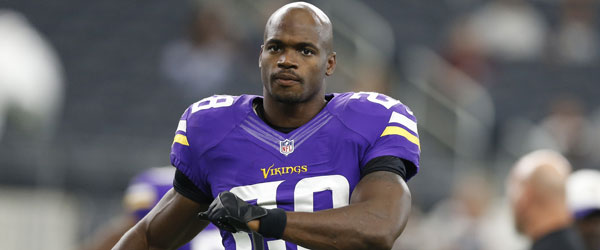 Christopher Norseman is one of the editors-in-chief of The Daily Norseman, SB Nation's Minnesota Vikings team blog. You can follow them on Facebook and Twitter @DailyNorseman.
Adrian Peterson is back
I'm not sure if it's been in the news anywhere or anything like that, but Adrian Peterson is going to be playing his first game since Week 1 of last year when he suits up on Monday night. I understand that nobody really knows exactly what the Vikings are going to get out of Peterson this season. He might have a little rust to knock off, but he's still going to be someone that the San Francisco defense is going to have to account for unless and until he shows that he can't. Peterson lining up in the backfield changes the way teams have to defend the Minnesota Vikings offense, and they're better equipped to take advantage of that than they were last year.

Teddy Bridgewater is emerging
Over the last five weeks of the 2014 season, Teddy Bridgewater was one of the best and most accurate quarterbacks in football. He did that despite not having a lot of talent at the skill positions and an offensive line that was falling apart. Now he has Peterson coming back, he has a deep threat to look for in Mike Wallace, and Charles Johnson is on just about everyone's list as a candidate to continue surging in 2015. Bridgewater can only benefit from having Peterson lined up behind him, as opposed to the Matt Asiata/Jerick McKinnon combo platter the team served up last year. He's already shown patience and the ability to go through progressions, and the injection of talent is only going to help him that much more.
The defense is ready
In their first year under head coach Mike Zimmer and defensive coordinator George Edwards, the Minnesota Vikings made huge strides on defense. The team is filled with young talent at every level of the defense, and now they've been through a year in the Zimmer system and have an idea as to what needs to be done and when. The Vikings will continue to grow and evolve on defense, and they should be able to take advantage of a San Francisco team that is, to put it mildly, in flux. The Niners have lost a lot of talent, particularly up front, and the Minnesota defense is well-equipped to be able to use that to get in Colin Kaepernick's face and make life difficult for him and the 49ers offense.

WHY 49ERS WILL COVER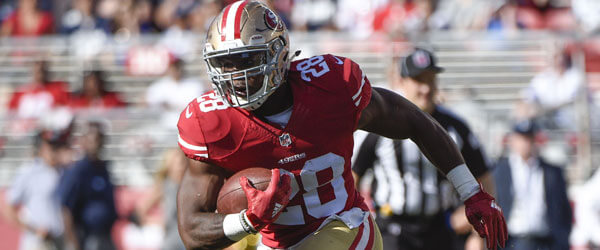 Ryan Sakamato is the founder of San Francisco 49ers blog Niner Fans. You can follow him on Facebook, Twitter @SakamatoRyan, and Instagram.
49ers' New Defensive Scheme
I'm a firm believer in defense wins championships, so if the 49ers hope to grind out a victory at home, it will need to start on that side of the ball, in what I predict to be a defensive struggle.
Under new 49ers DC Eric Mangini's hybrid 3-4 scheme, you can be sure he will give his fair share of exotic looks come opening day. A scheme that prides themselves on being both "aggressive" and "complex," Mangini will surely mix up his base packages in order to confuse the Vikings offensive line.
In fact, look for Mangini to use a 3-3-5 or '33' stack nickel defense. A base defense that favors an extra strong safety or defensive back (SS Jaquiski Tartt and/or DB Jimmie Ward) instead of a defensive lineman – look for more ball-hawking playmakers on the field as they try and make life difficult for QB Teddy Bridgewater.
If the 49ers front seven can maintain gap integrity all while setting the edge down in the trenches, they should be able to not only contain RB Adrian Peterson but make the Vikings offense one-dimensional and predictable.
TE Vernon Davis
In nine season openers, Davis has amassed 41 catches for 437 receiving yards and five touchdowns. Not great stats but when you take a closer look you will realize that Davis is a fantasy football stud on opening week.
In his last three openers, Davis has scored touchdowns in each of those games (five touchdowns total). Look for that trend to continue on Monday Night as I predict him to have a stat line similar to five catches for 65 yards and one touchdown.
Read-Option
The read-option is back and QB Colin Kaepernick will once again return to form as the deadly dual-threat quarterback.
Look for the 49ers to use more 21 personnel (two running backs and one tight-end) as FB Bruce Miller should see the field more in 2015, especially when using the diamond-formation read-option.
Back in 2013, the Green Bay Packers countered the 49ers read-option with the 'scrape-exchange,' scheme. The strategy entailed no guesswork on the defensive side of the ball, as the unblocked edge defender would attack the running back (dive) while the flowing linebacker would scrape to the outside and spy on the quarterback (pull).
49ers offensive line coach Chris Foerster realizes this strategy and as a result will use 'arc' blocks with Miller to attack that game-plan all while giving Kaepernick the needed running lanes to make plays with his legs. Look for Kaepernick and the 49ers offense to get back on track, as the 2012 Kap should be in full force on Monday Night.
Join the debate. Who covers in Monday Night Football: Philadelphia or Atlanta? Minnesota or San Francisco?
[ad_2]

Source link