[ad_1]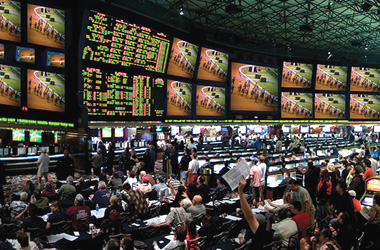 There are some fun places to watch and bet on football
when you're on the Vegas Strip but that's really just the tip
of the iceberg.
Almost 40 million people visited Las Vegas last year and
they're not all hanging out on the Strip. Las Vegas is home
to 2 million people and there are plenty of bars, restaurants
and casinos that cater to local residents and tourists who
just aren't into the "Strip" vibe.
It's a transient town and many people who live here come from
other cities. More than any other sport, football makes
people want to be around their brethren. There's something
about the emotion of watching football games with a room full
of people rooting for the same team.
There are a group of local bars that cater to fans of certain
football teams. For example there are multiple Bears,
Packers, Seahawks and Cowboys bars where fans of those teams
can hang out and watch the games with people that have
similar rooting interests.
When I moved to Las Vegas I went to the bar down the street
from my new house to catch a Sunday night game. Little did I
know that I was walking into a Patriots bar. The bar was full
of dudes yelling at the TVs with their "wicked pissah"
accents. Thankfully I left my Jets gear at home that night.
Every year the Las Vegas Review Journal does a great
job of
updating the list of team bars so you can hang with your
fellow fans when in Las Vegas.
The Westgate (formerly LVH and Hilton) has what is probably the
most famous sportsbook in Las Vegas – The Las Vegas SuperBook.
It's massive and located just off the Vegas Strip. They
probably offer the best lines of any Las Vegas book. You can
watch the games in the sportsbook with the masses or head into
the theater on an NFL Sunday. If you're a serious sports fan,
you have to at least check out the Westgate SuperBook to see
what it's like. Westgate is beginning renovations on the hotel
right now and there's a major facelift coming for the book. I
can't wait.
If you're in Downtown Vegas there are only a handful of
sportsbooks. The Golden Nugget is one of the few independently
operated books and, not coincidentally, offers great lines.
Additionally they have comfortable seating and a good amount of
TVs at various angles to watch the games.
Born and Raised is one of my favorite sports bars in Las Vegas.
There are TVs throughout the bar area but what really sets Born
And Raised apart is the living room area with numerous TVs to
watch the games. Both the food and service here are great.
My home casino is Red Rock Resort. I'm partial to their
sportsbook as far as the suburban locals casinos. Overall,
the casino is one of the nicer properties in Las Vegas. Their
sportsbook could use some updated TV screens but the main
screens they have now are huge. In this case size matters.
They're among the biggest you'll find in any book. The book
is also big with seating for hundreds. Drink service is
usually pretty quick as there are always cocktail waitresses
making rounds.
When you leave the Vegas Strip you have hundreds of options on
where to bet and watch football games. These are just some of
my favorites when I'm in the mood for something different or if
I don't want to hang out with tourists.
A benefit of leaving the Vegas Strip is that you'll often
find cheaper food and drinks at the bars and books. Depending
on where you place your bets you may find better betting
options too.
[ad_2]

Source link