[ad_1]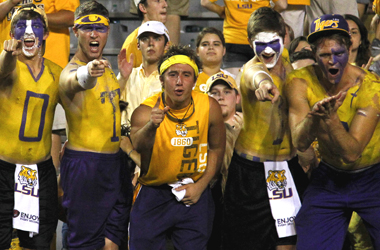 USA Today Sports
Tiger Stadium was supposed to be an impenetrable
fortress on par with The Eyrie from Game of Thrones. But a
bunch of Bulldogs stormed the gates of Death Valley and handed
the LSU Tigers just their third home loss since 2009 (35-3
SU).
Mississippi State stole a 34-29 victory as a 7-point road
underdog against Louisiana State Saturday, stunning the crowd
of 102,321 Tigers faithful.
According to Covers Expert Marc Lawrence, sometimes a great
home-field advantage isn't always good for the betting
public, which can overvalue how much impact the venue has on
the outcome. Case in point: Louisiana State is just 5-4 ATS
at home the past two years.
"For the most part oddsmakers are fixed on strength of the
teams more than the venue," Lawrence says. "Exceptions abound
for some teams that own well publicized home-field records".
Here are five of the most notorious college football stadiums
– bet them at your own risk:
Oregon Ducks, Autzen
Stadium
This stadium doesn't even hold 60,000 fans but is one of the
loudest environments for college football. It's small and
fans are close to the field, which creates a unique
environment. In a 2007 game, the crowd noise was measured at
127.2 decibels (130 decibels is considered deafening and can
cause immediate ear damage).
Baylor Bears, McLane Stadium/Floyd
Casey Stadium
If you're searching for a home team that wins ATS, then
look no further than the Baylor Bears. Since 2013, Baylor
is 9-0 ATS at home, covering the spread by an average of
19.6 points per game.
The Bears had unrivaled success at Floyd Casey Stadium and
have now moved to McLane Stadium. McLane Stadium was built
vertically to contain noise and amplify sound back to the
field. In addition to that, the seats are also closer to
the field than the average stadium.
Since 2003, Ohio State has won 90.1 percent of its home
games, boasting a record of 73-8. Known as the Horseshoe,
the crowd noise in Ohio Stadium has caused former Iowa
coach Hayden Fry to call for a system to measure crowd
noise and penalize teams if the crowd was too loud.
Ohio State backers may want to tread lightly with books
sticking the Buckeyes as 14.5-point home chalk hosting
Cincinnati Saturday.
Wisconsin Badgers, Camp Randall
Stadium
Since 2010, Wisconsin has a record of 26-3 SU at home,
winning 89.7 percent of those games while posting a
19-9-1 ATS count in that span – covering in 67 percent
of those home stands. So, there's a big reason the
Badgers are 33-point home favorites hosting South
Florida Saturday.
Between the third and fourth quarter the Badgers have
one of the best traditions in college football: House
of Pain's "Jump Around" will hit and the fans will
follow along, causing the stadium to shake. In a New
York Times article, engineering professor Mike Oliva
was quoted as saying the fans in the upper deck can
feel the stadium move from two to 10 inches.
Marshall is a team that is currently experiencing
great success at home. Over the last two years, the
Thundering Herd are 8-0 SU at home and more
importantly, 8-0 ATS.
They've covered the spread by an average of 14 points
in these wins. Overall, Marshall has won over 85
percent of their home games at Joan C Edwards
Stadium.
Pick:
San Diego
Start:
September 22, 2014 – 10:10 PM
Capper:
AAA
Sports
Offered at:
5dimes @ -122 San Diego
Analysis:
1* Free Play Padres.
Editors Note: After finishing the
2012/13 NFL season up over +$24,000
units, the 2013/14 NCAAF season up over
+$39,000, and after going a
PERFECT 6-0 w/ his NFL on Sunday, it
comes as little surprise to learn that AAA Sports is
DOMINATING the 2014/15 NFL season!
14-6 in Regular!
14-6 in Preseason! 11-0
(100%) w/ 10* NFL YTD!
The Padres have been very
good at home lately and I think they ultimately earn
a victory in this matchup with the Rockies. Colorado
sends Tyler Matzek (6-10, 4.19 ERA) to the hill, who
would surrender 11 hits but managed to hold the
Dodgers to two runs over 5 1/3 innings in a win in
his last outing. Note though that the lefty is 1-2
with a 4.29 ERA lifetime against the Padres and is
just 2-6 with a pedestrian 4.70 ERA on the road this
season. San Diego counters with left-hander Eric
Stults (7-17, 4.59 ERA) who is 3-2 with a 3.97 ERA in
68 innings pitched versus the Rockies lifetime; note
that the Friars are 8-3 in games started by Stults
against the Rockies. Both these teams come in hot but
I think the Padres have the advantage; yes the
Rockies have been hot in winning six in a row at home
but remember, they lost six straight away from
friendly confines before the skein. San Diego has won
six of seven so far on this home stand after a three
game sweep of the San Francisco Giants and is a
strong 46-32 at Petco Park this season (it doesn't
come as any surprise to learn that the Rockies are
one of the worst road teams in all of baseball with a
20-55). Additionally, the Padres are 5-2 when hosting
the Rockies the last three seasons. I think the home
side is worth the price of admission in this
spot.
AAA Sports
show
more show
less
[ad_2]

Source link