[ad_1]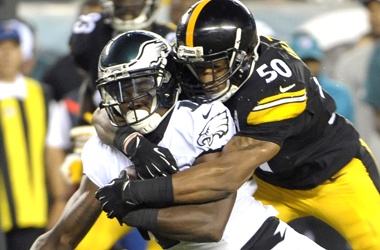 USA Today Sports
Referees continued to toss flags at a fast and furious
pace in the Thursday night matchup between the Pittsburgh
Steelers and Philadelphia Eagles. There were 27 more penalties
accepted in the game, which is still greater than the 23.7
penalties per game rate that games have seen through the first
two weeks of the preseason.
As
we featured yesterday, the incredible amount of penalty
flags littering fields league-wide forced oddsmakers to adapt
when setting totals for Week 3 of the preseason schedule. For
the first time in recent memory, all the NFL action this week
is working off a total that is 40.0 or higher.
The Steelers-Eagles opened with a total of 50, but closed at
most shops at 48.5. Regardless the number, the two teams
combined for 52 points, aided by the 202 yards that came from
the 27 penalties.
Friday sees five games on the board, including the Jaguars at
Lions (44.5), Panthers at Patriots (45.5), Giants at Jets
(42.5), Raiders at Packers (43.5) and Bears at Seahawks (45).
[ad_2]

Source link