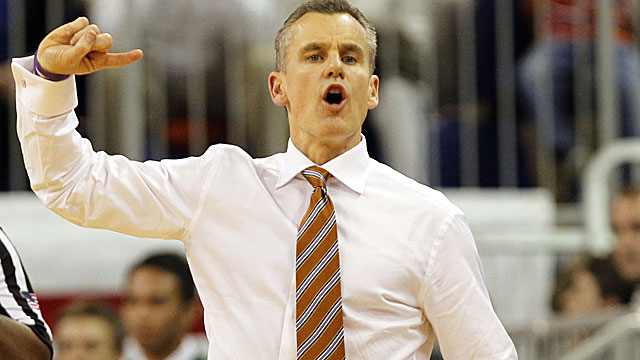 Billy Donovan remains in deep discussions with Oklahoma City and is expected, barring a sudden change of plans, to soon be named the Thunder's next head coach, multiple sources told CBSSports.com on Thursday.
A deal could theoretically be announced later Thursday.
Donovan could be introduced as soon as Friday.
Yahoo! Sports earlier reported that Donovan is "finalizing a multi-year deal."
CBSSports.com first reported last week, hours after OKC fired Scott Brooks, that "all signs" in Oklahoma City were pointing toward Donovan. Shortly thereafter, Thunder general manager Sam Presti began formal discussions with the longtime Florida coach, which led to a face-to-face meeting in Gainesville that was followed by a contract offer.
CBSSports.com reported Wednesday that the likely outcome was Donovan leaving Florida.
Donovan, 49, is OKC's only serious candidate.
Multiple sources told CBSSports.com that Donovan has been intrigued about a possible jump to the NBA for at least a couple of years, and that he actually considered moving last offseason when the Cleveland Cavaliers pursued him. Ultimately, though, a combination of not quite feeling comfortable with the situation in Cleveland — remember, this was before LeBron James' announcement — and having a Florida team projected by most to rank in the top 10 of preseason polls was enough to keep Donovan in Gainesville for a 19th season.
But this is an entirely different deal.
Donovan is this offseason coming off of a subpar season at Florida, in possession of a roster that won't be ranked next preseason, and presented with an opportunity to, in Oklahoma City, work for a friend (Presti) and coach two of the world's elite talents (Kevin Durant and Russ Westbrook). For those reasons and more, a move to OKC always seemed more likely than not, sources told CBSSports.com from the jump.
Durant, for what it's worth, is reportedly on board with the hire.
Donovan won six SEC regular-season titles, made four Final Fours and claimed two national championships in 19 seasons at Florida. He's coached several current NBA players — among them Al Horford, Joakim Noah, Brad Beal, Corey Brewer and Chandler Parsons.
Dayton's Archie Miller, Xavier's Chris Mack and Minnesota's Richard Pitino — the last of whom is a former UF assistant — are among the obvious candidates to replace Donovan.
[ad_2]