[ad_1]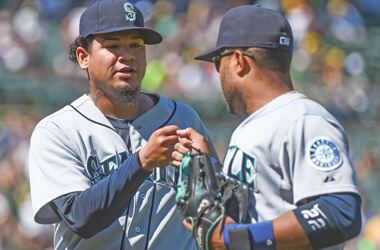 USA Today Images
With just three weeks left in the major league regular
season, the playoff pictures in the American and National
Leagues have started to come into focus. That's great news for
bettors seeking value in teams on the periphery of the playoff
race. A little faith in a long shot can pay off handsomely come
World Series time.
Here are two teams from each league that could come through
despite long odds (courtesy Bet365):
American League
Seattle Mariners (+1,000 to win pennant, +1,800 to
win World Series)
Seattle is in the hunt for both the first and second AL wild
card spots and should be a good bet to lock one of them down
on the strength of the best pitching staff in the majors
(3.03 ERA). The Mariners have also been swinging some hot
bats, averaging nearly six runs during a five-game winning
streak that came to an end in a 1-0 loss to Texas Sunday.
Seattle has 10 games remaining against Oakland and the Angels
– the two teams ahead of them in the West – but six games
against Houston should mitigate that.

Cleveland Indians (+2,800 to win pennant, +5,000 to
win World Series)

The Indians are a true long shot to do anything in the
postseason. They're not even expected to make it, sitting at
just 12 percent odds to do the unexpected and leapfrog the
other challengers for a wild card spot. But Cleveland comes
into the week on a high following a three-game sweep of the
White Sox and has four games left on an 11-game homestand.
Add in the fact that 13 of the Indians' final 20 games come
against teams with sub-.500 records, and the Tribe at least
have a puncher's chance.
National League
Atlanta Braves (+1,200 to win pennant, +2,500 to win
World Series)
Despite ranking near the bottom of the league on
offense, the Braves still have a remote chance of reaching
the postseason thanks to a sensational pitching staff that
could do plenty of damage if Atlanta does get to the
playoffs. The Braves will play six of their remaining nine
road games against bottom feeders Texas and Philadelphia, as
well as a three-game home series against the Mets. Of the
Braves' 10 remaining "difficult" games (Washington x 6,
Pittsburgh x 4), seven of those will be played in
Atlanta.

Pittsburgh Pirates (+1,600 to win pennant, +3,500 to
win World Series)
Pittsburgh is on a roll following an impressive road sweep
against the Chicago Cubs and looks to carry that momentum
into a four-game set against the host Phillies. The Pirates'
best chance of securing one of the two NL wild card spots
will come afterward, when they enjoy a nine-game homestand
against the Cubs, Boston Red Sox and Milwaukee Brewers.
Season-ending road series versus Atlanta and Cincinnati will
be challenging, but Pittsburgh has the offense (second in the
majors with a .328 OBP) to challenge for a postseason
berth.
[ad_2]

Source link