[ad_1]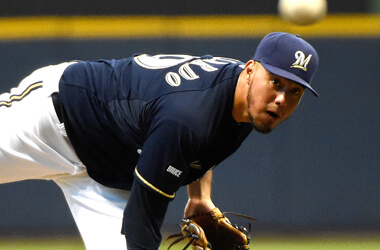 USA Today Sports
Baseball's regular season is just about over. As I
write this there are teams that aren't mathematically, but are
realistically, out of the pennant race that have already begun
shelving players for the rest of the year. With a handful of
teams really in contention for a playoff spot teams have been
smacked with reality that the season is over.
The Brewers might be the team that was slapped hardest this
season. On August 25th the Brewers odds of making the playoffs
according to

Fangraphs
were about 90 percent. Two weeks later they were
20 percent. Baseball fans that wagered on the Brewers to win
the World Series at 70-1 before the season started are sad that
their long shot has fallen so hard. The Las Vegas Porterhouse
(my fantasy baseball team) is losing points because K-Rod
stopped getting saves. It's kinda sad.
Every year I make a couple small futures wagers in baseball.
Last year I was 1-1 with my bets as the Yankees went over their
season win total for a win and the Tigers didn't win the World
Series for a loss. As of writing this I'm on the verge of the
Mets going over their 74.5 win total for the 2014 season.
Meanwhile, I have positive vibes for my Nationals World Series
futures wager at 10-1.
I don't look at futures much during the season. My wagers
aren't large enough to make me sweat to keep track every day.
I'd rather focus on games, players and match ups. I do look at
futures for betting opportunities in the last month of the
season. Two years ago I placed a big $20 bet on the Phillies to
win the World Series with two weeks to go in the season. Why
$20? Because the Phillies were 1,000-1 and I would have been
happy with a $20,000 win.
If you remember the 2012 season, the Brewers and Phillies were
hot at the end of the year. Both teams were out of the playoffs
but closing fast. Before my wager a couple of friends had
already placed similar wagers. We woke up the next day and the
Phillies dropped to 500-1 then 250-1 the following day. We like
to joke that our $20 wagers moved the odds but we know it
probably didn't. One significant wager probably had more of an
effect on the numbers. A few days later a friend placed a $100
wager on the Phillies and the odds plummeted below 100-1.
The Phillies run stalled with a few days remaining in the
season. I lost the bet but following the $20k dream may have
made this wager the most fun bet I've made in a casino in my
life. The Brewers saw similar betting action and their odds
dropped similarly. This betting action on these two teams in
Las Vegas seems to have changed baseball futures forever.
Before this season there wasn't a team with futures odds
anywhere near 1,000-1. The longest odds were on the Marlins at
200-1 and Astros at 250-1. If you look at
baseball
futures
today you're not going to find any teams with a
remote chance to win that have odds beyond double digits. Since
that run with the Phillies and Brewers the sports books have
laid low not giving any late season opportunities for any fun
action.
I gamble for entertainment. I want to win more than anything
but I also want to have fun with my bets. Sports books are a
business so it's understandable that they'd want to protect
themselves from any losses. It's also understandable why
recreational or value bettors would rather spend their money
elsewhere. There should be a way for sports books to offer
value to customers while protecting themselves from losing bets
that will drive them out of business.
[ad_2]

Source link