[ad_1]


Auburn Tigers at Kansas State Wildcats (+8.5,
65.5)
As a member of the Southeastern Conference, Auburn faces plenty
of elite opponents – both at home and on the road. However, the
Tigers tend to play it safe when it comes to their
non-conference schedule, as Thursday's matchup against Kansas
State will mark the first time since 2002 that Auburn is
playing a true road game against a ranked, non-conference
opponent. The fifth-ranked Tigers have put up 104 points
through two games thanks to a dominant rushing attack, while
the 20th-ranked Wildcats know they need to improve upon their
performance in Week 2.
"It's going to take a heck of a lot of work," Kansas State
quarterback Jake Waters said, "and a heck of a lot of
preparation and going out and executing (to beat Auburn). It is
going to be a tough game, no matter what. We will be fortunate
to come out on top. If we do, it will be a game that puts a
stamp on the start of the season, but we have a lot of work
still to do." The Wildcats needed 19 unanswered points to
defeat Iowa State 32-28 their last time out, while the Tigers
dismantled San Jose State 59-13 but will have their work cut
out for them against coach Bill Snyder's crew. "That's one of
the toughest places to play," Auburn coach Gus Malzahn said.
"They've got an outstanding coach who's a legend. You can just
watch them on film and they're very, very good at what they do.
… This will be our first road test. We're going on the road
to a top 20 team, and any time you go on the road (against) a
top 20, you better have your 'A' game. That's our challenge."
TV: 7:30 p.m. ET, ESPN.

LINE HISTORY: The Tigers opened as 9-point road faves
and have been bet as high as -10, but have settled back down
below the opening number and are now listed at Auburn -8.5. The
Total opened at 66 and is down slightly to 65.5.
INJURY REPORT: Auburn – WR Sammie Coats
(questionable Thursday, leg). Kansas State – N/A.
WEATHER REPORT: It will be partly cloudy with
a 17 percent chance of rain and temperatures will be in the mid
70s around kickoff. There will also be an eight mile per hour
wind blowing across the field from east to west.
COVERS POWER RANKINGS: Auburn (-23.5) – Kansas
State (-14) + home field (-3) = Kansas State (+6.5)

WHAT BOOKS SAY: "Auburn is currently a 9-point
favorite over home team Kansas State. Despite the fact that
they are 'Auburn' and the clear public favorite and that the
line moved from 8.5 to 9 this week, I think bettors are still
somewhat apprehensive in jumping on No. 5 team in the country
in their first road game. Last year they struggled in their
first road game against LSU, losing 35-21. We're still going to
see 65 to 70 percent of the action come in on Auburn, but
that's less than it would have been in year's past." –
GTbets
Oddsmaker.
WHAT CAPPERS SAY: "When Auburn meets Kansas
State on Thursday night, we'll see two of the best dual threat
quarterbacks in the country in Nick Marshall and Jake Waters.
Marshall is off to a slow start, with a 56 percent completion
rate and only 151 passing yards with one touchdown in two
games. Waters on the other hand put up huge numbers against
Iowa State last week (239 passing yards, 138 rushing yards, 2
TDs)." – Covers
Expert Jesse Schule.
CHEERLEADER WAR: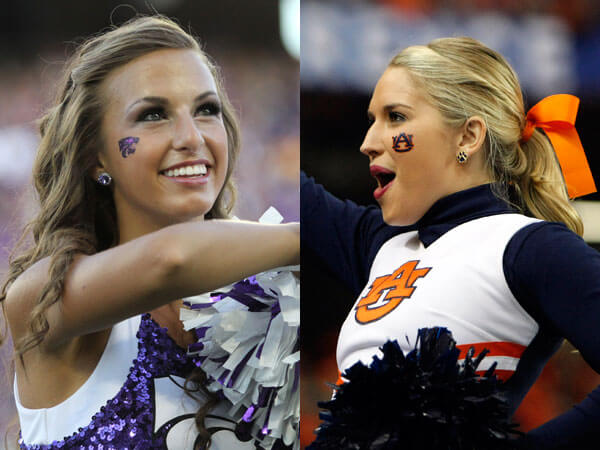 ABOUT AUBURN (2-0, 2-0 ATS, 2-0 O/U): The
Tigers had 358 rushing yards against San Jose State and rank
seventh nationally with 330 per game while running for at least
200 in 13 consecutive contests. Quarterback Nick Marshall has
not had to do much through the first two weeks, but he still
has guided Auburn to 12 straight games of at least 30 points –
a school record. Defensively, the Tigers registered 10 tackles
for loss against San Jose State, including three by defensive
tackle Montravius Adams.

ABOUT KANSAS STATE (2-0, 0-2 ATS, 2-0 O/U): Following
a 39-point win over Stephen F. Austin in Week 1, the Wildcats
needed a second-half rally that included two rushing touchdowns
by Waters – who finished with a career-high 138 yards on the
ground – to defeat the Cyclones. Charles Jones also ran for a
pair of scores as Kansas State recorded its first
come-from-behind victory since 2011. The Wildcats continue to
receive strong play from senior wideout Tyler Lockett, who
racked up 136 receiving yards against Iowa State and needs one
more 100-yard effort to break the school record of 10 that he
currently shares with Jordy Nelson (2005-07) and Quincy Morgan
(1999-2000).

TWEET BEAT:
TRENDS:
* Auburn is 11-0 in its last 11 games following an ATS win.
* Kansas State is 4-0 ATS in its last four games following a
bye week.
* Over is 6-1 in Auburn's last seven games overall.
* Over is 9-2 in Kansas State's last 11 games following a bye
week.
COVERS CONSENSUS: Almost 59 percent of wagers
are backing Auburn at -8.5.
[ad_2]

Source link