[ad_1]

Milwaukee Brewers at St. Louis Cardinals
(-144, 6.5)
Adam Wainwright may not have pitched up to his usual standards
this season, but he can join Clayton Kershaw as the only
19-game winners in the majors when he and the St. Louis
Cardinals face the visiting Milwaukee Brewers on Wednesday in
the second contest of their three-game set. The Cardinals will
be looking for their ace to play the role of stopper after
blowing a ninth-inning lead in Tuesday's series opener. St.
Louis leads Pittsburgh by 2 1/2 games and Milwaukee by four in
the National League Central.
The Brewers may have saved their season by squeezing out a 3-2
win Tuesday, getting a tying sacrifice fly from Matt Clark in
the ninth inning before Hector Gomez delivered the go-ahead
bloop single in the 12th. "You know something? We deserved a
bloop," Milwaukee manager Ron Roenicke said. "They (the
Cardinals) get bloops to hurt us all the time." It was the
fifth win in six games for the Brewers and got their rugged
nine-game road trip off to a successful start.
TV: 8:15 p.m. ET, ESPN, FSN Wisconsin
(Milwaukee), FSN Midwest (St. Louis)
LINE HISTORY: Pinnacle Sports opened the
Cardinals as -145 home faves and they were bet as high as -155
before settling back down to -144. The run total is sitting at
6.5.
INJURY REPORT: Brewers: N/A
Cardinals: 1B Matt Adams (Ques-Oblique)
COVERS POWER RANKINGS: Brewers (-152),
Cardinals (-190)
WEATHER REPORT: There is a risk of
thundershowers before the first pitch, but by game time the
weather should be overcast with a slight wind blowing towards
left field.
WHAT SHARPS SAY: "The Cardinals' Adam
Wainwright is one of the best pitchers in the league and he is
having another solid season with a 2.56 ERA and a 1.05 WHIP in
30 starts (211 innings). Surprisingly though, Milwaukee's Mike
Fiers actually has better numbers this season with a 1.84 ERA
and 0.86 WHIP. However, Fiers' dominance must be taken
with a grain of salt as the right-hander has only pitched 53
innings this season with only 11 appearances (seven starts).
Last year, Fiers struggled with a 7.25 ERA and 1.52 WHIP in 11
appearances (3 starts). He has shown power during his four
years in the Majors with a 191/58 K/BB ratio in 205 career
innings pitched." Covers
Expert Steve Merril.
WAG WAR: Brewers RF Ryan
Braun's model wife Larisa Fraser and Cardinals 3B
Matt Carpenter's wife Mackenzie.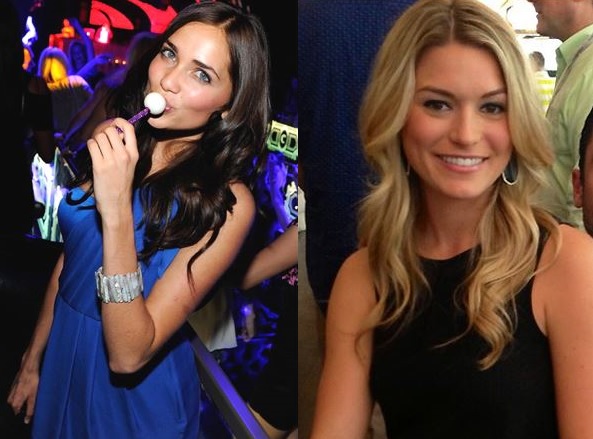 PITCHING MATCHUP: Brewers RH Mike Fiers (6-2,
1.84 ERA) vs. Cardinals RH Adam Wainwright (18-9, 2.56)
One of the few bright spots during Milwaukee's slide has been
the performance of Fiers, who is 6-1 with a sparkling 1.74 ERA
in seven starts since being recalled from the minors. Fiers
wound up pitching five scoreless innings for the win versus the
Marlins after yielding two runs over 6 2/3 frames to beat St.
Louis in his previous outing. Fiers is 2-0 with a 1.31 ERA in
five career appearances (three starts) against the Cardinals.
Wainwright labored throughout August, going 2-4 in six turns
and allowed fewer than three runs only once, but he has
rebounded to win three straight starts. He earned the victory
despite surrendering three homers against Pittsburgh on Sept. 2
and has followed that up with a pair of stellar performances,
yielding two runs over 17 innings. He must be wary of Aramis
Ramirez, who is batting .411 with three homers in 56 at-bats
against him.
TWEET BEAT:
TRENDS:
*Brewers are 6-1 in Fiers' last 7 starts.
*Over is 13-5 in Wainwrights last 18 starts as a home favorite
of -110 to -150.
*Cardinals are 5-1 in Wainwrights last 6 starts vs. Brewers.
COVERS CONSENSUS: Just over 64 percent of
wagers are on the Cardinals at -144.
[ad_2]

Source link