[ad_1]


Denver Broncos at Seattle Seahawks (-5, 48.5)
Peyton Manning and the Denver Broncos certainly won't lack for
motivation when they visit the Seattle Seahawks on Sunday with
a chance to avenge a humiliating beating in last season's Super
Bowl. It's only the sixth time in league history that a Super
Bowl rematch will occur in the following regular season and
gives Denver an opportunity ease the pain of a 43-8 thrashing
at the hands of Seattle. To do so, the Broncos must upend an
opponent that is 16-1 in its last 17 at home.
The Seahawks' defense was the toast of the NFL after shutting
down Manning and a high-powered attack that eclipsed the league
record for points scored in a season, but Seattle did not look
so invincible in last week's 30-21 setback at San Diego.
Manning, who shattered NFL single-season marks for touchdown
passes (55) and yards (5,477) in 2013, is off to another fast
start with three touchdown passes in each of Denver's first two
wins. Wide receiver Wes Welker makes his season debut for the
Broncos after his four-game suspension was cut in half by the
league.
TV: 4:25 p.m. ET, CBS.
LINE HISTORY: Books opened with the Seahawks
-4.5, but that is now -5. The total has held at 48.5.
INJURY REPORT: Broncos – WR
Wes Welker (Probably, suspension), LB Lerentee McCray (Out,
knee). Seahawks – TE Zach Miller
(Questionable, ankle), RB Marshawn Lynch (Questionable, back),
RB Christine Michael (Questionable, hamstring).
COVERS POWER RANKINGS: Broncos (-7.5) –
Seahawks (-6.25) + home field (-3.0) = Seahawks (-1.75)
WEATHER: Forecasts are calling for
temperatures in the low 80s with wind blowing from the west at
3 mph.
WHAT CAPPERS SAY: "The Seahawks' pass defense
showed some signs of weakness last week when the lost outright
30-21 as a 5-point road favorite at San Diego. Seattle allowed
7.5 yards per pass and 76 percent completions in that game. Now
Seattle returns home where they are 18-1 SU / 14-5 ATS the with
QB Russell Wilson at the helm. It will be interesting to see if
the crowd noise hinders Denver QB Peyton Manning and his
"Omaha" audibles at the line of scrimmage." Covers
Expert Steve Merril.
CHEERLEADER WAR: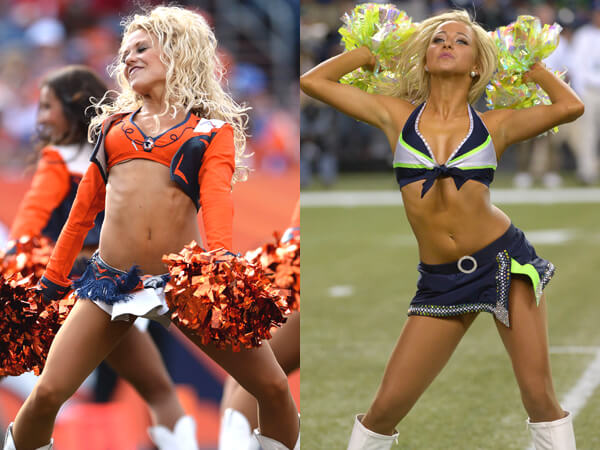 ABOUT THE BRONCOS (2-0 SU, 0-2 ATS, 1-1 O/U):
While the revenge factor – "This is what we've been waiting
for," wideout Andre Caldwell said – cannot be overstated,
Denver must figure out a way to keep its collective foot on the
throttle after nearly blowing big halftime leads in home wins
over Indianapolis and Kansas City. "We're still figuring out
what our strengths are, what things we can improve on and what
things we can eliminate," Manning said after the Broncos scored
a combined 10 second-half points in their first two games.
Newcomer Emmanuel Sanders (team-high 14 catches) has thrived in
the absence of Welker while tight end Julius Thomas already has
hauled in four scoring passes, but running back Montee Ball has
rushed for only 127 yards and is averaging 3.6 per carry.
Denver's retooled defense, featuring DeMarcus Ware, Aqib Talib
and T.J. Ward, ranks 30th in passing yards allowed (300.5).
ABOUT THE SEAHAWKS (1-1 SU, 1-1 ATS, 2-0 O/U):
Although Seattle had no answer for tight end Antonio Gates in
last week's loss, it is a different team playing at rowdy
CenturyLink Stadium, as evidenced by a dominating 36-16 victory
over Aaron Rodgers and Green Bay in the season opener.
"They're really loud, they're really raucous and they always
have great energy," All-Pro cornerback Richard Sherman said of
the league's loudest venue. "It really gives us a chance to
feed off their energy." Although quarterback Russell Wilson,
who played flawlessly in the Super Bowl victory, has four TDs
and is completing nearly 68 percent of his passes, the normally
dominating defense gave him few chances by allowing San Diego
to hold the ball for over 42 minutes. Wideout Percy Harvin has
more yards rushing than receiving, but the key for Seattle is
Marshawn Lynch, who rushed for only 36 yards on six carries
last week.

TWEET BEAT:
TRENDS:
* Broncos are 0-4 ATS in their last four games on
fieldturf.
* Over is 4-0 in Seahawks last four games in September.
* Over is 6-2 in the last eight meetings.
* Seahawks are 4-0 ATS in their last four games in Week 3.
COVERS CONSENSUS: 56 percent of wagers on
Covers Consensus are backing the visiting Broncos.
[ad_2]

Source link