[ad_1]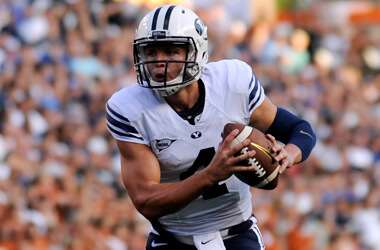 USA Today Sports

Houston Cougars at BYU Cougars (-18.5,
58.5)
Houston doesn't have a lot of time to prepare for its trip to
Brigham Young on Thursday, so coach Tony Levine is going to
refer back to last year's hard-fought 47-46 loss to BYU.
"It'll be a physical game," Levine said Saturday. "It
certainly was last year and (BYU) is a physical program. They
are always one of the top defenses in the nation. It is about
us and how we feel we can play. We have got to do a great job
with turnovers and turnover margin and we've got to fly
around and tackle on defense and get those guys on the
ground." Houston felt pretty good Saturday after a 47-0
beating of Grambling State, forcing six turnovers and scoring
a defensive touchdown.
Houston will try to keep BYU's defense – which has been
impressive in two lopsided victories – off-balance by using
different personnel in the backfield. John O'Korn showed
improvements between the first and second week and the club
has used receivers Greg Ward Jr. and Daniel Spencer at
quarterback in special packages. BYU quarterback Taysom Hill
has accounted for 685 total yards, five rushing touchdowns
and three scoring passes on the way to back-to-back FBS
Independent Offensive Player of the Week honors.
TV: 9 p.m. ET, ESPN.
LINE HISTORY: Most shops opened BYU -18 and
most are now offering -18.5. The total opened 57 and is now
up to 58.5.
INJURY REPORT: BYU – WR Nick Kurtz
(Indefinitely, foot).
WEATHER FORECAST: Forecasts are calling for
temperatures in the mid-50s with clear skies and wind blowing
to the south endzone at 9 mph.
CHEERLEADER WAR: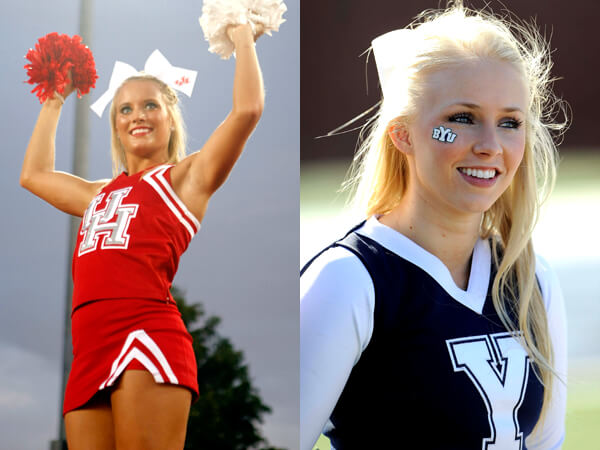 ABOUT HOUSTON (1-1): O'Korn has completed 52.2
percent of his passes for 404 yards, one touchdown and four
interceptions while Ward Jr. (five carries for 22 yards and a
score) and Spencer (two carries for minus-1 yard) have mostly
been used on running plays. Kenneth Farrow leads the ground
game with 151 yards after a career-high 130 against Grambling
State. Houston is allowing 342.5 yards and has forced a
turnover in 25 straight games – the third-longest active
streak in the country.
ABOUT BRIGHAM YOUNG (2-0): BYU is allowing 8.5 points and
just 76.5 yards rushing after road wins over Connecticut
(35-10) and Texas (41-7). Hill has completed 73 percent of
his passes and is averaging 5.4 yards per run while Jamaal
Williams rushed for 89 yards against Texas. Linebacker
Bronson Kaufusi, who had two sacks against UConn, left the
Texas game with an ankle injury and his status is unknown.
TWEET BEAT:
TRENDS:
* BYU is 3-0-1 ATS in its last four home games.
* Houston is 1-4 ATS in its last five games overall.
* Over is 6-0 in Houston's last six Thursday games.
* Under is 4-0 in BYU's last four Thursday games.

COVERS CONSENSUS: According to Covers Consensus, 71
percent of wagers are backing BYU.
[ad_2]

Source link