[ad_1]

LSU Tigers at Auburn Tigers (-7.5,
58.5)
Fifth-ranked Auburn puts its 12-game home winning streak on the
line when it hosts No. 15 LSU for a Southeastern Conference
West Division showdown Saturday night. It's the beginning of a
brutal stretch for Auburn as it tries to defend its SEC crown
and claim a spot in the inaugural four-team playoff. LSU has
won three straight meetings and six of the last seven,
including a 35-21 home win last season, but the home team has
won 12 of the last 14 contests in the series.
After surviving a scare at Kansas State on Sept. 18, Auburn
cruised to a 45-17 win over Louisiana Tech last week. LSU
couldn't complete a furious comeback in a 34-29 loss to
Mississippi State in its SEC opener two weeks ago but was sharp
in a 63-7 tuneup versus New Mexico State last Saturday. A
victory would be coach Les Miles' 100th at LSU, while Auburn
seeks its 300th all-time victory in SEC play.
TV: 7 p.m. ET, ESPN. LINE: Auburn
-7.5
LINE REPORT: The line opened at Auburn -8.5, but
bettors have pushed it down to -7.5. The total has been
shifting upwards after opening at 56.5, it now sits at 58.5.
INJURY REPORT: LSU – FB Connor Neihgbors
(Prob-Concussion), DT Quentin Thomas (Ques-Arm)
Auburn – LB LaDarius Owens
(Prob-Undisclosed), OL Patrick Miller (Ques-Undisclosed)
WEATHER REPORT: Clear skies are projected for the
game, but thunderstorms are expected for the night before.
Winds will be blowing NW 12-14 miles per hour.
WHAT CAPPERS SAY: "The party could be
over for the [Auburn] Tigers, with five of their next six games
coming against ranked teams, three of those coming on the road.
LSU will start freshman QB Brandon Harris on the road at Auburn
this week." – Covers Expert Jesse Shule
WHAT BOOKS SAY: "We opened this at -9 and
it moved to -7.5 in less than 12 hours on the board. Bettors
believe the freshman at quarterback is an upgrade for LSU as
we've seen more than 63 percent of our wagers on that side. The
total has steadily climbed since the open as almost 76 percent
of our action has come on the over. I think Auburn takes care
of business." – John Lester, lines manager for Bookmaker.eu
CHEERLEADER WAR: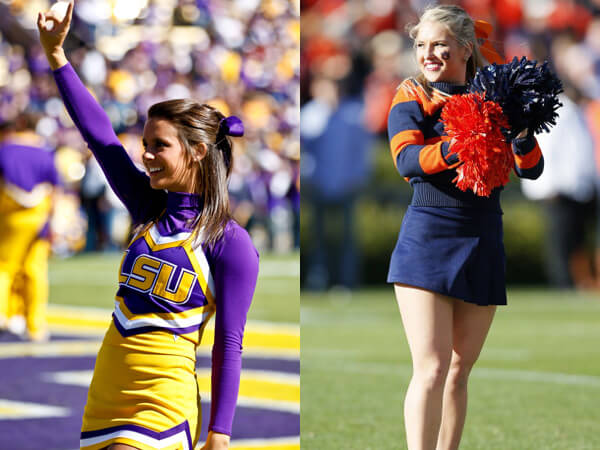 ABOUT LSU (4-1, 0-1 SEC): Despite the early
slip-up versus Mississippi State, the Tigers' stock is rising
since freshman quarterback Brandon Harris took the reins of the
offense. Harris led LSU to touchdowns on all seven possessions
he played against New Mexico State and has led TD drives on
nine of his last 10 possessions since taking over against the
Bulldogs. The Tigers dominated inferior opponents but dug early
holes against Wisconsin and Mississippi State and must be much
more sound defensively in the first half against Auburn.
ABOUT AUBURN (4-0, 1-0): The Tigers continue to
move the ball at will under coach Gus Malzahn, particularly on
the ground. Tailback Cameron Artis-Payne (117 yards per game, 5
TDs) and quarterback Nick Marshall (68.2 yards per game, 2 TDs)
are dangerous runners, and Marshall has done enough damage as a
passer to keep defenses honest, averaging 137 yards through the
air with six TDs and one interception. Defensively, the Tigers
have given up large chunks of yardage through the air but have
gotten nine takeaways to limit the damage.
TWEET BEAT:
TRENDS:
*Auburn is 14-3 ATS in their last 17 games overall.
*LSU is 4-10-1 ATS in their last 15 games following a S.U.
win.
*Over is 8-1 in Auburn's last 9 home games.
*Under is 6-1 in the last 7 meetings in Auburn.
COVERS CONSENSUS: 53.47 percent of Covers users
are backing LSU +7.5, with 55.3 percent taking the over.
[ad_2]

Source link