[ad_1]


Toledo Rockets at Cincinnati Bearcats (-9.5,
58)
Cincinnati finally get its season going Friday night when it
hosts in-state foe Toledo in a non-conference game. While the
rest of the nation has been playing for a week or two, the
Bearcats have been forced to grind through extra practice, a
task that has been difficult for the coaching staff. "We've had
to be very imaginative the last few weeks trying to keep our
guys focused on what they are doing, trying to get better,"
coach Tommy Tuberville told reporters Tuesday.
Tuberville – in his first season with Cincinnati last year –
guided the Bearcats to a third-place finish in their inaugural
American Athletic Conference campaign and a berth in the Belk
Bowl. Toledo has already played a pair of games, first topping
New Hampshire before a rough first half led to a 49-24 loss at
home to No. 22 Missouri last Saturday in a game that saw
quarterback Phillip Ely suffering a season-ending ACL tear.
Cincinnati leads the series 4-3 but the Rockets have won the
last three meetings, including a 29-23 triumph in 2012.
TV: 7 p.m. ET, ESPNU.
LINE HISTORY: Cincinnati opened as 11-point
favorites, but have been bet down to -9.5. The total opened at
59.5 had has moved down a point to sit at 58.5.
INJURY REPORT: Toledo – QB Phillip Ely (out
for season, knee), OL Nate Jeppesen (out indefinitely, leg).
Cincinnati – QB Munchie Legaux (questionable Friday, knee).
WEATHER REPORT: There is an eight percent
chance of rain with temperatures in the low 70s at gametime.
There will also be a six mil per hour wind blowing towards the
southwest endzone.
WHAT CAPPERS SAY: "In Cincinnati we will
see the long anticipated debut of former five star recruit
Gunner Kiel, who will start at quarterback for the Bearcats.
Coming out of high school he was garnering comparisons to
Peyton Manning, but he sat out last year after transferring
from Notre Dame." Covers Expert Jesse Shule

CHEERLEADER WAR: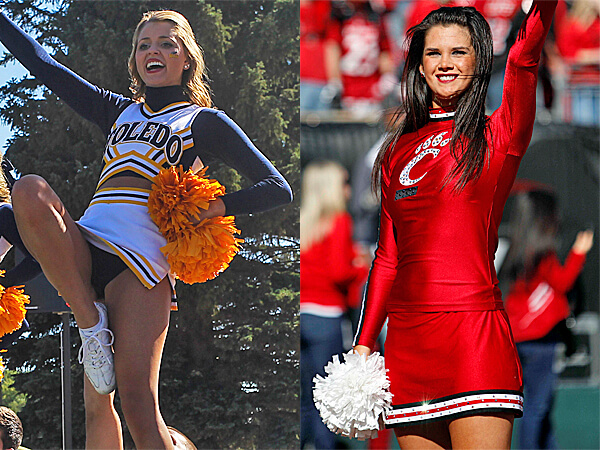 ABOUT TOLEDO (1-1, 1-1 ATS, 2-0 O/U): Ely will
be replaced by Logan Woodside, who took over against Missouri
following the injury and was 6-for-10 for 52 yards. Woodside, a
sophomore, saw sporadic action last season, going 21-for-41 for
240 yards and a touchdown. His inexperience should allow the
Bearcats to give their attention to running back Kareem Hunt,
who ran for 148 yards and three touchdowns last weekend and is
averaging 8.1 yards per carry through his first two games.
ABOUT CINCINNATI (2013: 9-4, 6-7 ATS, 7-6
O/U): The Bearcats are also breaking in an
inexperienced, albeit highly touted, quarterback in sophomore
transfer Gunner Kiel, who was the nation's top quarterback
prospect coming out of high school before redshirting at Notre
Dame. Tuberville said that while Kiel is the No. 1 guy and has
impressed in preseason practice, others could see action
against Toledo under center. One of those options is senior
Munchie Legaux, who is coming back from a knee injury that
ended his 2013 campaign after two games.
TWEET BEAT:
TRENDS:

* Rockets are 7-2-1 ATS in their last 10 games following a SU
loss of more than 20 points.
* Bearcats are 14-6 ATS in their last 20 non-conference
games.
* Under is 8-1 in the Rockets last 9 road games.
* Over is 4-1 in the Bearcats last 5 home games.
COVERS CONSENSUS: Almost 60 percent of wagers
are backing the Bearcats at -9.5.


Baylor Bears at Buffalo Bulls
(+34.5, 69.5)
Quarterback Bryce Petty returns to the lineup when No. 7 Baylor
and its high-flying offense travel to Buffalo on Friday. "He's
healthy. He's in good shape," Bears coach Art Briles told
reporters before Tuesday's practice about Petty, who missed
last week's 70-6 victory over FCS member Northwestern State
with a back injury. Briles, though, said it is unlikely that
wide receivers Corey Coleman (hamstring) and Antwan Goodwin
will play.
Baylor didn't seem to miss its Heisman Trophy-hopeful
quarterback or its top four receivers last week as backup Seth
Russell and a host of freshmen playmakers racked up 720 yards.
The Baylor defense has been equally dominant, allowing a total
of six points and 269 yards to Northwestern State and Southern
Methodist. The Bulls scored in bunches – getting five
second-half touchdown passes from Joe Licata – as a late rally
fell short in a 47-39 loss to Army.
TV: 8 p.m. ET, ESPN.
LINE HISTORY: The line opened with Baylor as
huge 34-point favorites and it now sits at Bears -34.5. The
total has been bet up two points after opening at 67.5 and now
sits at 69.5.

INJURY REPORT: Baylor – QB Bryce Petty (probable
Friday, spine), WR Antwan Goodley (doubtful Friday, leg), WR
Corey Coleman (doubtful Friday, hamstring), RB Devin Chafin
(out Friday, ankle). Buffalo – DB Marqus Baker (doubtful
Friday, illness).
WEATHER REPORT: It will be partly cloudy with
temperatures in the mid 50s and an eight percent chance of
rain. There will also be a five mile per hour wind blowing the
southwest corner of the south endzone.

WHAT BOOKS SAY: "In Buffalo all eyes are on Bryce
Petty, who expected to return to action after sitting out last
week with a back injury. The Bears didn't miss him much though,
scoring 70 points in a blowout win over Northwestern State."
Covers Expert Jesse Shule
CHEERLEADER WAR: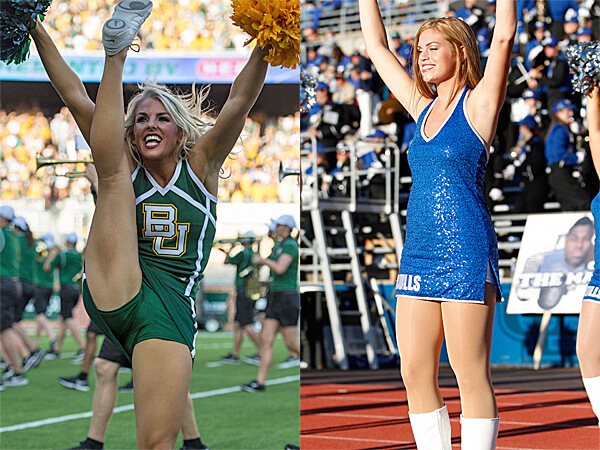 ABOUT BAYLOR (2-0, 2-0 ATS, 1-1 O/U): Freshman
speedster KD Cannon is sixth nationally with 141 receiving
yards per game and has four touchdowns after scoring on 50-,
81- and 42-yard plays last week. Freshman Davion Hall has 11
catches for 164 yards and a touchdown this season and freshman
Johnny Jefferson is one of three Bears – joining Shock Linwood
and Silas Nacita – with more than 120 rushing yards through two
games. The Baylor defense, which has not allowed a touchdown,
is ranked third nationally in scoring (three points allowed per
game), first in rushing defense (27 yards per game), second in
total defense (134.5 yards) and tied for first with six sacks
per game.
ABOUT BUFFALO (1-1, 0-2 ATS, 2-0 O/U): Licata
is 60-of-86 for 699 yards, eight touchdowns and four
interceptions. Ron Willoughby (187 receiving yards), Marcus
McGill (168 receiving yards) and Devin Campbell (67 receiving,
78 rushing) each have two touchdown catches. The Bulls, who
lost at Baylor 70-13 last year, are tied for 110th among the
124 FBS teams in points allowed (37.5) and 90th in yards
allowed (419.5).
TWEET BEAT:
TRENDS:
* Bears are 6-1 ATS in their last seven non-conference
games.
* Bulls are 1-5 ATS in their last six non-conference games.
* Over is 10-2 in the Bears in their last 12 non-conference
games.
* Over is 7-0 in the Bulls last seven non-conference games.
COVERS CONSENSUS: Just over 72 percent of
wagers are on Baylor at -34.5.
[ad_2]

Source link