[ad_1]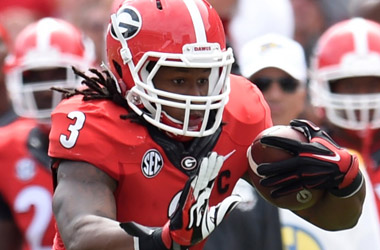 USA Today Sports
The Georgia Bulldogs announced the indefinite
suspension of RB Todd Gurley Thursday. Georgia announced via
their website that the Heisman candidate has been suspended due
to an ongoing investigation into an alleged violation of NCAA
rules.
"The line is off the board currently, but he is worth
1.5-points," according to Scott Kaminsky of TheGreek.com. "For the
season, Georgia has averaged 288.8 yards rushing per game on
7 yards per carry so they have capable backs to fill his
talent somewhat."
The spread was Georgia -3 before it was taken off the board,
but now the game is being dealt as a pick'em per Peter Childs of
Sportsbook.ag. "Basically, we believe he's
worth 3 points to the line and feel this game is now a
complete a total toss up." Not long after the line went live
again at Sportsbook.ag, Childs told Covers "The power of
twitter, it didn't take long for us to get hammered with
Missouri money. We're now dealing Missouri -1"
"Though losing your top RB is never a good thing, the
Bulldogs will be fine in this week's match-up against Mizzou
without Todd Gurley carrying the ball," says the Lines
Manager from GTBets.eu."They have good depth in the
running back position, so expect Nick Chubb and Sony Michel
to step up and have big weeks. The loss of Gurley will have
very little, if any, impact on the line, which has had
Georgia -3 pretty steadily."
No.10 Georgia visits No.24 Mizzou Saturday.
[ad_2]

Source link