[ad_1]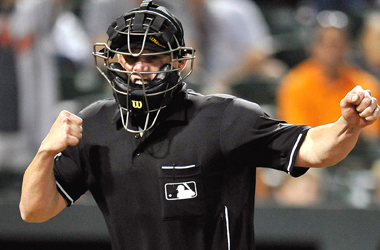 USA Today Sports
Another season of Major League Baseball is in the books
and we have yet another season where scoring is in decline. The
cause of this? It could be umpiring.
Teams scored just 4.07 runs per game compared to 4.17 last
year and 5.14 in 2000. The under was the more dominant result
for totals coming in at 51.3 percent. And even the top over
umpires' strike rates has increased from 62.7 percent in 2007
to 63.9 percent in 2014.
According to a paper by Brian Mills, an assistant professor
at the University of Florida, umpires have expanded their
strike zone as a result of new technologies the MLB uses to
track an umpire's accuracy.
The study, which tracked umpires' strike rates over the years,
noted that correct strike calls have increased nine percent
from 2007 to 2013 and according to Mills' analysis, these
shifts can account for as much as 40 percent in the decrease in
ERA over that span.
Umpires aren't just calling more strikes, they're doing it
more accurately, calling more strikes at the bottom of the
zone. And the odds of getting a hit on those pitches are 27
percent lower than other pitches, Mills said.
[ad_2]

Source link