[ad_1]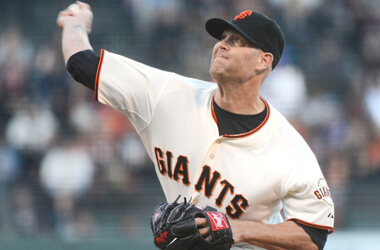 USA Today Sports
Fireworks and the MLB All-Star game signal the month of
July. It also signifies the start of the 2nd half of the
MLB campaign. The key to each and every team's fortune lies on
the pitching staff. Can they sustain or will they fold like a
cheap lawn chair from K-Mart? Stay
tuned.

What we do know is certain pitchers love hurling this time of
the season while others tend to get lit up like a roman candle
on the 4th of July.

Listed below are hurlers that have enjoyed a two-to-one or
better success ratio in team starts the last three seasons
during the month of July. On the flip side, we've also listed
pitchers that struggle in July team starts, winning 33% percent
or less of their efforts. To qualify pitchers must have made a
minimum of 10 starts, with at least one start each July over
the last three years. Note: * designates pitcher was on this
list last year.

I'll be back next month with August's Good Month Pitchers.
Until then, it's time to take me out to the ballgame…

GOOD MONTH PITCHERS:

*Hudson, Tim • 12-5

When San Francisco signed Hudson, our guess is they were hoping
for a serviceable No. 5 starter with veteran experience which
could give them a better than 50-50 chance to win. It has
turned much better for the Giants, winning 10 of Hudson's 15
starts and he has held right-handed batters to just a .245
average. Especially watch for Hudson at home, where he's only
lost twice since last season.

Jackson, Edwin • 10-4

Have to admit, a stunner to see this much traveled ball-chucker
having a good month any time. Wish I could say I had an answer
for his July success for a guy who is 83-97 in the big leagues,
but I don't. In looking for a positive, Jackson pitches better
at Wrigley Field than on the road (3.86 ERA vs. 6.70) and he's
won four of six decisions at the friendly confines this
season.

*Kershaw, Clayton • 12-5

The best pitcher in baseball is coming off a fantastic June, in
which he was 6-0 and surrendered four total runs in his starts
and picked up a no-hitter. The early nit-picky talk about his
curveball has quieted and he's back to his old-dominate self.
He has 107 strikeouts in 79.1 innings and a WHIP of 0.92.
Opposing teams are hitting .209 against Kershaw and left-handed
batters, why bother, with a .180 average.

*Porcello, Rick • 12-1

With a star-studded pitching staff, Porcello only ranks fourth
in the rotation as far as ability, but this season he's been
then their moneyman in winning 11 of 15 outings. He's also been
one of the top bets among pitchers at +7.15 units. The big
difference with the right-hander this season is his sinker has
more dip and he's making fewer bad pitches, leading to more
wins and is on pace for a career-low WHIP of 1.19. If the
Detroit offense continues hitting, keep backing Porcello in
July.

Tillman, Chris • 7-3

The Orioles ace has picked up +5.6 units in spite of 4.00 ERA,
with Baltimore 11-6. How has Tillman done this? While probably
unaware of the betting odds, he knows when he matched against a
very good starting pitcher from the opposing team and pitches
better, which is why the O's are 9-2 this season with Tillman
as an underdog. He's a fly-ball pitcher, who's had some trouble
on the road (5.53 ERA), if he can improve command, he should be
a winner this month.

*Weaver, Jered • 13-5

Just love the analytics crowd who love to use a six-inch
paintbrush to encompass a wide swath to their thought
processes. "Weaver will continue in serious decline" was among
the scathing preseason reviews of the angular right-hander. His
fastball peaks out at 91 on good days and is more consistently
88-89 MPH and is does not compute to them he would concede 18
percent fewer hits to innings pitched with that kind of
velocity. All Weaver does is win and dominate righty hitters
(.163 BA).


BAD MONTH PITCHERS:

Bedard, Eric • 1-10

Bedard was not good enough to pitch a second season with
Houston and is primarily in the majors only because Tampa Bay
needed a warm body in the spring after their starting staff was
decimated by injuries. The 35-year old has not been horrible
this season, but he's not a fit on a team that expects to be a
playoff contender, which Tampa Bay is not this season. More bad
news ahead.

*Norris, Bud • 4-10

For his entire career, Norris has been a solid pitcher at home
and unbelievably bad on the road. He must have been thrown in a
lot of away games in July to earn this record and will start
the month on the DL with a right groan strain. When he returns,
definite Play Against potential in away games.



Contributions from Doug Upstone of the Sports Watch
Monitor.
[ad_2]

Source link