[ad_1]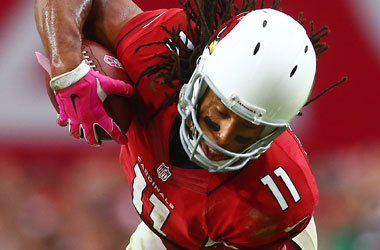 USA TODAY Sports
Each week during the pro football season, Covers
Expert Art Aronson of AAA Sports looks at the NFL odds and
tells you which spread to bet now, which one to bet later, and
which total to watch as the week plays out.

Game to bet now
Arizona Cardinals at Oakland Raiders
(+3.5)
There is a little bit of a buzz on the Oakland end of the Bay
Bridge after the Raiders came within a whisker of beating the
Chargers on Sunday. That's all well and good, but a glance at
the schedule shows what the Raiders are facing as they head
into the middle of the schedule – Arizona, at Cleveland, at
Seattle, Denver and at San Diego. All winning teams with
chances on winning their divisions. In all probability
Oakland will be 0-10 by the middle of November and neck and
neck with the Jags for the overall No. 1 draft pick. A
straight up loss with a cover is too narrow a needle to
thread on this one. Arizona is getting Larry Fitzgerald back
into the offense and smells Seattle's blood. Swallow the 3.5
here before the number goes to 4.
Spread to wait on
New Orleans Saints at Detroit Lions
(-2.5)
Early money is pretty much evenly divided between the two,
though bettors appear to be waiting to see if the number will
climb to 3 with backers of the Lions nudging it just a bit
higher. Everyone is wondering just what is going on with the
Saints, who sit at 2-3 and don't seem to be getting much
traction in an NFC South that appears winnable for any team
that can figure out how to win four or five in a row. The
Saints have trouble on the road, where their three defeats
have come by an average score of 34-25. But the Lions
couldn't get it done at home a few weeks ago against Buffalo.
Best to sit on this a bit and see what kind of odds are
posted later in the week.
Total to watch
New York Jets at New England Patriots (46)
(Thursday)
No matter how bad things are going for the Jets (and they are
going real bad right now), they seem to be competitive
against the Patriots in Foxboro. NYJ games at NE have turned
into taffy pulls since the mid-2000s, and with forecasters
calling for bad weather on Thursday night, this one has the
makings of another 20-13 game. New York has no chance in a
shootout, so it's pretty much guaranteed that the Jets will
run the ball at least for the first half. Under deserves a
good look in this one.
If you have received this e-mail in error or are not the
named recipient, please immediately notify the sender and
delete or destroy all electronic or hard copies of this
e-mail. This e-mail is intended only for the receipt and use
of the named recipient(s). It may contain information that is
privileged, confidential or protected from disclosure under
applicable law.
[ad_2]

Source link