[ad_1]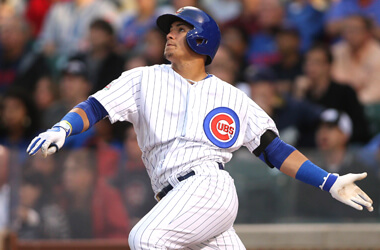 USA Today Sports
It's always important to know the lineups that you're
betting for and against with baseball. Some teams rest their
starters on Sunday, some on Thursday and don't rest starters on
a scheduled basis. During the season you can get a feel for how
managers rest their players and use that to your advantage.
This changes a little as we head towards the playoffs with
roster changes in September.

Playoff rosters are finalized as September begins. This
generally limits teams making trades for established players
unless they're looking for a one month rental just to reach the
playoffs. That doesn't happen much so don't expect to see big
names moving. However, rosters expand from 25 to 40 players in
September and that can create big changes. The 15 extra spots
on the roster are occupied by minor league players and the
occasional late season rental.

Not all teams use the September call ups the same. If a team is
charging towards a playoff spot they may use the call ups to
fill out the roster with some extra pitchers in the bullpen and
defensive replacements. There won't be many starters added to
these teams as not to affect chemistry on the team that's made
the season so successful to this point.

Some of the teams that are out of playoff contention will use
the September call ups differently. Some teams use this roster
expansion to see how their better minor league players fare
against major league competition. Since September call ups
accrue service time you might not see all superstar minor
leaguers. While the Cubs are calling up many of their prospects
they won't likely add Kris Bryant to the 40 man roster so don't
start his clock towards being arbitration eligible.

It's always important to know the roster of the team you're
betting for and against but it becomes even more important in
September when rosters are shaken up. Lineup changes aren't
uncommon for games in September since there are more players to
switch in and out. Sometimes lineup changes aren't even made by
the team's manager. Scouts want to see if their players can
perform in the big league.

While it might be intuitive to get the best of a line at the
sportsbook the night before a game it may make sense to sit
back and wait for lineups to be announced before placing that
bet for a few days.

The reason I stopped playing daily fantasy earlier this year
was because I was burned too many times by normal in-season
lineup decisions. Regular lineup changes are easier to predict
than September lineups. The last thing I want to have happening
with my regular gambling funds is to lose bets because I didn't
know the rosters and lineups.

It's time to freshen up on the September call ups. Learn the
new players and keep an eye on how managers, well, manage the
extra players. Not all teams will be dealing with September
call ups the same. Betting on a team that decided to start a
lineup littered with minor leaguers is a tough way to lose.
[ad_2]

Source link