[ad_1]

There's no doubt that for NFL bettors and fans, the seven
months from the end of the Super Bowl to the beginning of the
regular season seem like an eternity. So as Sunday morning
arrived at sportsbooks around Las Vegas – ushering in with it the
2014 season – the pall of the offseason was lifted.
And not just for those looking to get some action on the games.
The return of the NFL receives a hearty welcome from all those
who benefit – like the cocktail waitresses, for example.
"We love football season," said Liz Oceguera, decked out in
referee gear, though making it look far better than any of
those flag-throwers on the field. "It's very busy. That
translates to lots of fun – and lots of money!"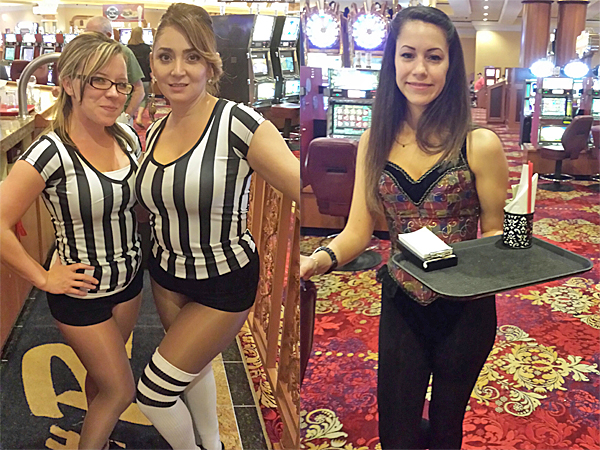 South point waitresses Darcy Perez and Liz
Oceguera dress the part. Nicole Chirolde is on the run
Sunday.
Indeed, Oceguera and co-worker Darcy Perez were on the go from
the moment they arrived at the South Point on Sunday morning,
with a thirsty crowd ready to go – and ready to tip. Perhaps that
was the case because nobody had really lost a bet yet, with the
early games not even at halftime yet.
"So far, it's a good crowd," fellow South Point waitress Nicole
Chirolde said. "Nobody's super upset yet. Later in the day,
people might start getting upset, getting rowdy. But right now,
people are good."
South Point bartender Mike Partida, manning the fort at the
huge bar adjacent to the sportsbook, certainly was happy to see
Sunday's kickoffs.
"It's nuts, mayhem, adrenaline," he said. "I've been doing this
for 11 years and it gets bigger and bigger each year. It's
great for us and good for the customers."
TAKING CARE OF
TICKETS
As much as Partida and the wait staff revel in the new season,
their bread is buttered by the bettors. And there were
boatloads on hand, something that put a big smile on the face
of South Point top oddsmaker Jimmy Vaccaro.
"It's almost comparable to Super Bowl Sunday, with the amount
of tickets we write," said Vaccaro, looking like a fan himself
with a Coke in one hand and a hotdog in the other. "Naturally,
the money doesn't compare to the Super Bowl, but we have 15
windows open and for three hours leading up to the early games,
we had 20 people deep in every line.
"It's a phenomenon. I keep saying football has reached its
apex, but the love of the NFL, you just can't quantify it. I've
never seen football regress. It keeps getting a little larger
every year."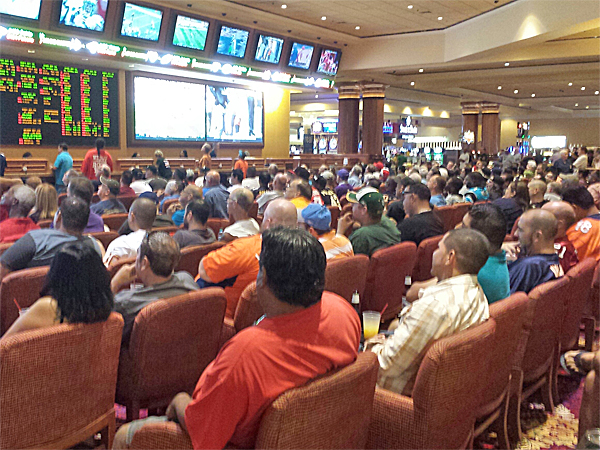 Packed house at South Point for
Sunday's opening slate of NFL
games.
That puts more pressure each year on the ticket writers – but
they aren't complaining. Aracely Geraci moved to Las Vegas 20
years ago from Mexico and has been a writer the past 12 years for
the South Point and its sister property, the Gold Coast. She's
seen plenty of opening days.
So how was it when she arrived to those huge lines, hours
before kickoff?
"It was just like, 'Whoa!' It was very busy," Geraci said. "I
think we've seen more people today than we've seen on past
opening days."
And the pressure was on to help all those bettors get their
money down before kickoff.
"I try not to look at the (long) lines," Geraci says, laughing.
"I think there's some anxiety for me. Some bettors take longer
than others, and the people behind them get upset, because they
want to get their bets in. But luckily, everybody got their
bets in this morning, even though the lines were long and it
was hectic."
THE BETTORS: ETERNAL
OPTIMISTS
Ron Knight survived the pre-kickoff onslaught at the window and
got down on what he called his best bet of the day.
"Miami beats New England outright," Knight proclaimed, despite
the Patriots leading at the time, 17-7 in the second quarter.
But Knight later proved prophetic, as the Dolphins – who went
off as 3.5-point home underdogs – scored the last 23 points of
the game in a 33-20 upset of Tom Brady & Co.
Good thing he got to the South Point early – two hours before
kickoff – with a batch of his friends.
"I got here at 8 a.m., and it was crazy already," said Knight,
while standing in a hotdog line 20 people deep. "We were late!
I thought we were early, but (based on the crowds), we ended up
being late. It took 20 minutes to get my bets in."
And though Miami got it done, well, the betting gods giveth and
the betting gods taketh away. Knight said he also had $100 on
the moneyline on the Kansas City Chiefs, 3-point home chalk who
got thumped outright by the Tennessee Titans, 26-10.
At least the atmosphere was good, though.
"I like all the TVs. You can see all the games," Knight said.
"I'm in overload right now. There's too many screens, if that's
possible."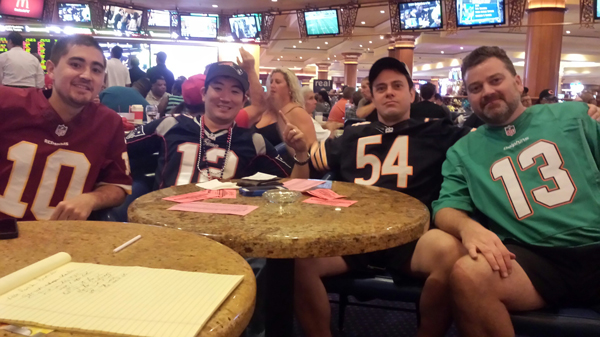 Mike Yamauchi, Kyle Yamauchi, Martin Racine,
and Rob Barton enjoy Week 1.

Over at Green Valley Ranch Resort's book, two more Chiefs fans
were gearing up for a big opening Sunday. Chris Noriega and her
fiancé Kent Sallman got a disappointing outcome from their
favorite team – but at least Noriega knows better than to bet
with her heart.
"I don't do that," she said of putting money on the Chiefs. "I
feel like it's a jinx and I don't need that. I love them too
much."
Instead, she's got three $5 parlays going – two four-teamers
and a five-teamer – and feels best about the five-teamer that
has the Vikings +4, Jets -5, Ravens -2, 49ers -5 and Broncos
-8.
"I'd like to feel good about this one. I'm kind of 'meh' on the
49ers – going with my gut," Noriega said. As it turned out, the
Ravens' 23-16 home loss to the Cincinnati Bengals blew up that
ticket before the Niners-Cowboys even kicked off.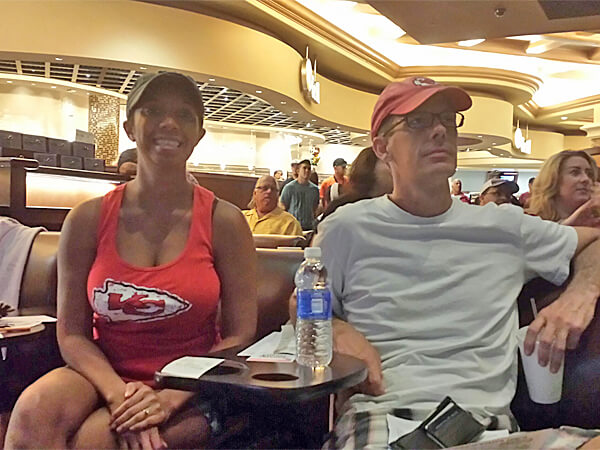 Chris Noriega and Kent Sallman keep an eye on
their parlay at Green Valley Ranch.
Sallman, meanwhile, had a seven-teamer that, not surprisingly,
went awry early, with three teams – the Saints, Ravens and
Redskins – ruining his $2 ticket and a shot at $128.
"I never do that," Sallman said of reaching for a seven-team
parlay. "I've never even won a five-teamer. But it felt right.
Hah, hah!"
EXCELLENT DRIVER
Khalid Almudarris was feeling right and had the right idea at
the bar adjacent to the book at the M Resort. He convinced
three attractive young ladies to join him for a day of football
betting, viewing and eating – although it didn't take much
convincing, as they all love football.
So what made him drive up from Los Angeles for the weekend –
other than his girlfriend, Tiffany Martin?
"Parlay bets, hanging out with friends, having drinks. You've
got all the different games," said Almudarris, donning a
Raiders jersey that stood out against Martin's Patriots gear.
"It's fun, it's football. Football is back. It's better than
Christmas, better than everything."
Everything? With his girlfriend seated right next to him?
"I think she likes football better than she likes me," he
joked.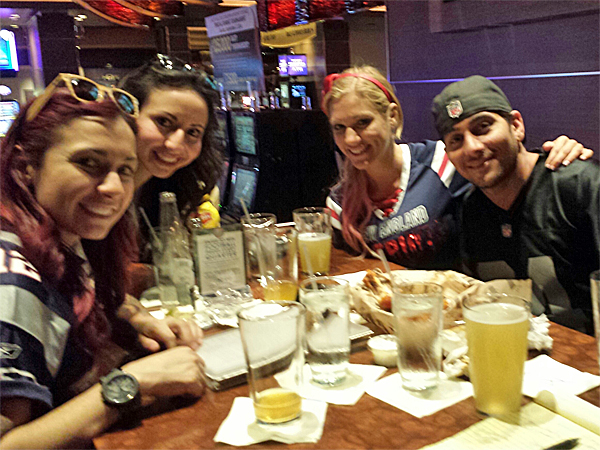 Khalid Almudarris is joined by Crystal
Mesina, Carinna Guerrero and Tiffany Martin at the M
Resort.
Martin had money on her Patriots, which seemed smart at the time,
with a 20-10 lead. But it didn't work out too well for her later.
"I bet the Patriots for sure. I didn't even question it," she
said, while noting another bet she liked but that, at the
moment, wasn't looking good. "I bet on the Browns, against the
Steelers. I kind of fucked that up!"
Cleveland was down 27-3 at halftime, then rallied in a 30-27
loss to cover as a 5.5-point road underdog, giving Martin a
winning ticket.
For Vaccaro, that's what it's all about on opening day. A
chance to loosen up with a bunch of friends, take in all the
games never knowing what could happen – and maybe make a few
bucks.
"With all the craziness going on in the world today, this is a
great escape," Vaccaro said. "For 20 to 30 dollars, you can be
entertained all day."
Colin Kelly is a Las Vegas-based contributor for
Covers.com. Follow him on Twitter: @ColinPKelly29.
[ad_2]

Source link