[ad_1]

The NFL would never admit it. Doing so publicly would
probably give league officials heart murmurs. But deep down,
Commissioner Roger Goodell and all the other suits (despite what
they're saying in New Jersey) know what is arguably the biggest
reason for the league's success.
The betting line. Yep. The point spread. The great equalizer,
even when the most dominant team is playing the most hapless
unit. And after the lines are posted, the weeklong run-up to
games is a chess match between oddsmakers, sportsbook directors
and, of course, the bettors.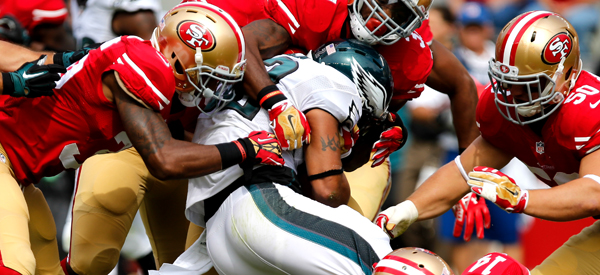 So how does it all unfold? You're about to find out, as we follow
the life cycle of a pointspread for one of Week 4's most
anticipated matchups: Philadelphia Eagles at San Francisco 49ers.
SUNDAY, SEPT. 21
4:30 P.M.
The Oddsmaker
Pete Korner, founder of Nevada-based odds service The Sports
Club, is among the first ones to publish lines on each week's
NFL games, and many of the state's sportsbooks take their cues
from his lead. The Eagles-49ers matchup presents its
challenges. Philadelphia is 3-0 SU (2-1 ATS), all in comeback
fashion, and San Francisco is an unexpected 1-2 SU (1-2 ATS).
"Our five oddsmakers had a range of San Francisco -4 to -6,"
Korner says. "Personally, I made it -4.5 but after discussion,
the higher -5 – a so called 'dead number' – is what we
decided."
Korner says he expects the 49ers to be motivated at home,
aiming to make up for a Week 2 collapse against Chicago in the
debut of the lavish new Levi's Stadium.
6:50 P.M.
The Las Vegas Sportsbook Director
Jay Kornegay, vice president of race and sports at the famed
Superbook at Westgate Las Vegas, finishes working with his
oddsmakers, and the opening number is a notch tighter than
Korner's offering.
"We opened at 49ers -4," Kornegay says. "Obviously, the 49ers
are underperforming, but we still think they're better than the
Eagles. As far as the power rankings, the Eagles are still a
couple steps behind the 49ers."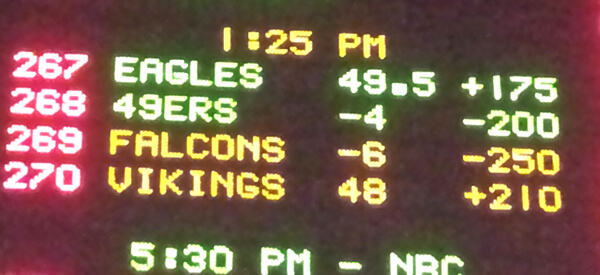 Kornegay agrees with Korner that the 49ers need this game, which
absolutely factors into his calculus.
"It's a more important spot. If it wasn't so important, the
line might have been 49ers -3.5, but we bumped it up knowing
the 49ers really need this game," Kornegay says.
7:15 P.M.
The Professional Bettor
Brian Leonard has 30 years of experience as a professional
bettor. He knows his opening lines, and the Eagles-49ers number
falls within his expectation.
"I do have concerns about Philadelphia's defense," says
Leonard, who runs his own handicapping business and has a
stable of veteran cappers. "But I've got some major concerns
about San Francisco. The offense hasn't done a thing, the
defense is not playing well, they lost their first game at home
in the new stadium, and today they lost to a backup quarterback
(Arizona's Drew Stanton)."
So what's a bettor to do?
"At this point, I'm leaning toward Philadelphia. I don't think
we'll see it get to -6, or that it will go down to -3, so at
this point, do I take 4.5, or do I pass on this game?" Leonard
ponders. "I don't want anything to do with San Francisco laying
more than 4 points."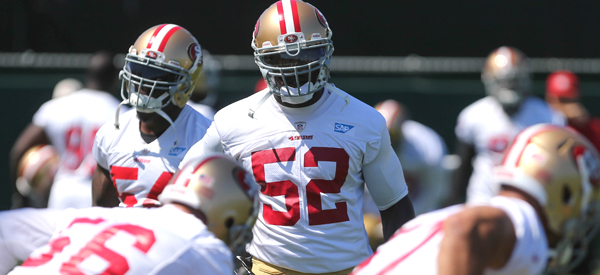 MONDAY, SEPT 22
10:30 A.M.
The Reno Book Director
Terry Cox and his crew at the Peppermill Reno sportsbook get
the benefit of time with the Eagles-49ers number, since they
don't post until Monday morning. The consensus around Nevada
and at offshore books is Niners -4.5, and Cox runs with that –
eschewing the urge to post a higher number in a town loaded
with 49ers bettors licking their wounds from two consecutive SU
and ATS losses.
"So far, the bets that have come in, they're taking the
points," Cox says. "You've got an undefeated team getting
points, and that's going to appeal to bettors."
San Francisco's motivation must weigh into Cox's decision, but
he's got another potentially bigger factor to consider: The
heavy number of 49ers bettors, not only in the region, but on
their way to town.
"This weekend, there's a big event called 'Street Vibrations.'
It brings 60,000 motorcycle enthusiasts to town every year," he
says. "I love this event, because these people are gambling
fools. They might just bury us in 49ers money, because most of
them are from Northern California."

TUESDAY
9:30 P.M.
The Las Vegas Sportsbook Director
Despite the 49ers' slide, it's apparent that San Francisco
bettors are undeterred. Twice during the day, the line at the
Superbook shoots to -6, before settling down to -5.5. News out
of Philadelphia is that, among other injured players, starting
center Jason Kelce had sports hernia surgery and would miss
several weeks.
"The market moved up there, and we believe that most of this
movement was based on Philly's injuries," Kornegay says. "Since
then, the line has dropped back down, so we believe there are
many different opinions on how much these injuries are worth on
the betting line."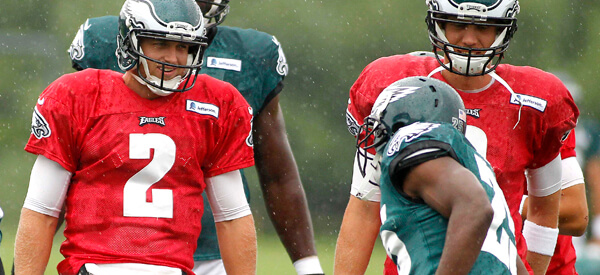 WEDNESDAY
5:30 P.M.
The Professional Bettor
Leonard can't believe his good fortune, recalling that on
Sunday, he didn't think it would get to -6, and that he
probably wouldn't have any action on the game. So how about
now?
"I actually bet it at Eagles +6 on Tuesday," says Leonard,
noting his crew couldn't resist at that point. "Everybody
agreed. I'm surprised it ever got to six. It definitely caught
my eye. I was surprised even getting 4.5."
THURSDAY
5 P.M.
The Reno Book Director
With the number reaching six for a short period in Vegas, you
could assume it got at least that high in Reno, with all the
49er backers. But you would be wrong. It's only reached five at
this point, and it's quiet.
"The only kind of surprise is bettors seem to be laying off the
game so far," Cox says. "Maybe that number is kind of stiff and
the 49ers bettors don't want to touch it, and maybe the Eagles
fans think they're gonna get some more."
Cox is hardly concerned by the slow action, though.
"Eighty percent of the handle will come in the last 24 hours,
just like always."

FRIDAY
6:30 P.M.
The Vegas Book Director
At the Superbook, the line continues to bounce around, though
it never gets back to six. It drops to 4.5 early Friday and
rebounds to five by lunch hour, where it remains the rest of
the day. And it's a comfortable spot for Kornegay.
"We have balanced action at this number," Kornegay says. "They
bet San Francisco at -4.5 and -5 earlier, but once it got to
-6, the Eagles money showed up."
SUNDAY: GAME DAY
1:20 P.M.
The Las
Vegas and Reno Book Directors
It's five minutes before the Eagles-49ers game kicks off, and
the Philadelphia money has been flowing in all around Las
Vegas. Kornegay's place hasn't taken any huge bets, but
adjustments are still necessary, with the line ultimately
dropping to 49ers -4 – right where it began a week earlier.
"There was bigger money coming, not necessarily at our place,
but you could tell big bets were coming in (around town) on the
Eagles' side," Kornegay says. "There are a lot of games like
that. You just can't explain it. There's nothing specific to
point to as to why that Philly money came in."
Meanwhile, at the Peppermill, the number moves to 4.5 on Saturday
afternoon and stays there through kickoff.
"Once we went to 4.5, it was pretty even action, and it was our
second-most-bet game of the day," Cox says.

4:50 P.M.
The Result
As if we didn't already know the often sheer genius of those
who set and adjust the line, the 49ers rally and then hold on
to win, 26-21. A line that bounces between four and six points
all week ends with a 5-point San Francisco victory.
In Reno, where the line never exceeds five, Cox is OK with the
result, noting the avalanche of 49ers money he expected early
in the week never materialized.
"The game overall was probably a small loss for us," says Cox,
adding that a key decision on Wednesday saved the Peppermill
some payouts. "What worked in our favor was we laid 5.5 on our
parlay cards. We were torn between 4.5 and 5.5. Who would think
the stupid game lands on 5? That one decision made a difference
for us."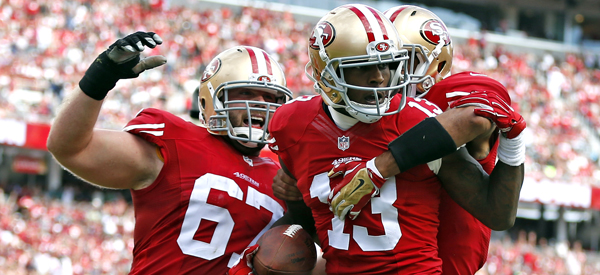 The Superbook isn't quite as fortunate.
"Of course, it lands on 5. That was not good for us," Kornegay
laments. "The bigger money came in on Philadelphia at 5.5 and
5, and we had to pay out all the San Francisco bets at 4 and
4.5. It wasn't a good number for us."
It works out perfectly for Leonard, who cashes out with his
Eagles +6 ticket.
"It doesn't always work out that way, but if you do this long
enough, you're gonna have some of those," says Leonard, noting
the rarity of a 5-point final margin. "So depending on when you
bet it, you could've won or lost it. You don't find many games
that land on 5, but this one came in."
Did you bet Eagles-49ers this past Sunday? Share
your sports betting story in the comment box
below.
Colin Kelly is a Las Vegas-based contributor for Covers.
Follow him on Twitter: @ColinPKelly29.
[ad_2]

Source link