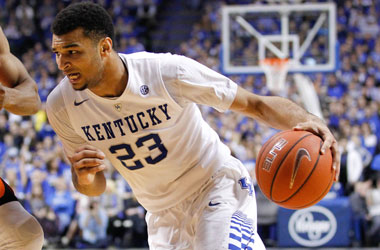 USA TODAY Sports
The college hoops national championship landscape did something it hasn't done almost all season. It stood pat.

The major programs that were leading the way are still leading the way this week and saw minimal changes when it came to their national title odds.
According to the Westgate LV Superbook, Michigan State is still the leader at 6/1, followed closely by North Carolina and Kansas at 7/1.
The notable rise among contenders was Kentucky going from 15/1 to 12. Meanwhile, Duke and Villanova dropped from 10/1 to 12/1, with Maryland falling from 10/1 to 15/1.
MICHIGAN ST 6/1
NORTH CAROLINA 7/1
KANSAS 7/1
KENTUCKY 12/1
VILLANOVA 12/1
OKLAHOMA 12/1
DUKE 12/1
MARYLAND 15/1                     
XAVIER 20/1
VIRGINIA 20/1
MIAMI FL 20/1
IOWA 25/1
ARIZONA 30/1
U CONN 30/1
PURDUE 30/1
WEST VIRGINIA 30/1
OREGON 40/1
INDIANA 40/1
IOWA ST 50/1
TEXAS A&M 50/1
DAYTON 80/1
NOTRE DAME 80/1
TEXAS 80/1
LSU 80/1
CALIFORNIA 80/1
GONZAGA 100/1
MICHIGAN 100/1
VALPARAISO 100/1
VCU 100/1
USC  100/1
PROVIDENCE 100/1
SYRACUSE 100/1
WICHITA ST 100/1
UTAH 200/1
FLORIDA 200/1
BAYLOR 200/1
WISCONSIN 200/1
CINCINNATI 200/1 
BUTLER 200/1
FLORIDA ST 200/1
SAN DIEGO ST 200/1
SOUTH CAROLINA 200/1
ST MARY'S 200/1
VANDERBILT 200/1
UCLA 300/1
CLEMSON 300/1
UAB 500/1
TULSA 500/1
OHIO ST 500/1
PITTSBURGH 500/1
ARKANSAS 1000/1
STEPHEN F AUSTIN 1000/1
UNLV 1000/1
NC STATE 1000/1
ALABAMA 1000/1
GEORGETOWN 1000/1
GEORGIA 1000/1
BYU 1000/1
OLE MISS 1000/1
COLORADO 1000/1
CAL IRVINE 1000/1
WASHINGTON 1000/1
NEW MEXICO ST 1000/1
MARQUETTE 1000/1
ARIZONA ST 1000/1
BELMONT 1000/1
BOISE ST 1000/1
GEORGE WASHINGTON 2000/1
NORTHWESTERN 2000/1  
TEMPLE 2000/1
KANSAS ST 2000/1
NORTHERN IOWA 2000/1
OLD DOMINION 2000/1
TENNESSEE 2000/1
RICHMOND 5000/1
LOUISIANA TECH 5000/1
BUFFALO 9999/1
OKLAHOMA ST 9999/1
UTEP 9999/1
MEMPHIS 9999/1
MINNESOTA 9999/1
RHODE ISLAND 9999/1
ILLINOIS ST 9999/1
AUBURN 9999/1
TCU 9999/1
ILLINOIS 9999/1
CENTRAL MICHIGAN 9999/1
DAVIDSON 9999/1
LASALLE 9999/1
MISS ST 9999/1
NEBRASKA 9999/1
OREGON ST 9999/1
PENN ST 9999/1
ST JOHN'S 9999/1
STANFORD 9999/1
WAKE FOREST 9999/1 
FIELD 300/1

[ad_2]

Source link