[ad_1]

Amazing Arrieta
Jake Arrieta has had an amazing 2014 for the Chicago Cubs and
will be looking to build on his 5-1 record when he takes the
ball Friday against the Atlanta Braves (-107, 7). The Under is
6-2-2 in Arrieta's last ten starts this season as the Cubs ace
has kept a low ERA that is currently at 1.78 for 2014.
Bryce's Blues
Nationals slugger Bryce Harper has had more than his share of
struggles as of late, going 1-for-20 in his last six
appearances for Washington. The Nationals are 3-3 over that
span while the total has been split evenly as well over that
six game span.
Strasburg Struggles
Washington's other young star, Stephen Strasburg has also been
struggling this summer for the Nationals. Strasburg is 1-2 with
two No Decisions in his last five starts with the Over going
3-1-1 over that span as high scoring affairs seem to have
followed Strasburg this season.
Pitching Notes
* Toronto Blue Jays pitcher Drew Hutchinson
has been compiling a high number of Unders in his recent
starts. Five of his last six starts have went under the number,
including his last three mound appearances. Hutchinson takes
the mound Saturday in a pitchers due with David Price, another
pitcher who has been trending towards the Under of late. Six of
Price's last eight appearances have been Unders.
* The Mets Saturday starter Daisuke Matsuzaka
has been brewing a bit of a comeback season on the mound that
has been overshadowed by a lack of run support. Unders are 5-1
in his last six starts while the Mets are 1-5 during those
games.
* Detroit Tigers Sunday starting pitcher Justin
Verlander has turned around a 1-5 streak on the mound
with two wins following two No Decisions, but his extremely
high ERA has continued to produces a nice trend of Overs. 9-1
in Verlander's last ten starts to be exact as the former best
pitcher in the game continues his struggles.
Wag of the Day
Speaking of Justin Verlander, we will always take an
excuse to post an image of his on-again off-again girlfriend
Kate Upton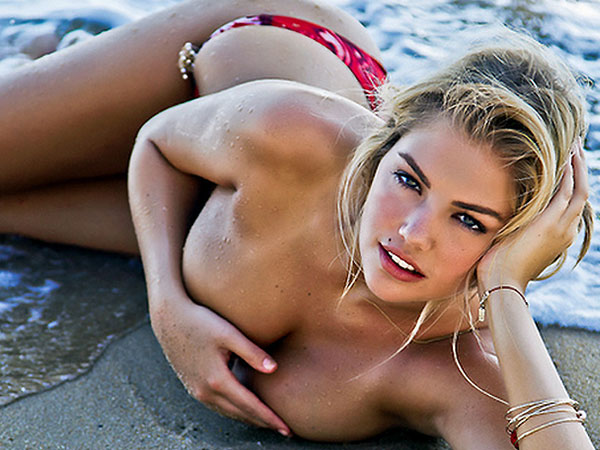 Hitting Notes

* Colorado still leads the MLB in batting at home, hitting .313
at Coors Field. They will see a boost to that talented lineup
when Carlos Gonzalez returns to the lineup
after being out since early June when they host the Twins in
interleague play.
* San Francisco's Hunter Pence is 11-for-24
over his last six games and has raised his batting average to
above .300 in the process, batting .303 for the season.
* Cardinals second baseman Kolten Wong is red
hot as of late for St. Louis. Wong has went 6-for-14 with three
homers, five runs scored and as many RBIs in his last five
games.
Totals Streak
Justin Verlander (14-4 O/U): As mentioned before, Justin
Verlander's streak of Overs is as good as it gets when it comes
to consistent trends during the 2014 MLB season heading into
the All-Star break. Verlander's 14-4 Overs record is even more
impressive of late as just one of his last ten starts has went
Under.
Prop of the Day
Jake Arrieta of the Chicago Cubs has yet to allow more than two
earned runs in his last seven starts, allowing no earned runs
in three of those appearances. The Atlanta Braves team total is
3.5 on Friday with the Under set at -120.
Injury Notes
* New York Yankees pitcher Mashiro Tanaka will
be on the 15 day DL with a partially torn UCL and is set to
rehab even longer as there is now a six week timetable on his
return. Even more concerning is the potential of Tommy John
surgery for the promising Japanese pitcher who was 12-4 in his
first season in the majors.
* Yankees outfielder Carlos Beltran is also
out of the lineup at the moment with a broken nose and a
concussion following an injury during batting practice. While
on the seven day DL the Yankees have went 3-1, so perhaps his
absence is a non factor for now.
* Oakland A's outfielder Coco Crisp is
questionable on Friday after sitting out on Thursday's game
with an ankle injury. Oakland is currently 8-6-2 on the season
when Crisp is out of the Athletics lineup.
[ad_2]

Source link