[ad_1]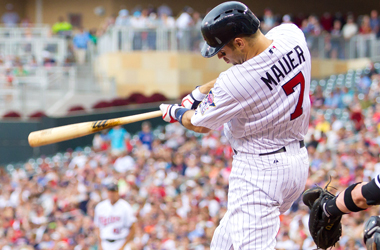 USA Today Sports
It is time to once again take a trip around the weekend
MLB Bases from Point Blank range, isolating key issues that can
be of major advantage to your bankroll in the days
ahead.

Twins – On the "relative" value of Joe
Mauer

There is going to be a common theme running through several
takes this time around – the way that so much misleading
information is part of the daily sports mediaverse, and how you
should not only learn to avoid the traps, but to actually
profit from the novellas that get written. There is a
continuous flow of numbers that can make for good stories, but
do not capture Baseball's truths.

It was natural for the Yankees/Twins to be part of the ESPN
package on the 4th of July, and when their lead announcer was
running down the Minnesota batting order there came the
expected – "Boy do they look a lot different without Joe Mauer
in the lineup". And it is natural – Mauer has been a star for a
long time, and the predominant face of the current Twins
franchise. But from a power ratings perspective, his absence
may not be all that significant. It is time to grasp another
aspect of Baseball that will help you to reach deeper inside
the game.

Mauer has had a great career as a catcher, being chosen for the
All Star game six times, and four times in a five-year period
between 2006 through 2010 he finished in the Top 10 of all
players in WAR, including a #2 in 2009. But now his power is
declining, which is a genuine Part I of this that all can see.
What many will not acknowledge is the Part II of what "catcher"
means in a key context.

First, the loss in voltage from his bat. Mauer's .271/.342/.353
over 339 PA's is easily a career low across the board (his
overall .320/.401/.461 will still have him in Hall of Fame
running), and some of those lows are very low. His SLG is 30.6
percent below that career standard, and it may be affecting his
plate approach – his BB% is off 20 percent from his established
rate, while his K% is up an almost shocking 38.6. For a player
to fall of that far in those latter two categories, this deep
into a season is rare.

Now for a deeper look at what that impact means. A team can
still be OK with Mauer's numbers if he is penciled in behind
the plate. But to prolong his career the Twins have moved him
to 1B, and a team will struggle to win at the MLB level with
limited power from that position. The SLG% so far this season
is .432 for 1B, compared to .385 for catchers. Teams are
getting an average of 16 HR and 59.9 rbi from the 1B position,
compared to 9.3 and 41.4 from catchers. Only three teams, the
Royals, Pirates and Astros, sport a lower SLG% from 1B than
what Mauer has produced.

Filling in at 1B will mostly be Chris Parmelee, who does not
bring any magic, but does sport nearly double the HR rate of
Mauer over the past two seasons. Parmelee has contact issues (a
career 23.3 percent K rate), and as such will not hit for much
average. But he at least brings respectable power counts to the
position, and in the context of a MLB offense, that really does
matter. When assigning a rating to Mauer, you need to lower him
not only because his bat is in decline, but also because the
relative importance of that bat when playing 1B changes
considerably. As such, his absence through the All Star break
may not be of all that much impact on the overall Minnesota
offense.

Nationals – The reality of Tanner Roark's H/A
splits

And now more from the Friday sports mediaverse, with an added
lesson that should be at the uppermost of your handicapping
consciousness – if you really want to win, you must go beyond
the first layer of statistics. Not only does that take you to
where the real edges reside; you can become a beneficiary of
the simplicity by which so much misleading information gets
passed forward, and ultimately ends up shaping betting
markets.

On Friday the sound was turned up before the Cubs/Nationals
first pitch, since it was the only game going on at the time.
And of course here came the predictable "Tanner Roark has
pitched much better at home this season" offerings from the
announcer. Given that Roark had a 1.59 at Nationals Park, vs.
4.44 on the road, it was an easy statement to make. Except that
it was not true. The fact that the Cubs went on to knock Roark
around is immaterial; what does matter is how that "first
layer" of statistics can take you down the wrong path.

OK, Roark sported a much better ERA at home than away entering
Friday, and still does. But had he actually "pitched" better?
His WHIP was almost identical, 1.16 home vs. 1.15 away. Then
take a look at his K-to-BB rate – only 34:16 from the D.C.
mound, vs. 40:8 as a visitor. A case can be made that he might
have actually thrown better pitches on the road, but did not
get the natural flow of results, which Baseball can do over
small samples.

Even after Friday's subpar outing, Roark's career tallies show
a 1.63 ERA at home vs. 3.47 on the road, which will continue to
be a narrative from announcers and writers. Yet his career home
WHIP is 1.10, vs. 1.07 on the road, and at home it is 2.3
K-per-BB, compared to 5.1 on the road. There simply is not
anything to indicate that a genuine bias exists for him, and
you should adjust your own ratings accordingly.

Rangers – A Yu Darvish "train" of
thought

Staying with the theme, how about even more fodder that we are
all likely to hear from the mediaverse later this week, and
view in the stat tables until the end of time – the struggles
of Darvish against the Mets on Friday night. He gave up a
two-run HR to Lucas Duda in the 1st inning; labored to 94
pitches over five frames, 35 missing the strike zone; and
posted a single-game 7.20 ERA. Over the past two seasons, that
single-game count had been reached once in 40 starts against
teams other than Oakland (his issues vs. the A's have
previously been a topic for deeper analysis on these
pages).

Think of how many different ways that game can be of an impact.
First is the matter of a short-term "slump". Then all of the
data-base categories the stats get cemented into. But what if
the result was of absolutely no value whatsoever in terms of
rating him as a pitcher? Much as we all want as many numbers as
possible to work with, some games simply provide rubbish that
should be discarded.

Here is the gist. Originally Darvish was to have pitched vs.
Baltimore on Thursday, on his normal amount of rest. But there
were thunderstorms in the area causing a rain delay at the
start, and threatening to potentially cause another later. Ron
Washington gambled and scratched Darvish, with reasonable savvy
– you hate to waste your best arm if he was only going to work
a couple of innings, and then have to sit through a long delay
that he might not be able to return from. The mistake by
Washington was in making him the starter the very next night in
New York.

For a starting pitcher to work after traveling the night before
is an extreme rarity. Starters for the first game of a road
series are universally sent ahead of the team to the next city,
and when there is no travel involved they often will leave a
game early the previous day, to get plenty of rest. What
Darvish was doing was outside of that norm, and ensuing
circumstances made it even worse. Because of the weather air
traffic schedules were jumbled, so the Rangers hustled him,
along with his interpreter, on to a train to New York, instead
of having him sit through the game in Baltimore and later
travel with the team. But a power outage in the Philadelphia
area led to a 90-minute delay during his trip, and Darvish only
made it to the team hotel 20 minutes before the rest of the
Rangers arrived (having chartered buses post-game in
Baltimore).

The pitcher that took the mound against the Mets was a far cry
from the ace that he has been. But the circumstances
surrounding the game were so out of the ordinary that the box
score might be worthless. Hence why keeping your own numbers is
important, and if you do that there is nothing wrong at all
with simply deleting that game. It will put you a step ahead of
those that try to read some kind of meaning into it (if
anything, you might want to focus on the "pride" aspect of
Darvish working to a 1.99 the past two seasons in 10 starts
immediately after allowing four runs or more).

White Sox – There is much to like, from Jose
Quintana

Now for a take in which the focus is not on media attention,
but rather the lack of it. Perhaps it was fitting that Quintana
got a start the day after the 4th of July, after the fireworks
have been put away. There has been little market sizzle when he
pitches, despite the fact that there is so much to like. And
after once again failing to get a Win because of a lack of
support, it is time to take a closer look while the betting
markets lag behind.

Why the lack of excitement? Quintana's 5-7/3.20 this season
naturally does not jump off the charts, nor does his 20-20/3.51
career line. But there are some intriguing aspects to his early
arc. He was decent in 2012 at 6-6/3.76, and you can give him
more than a passing grade for that because he was promoted
without ever throwing a pitch at the AAA level, and in fact
only 48 2/3 IP at AA. Then came the 9-7/3.51 of LY, when his
ERA, FIP, xFIP, K-per-9 and BB-per-9 rates all got better, a
nice across-the-board progression. Which takes us to what is at
the heart of the matter in terms of evaluating him – in 2014,
once again the ERA, FIP, xFIP and K-per-9 rates have improved,
while BB-per-9 is just a slight tick (2.56 vs. 2.52) behind
LY.

Much of this gets little notice because the White Sox have not
supported him well – in 14 of his L16 starts he has been backed
with four runs or less, the defense is ordinary, and the
bullpen less than that. For some perspective, of the 122
pitchers that have worked at least 70 IP, his 2.88 FIP checks
in at #14, and a 3.31 xFIP would rate #29. That is not likely
where you have him pegged. There is not a flaw to be found
through the peripherals, with enough pop to throw the ball by
batters, plus a ground-ball rate good enough to withstand HR
tendencies of his home ball-park. Perhaps most important for a
young pitcher is that the consistency has been there – in 15 of
18 starts he has allowed three ER or less, but Chicago has only
managed to go 7-11 in those games.

The White Sox are not going to be contenders, so Quintana will
likely remain off to the side of the market radar screens. That
should mean plenty of value opportunities over the second half
of the schedule, and pay particular attention to the Run Line –
13 of his 51 starts the L2 seasons have resulted in a one-run
Chicago loss. That way you are relying more on him to keep the
team in the game, than the rest of the roster to find a way to
win it.

Padres – About those Odrisamer Despaigne
"fireworks"

While Quintana above is doing a lot of things right that are
not quite translating to the bottom line he deserves, there is
already a quick buzz surrounding Despaigne, which can happen
when someone enters the scene with a 2-0/0.92 over his first
three starts. But much like with bees, if you get too close to
that buzz you may get stung.

Despaigne's back-story lends color to the recent performances
that puts him even more in the spotlight. He defected from the
Cuban national team on a trip to Europe in 2013, becoming a
legal resident of Spain. He then made his way across the
Atlantic, and was signed by San Diego in early May. After a cup
of coffee at AA, he worked to an inauspicious 1-3/6.85 at AAA
El Paso, but with the Padres needing rotation help when Andrew
Cashner went on the DL, he got the call-up.

Since then it has seemingly been magic – he has allowed only
two runs over 19 2.3 IP, and if not for Huston Street's first
blown save of the season on Saturday night, he would be 3-0.
And in truth it has been a rather magical ride, but not
necessarily the one that someone would draw up for a movie. It
has only been some of Baseball's sleight of hand.

First a few presets – Despaigne does have an awkward delivery
and a variety of pitches, and as such would fittingly be tough
to read on the first look, before becoming more vulnerable as
scouting video got out. Second, all of his innings have been in
two of the best pitcher's parks in the sport, Petco and
AT&T (Giants). Third, those innings have come vs.
struggling Giant and Diamondback offenses. And fourth, the dice
have rolled awfully well for him.

Despaigne only has five K over those 19 2/3, compared to eight
BB (he is the only pitcher in a span of six weeks to have
walked Aaron Hill!) That is an awful ratio, and note the
"second look" aspect that was evident vs. San Francisco – in
the first meeting vs. the Giants he did not walk any of the 23
batters he faced, and 59 of 86 pitches (68.6 percent) found the
strike zone. In the rematch, it was four BB of 23 batters, and
only 56.3 percent in the zone. As for his Swing Strike%, it is
a minuscule 4.1, even though he had two full games of "first
look" already. How bad is that? Of the 124 pitchers that have
worked at least 70 IP, only Kevin Correia's 4.7 is even close.
What Despaigne has survived off of has been the roulette of
batted balls finding gloves, a .169 BABIP that can happen in a
short cycle, but will not last.

Can Despaigne be a legit MLB starter? He is already 27, so he
has had a lot of innings to develop his repertoire. But is he
going to be a phenom, which an only cursory look at those first
three games might indicate? That is highly unlikely. If the
marketplace gets carried away, it could create some serious
value pretty quickly.
[ad_2]

Source link