[ad_1]
Miami Hurricanes vs. Temple Owls (-1.5, 139)
Will Cummings' senior season has been a bumpy ride at times, but the Temple guard is stepping up when it matters most for the Owls. Cummings has been terrific in the first three rounds of the NIT and aims to lead the Owls into the championship game when they face Miami (Fla.) at Madison Square Garden on Tuesday. Cummings is part of a strong three-guard attack for Temple, while Miami also boasts a talented backcourt led by junior Sheldon McClellan.
Temple earned a No. 1 seed in the NIT after barely missing out on the NCAA Tournament despite a strong season that already has seen the team post 17 more wins than a season ago. "I think we kind of just took it as a challenge. We kind of tried to put it behind us and keep it in our minds at the same time," Cummings told reporters of the NCAA Tournament snub. "Just use it as motivation and come out every game and try to make a statement with each win." Miami earned a No. 2 seed in this tournament and is coming off a thrilling win its last time out, rallying from 18 points down in the second half to slip past Richmond last Tuesday.
TV: 7 p.m. ET, ESPN

LINE HISTORY: This line opened anywhere from Temple +1 to Temple -1 and is now Owls -1.5 at most shops.
CHEERLEADER WAR: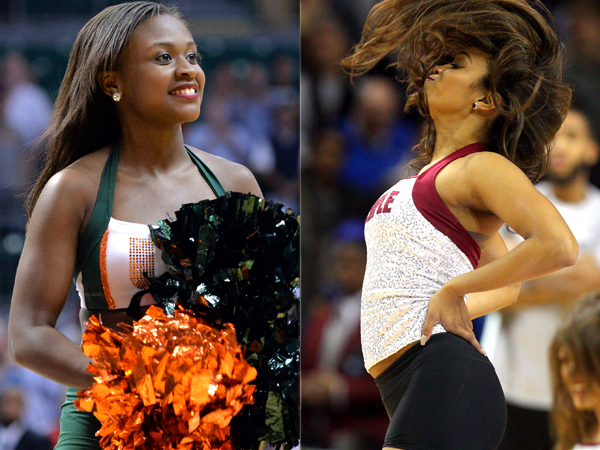 ABOUT MIAMI (24-12 SU, 16-17-1 ATS, 14-15-1 O/U): McClellan scored a team-high 16 points against Richmond and averages a team-leading 14.4 points for the Hurricanes, who have played without Angel Rodriguez (wrist) the last two games and expect their point guard again will be unavailable agianst the Owls. Without Rodriguez, Miami will need more support out of guards Davon Reed and Manu Lecomte, who shot a combined 2-of-10 versus the Spiders as the Hurricanes won despite shooting 31.1 percent from the field and 2-of-16 from the arc. "It's just something about this team. We don't really get rattled," said McClellan, who has made 51 3-pointers – one of eight Hurricanes who boast at least 18 this season.
ABOUT TEMPLE (26-10 SU, 18-15 ATS, 11-18 O/U): Cummings is shooting 55.3 percent in the NIT after connecting at a 39.4 percent rate during the Owls' first 33 games and he also is 7-of-12 from 3-point range in the last three games, compared to 17-of-90 entering the tournament. "Everyone that plays basketball should get a chance to play at Madison Square Garden," Cummings told reporters after Temple's 77-59 quarterfinal win over Louisiana Tech. "It's kind of like the stage of all stages." Quenton DeCosey posted his first career double-double in that contest with 21 points and 11 rebounds while Jesse Morgan added 17 points for the Owls, who have scored 70 points or more in six of their last seven games after doing so three times in their previous 14 outings.

TRENDS:
* Owls are 4-1 ATS in their last five non-conference games.
* Under is 7-1 in Owls last eight vs. Atlantic Coast.
* Under is 6-2 in Hurricanes last eight games following a S.U. win.

Stanford Cardinal vs. Old Dominion Monarchs (+2.5, 135)
At this rate, Old Dominion fans probably expect the Monarchs to defeat Stanford on full-court buzzer-beater on Tuesday. When the teams meet in the NIT Final Four at Madison Square Garden, Old Dominion will be looking to ride the momentum from three straight dramatic victories, each of which has raised the bar from the previous outing. The top-seeded Monarchs overcame a six-point halftime deficit against Charleston Southern before Jonathan Arledge scored the decisive basket with 19 seconds left against Illinois State, only to be upstaged by Trey Freeman's 35-foot bank shot at the buzzer in the quarterfinal win over Murray State.
"We're on a mission. It's a business trip, but at the same time, I'm going to enjoy the history and the feeling of being in Madison Square Garden," Freeman, who has never been to New York City before this week, told reporters. "I'm going to enjoy my experience, but I know at the end of the day what we're there for." While Old Dominion goes after the program's first NIT title, the second-seeded Cardinal are seeking their third NIT crown, having also won in 1991 and 2012. Senior guard Chasson Randle was a freshman – and the team's leading scorer – in 2011-12, and he arrives at Madison Square Garden eyeing two more victories – and a bit of history too.
TV: 9 p.m. ET, ESPN
LINE HISTORY: Oddsmakers opened Stanford as a 2-point fave and is now -2.5.
CHEERLEADER WAR:
ABOUT STANFORD (22-13 SU, 15-19-1 ATS, 17-17-1 O/U): Randle (2,326 career points) is the fourth-leading scorer in Pac-12 history – going back to its days as the Pac-10 – and can surpass Todd Lichti for third place on the list, as well as the all-time Stanford record, with 11 points Tuesday. "They say scorers are born. I think with Chasson, he just has an ability to put the ball in the basket," Cardinal coach Johnny Dawkins told reporters, adding that "it's a great moment. First of all, you're talking about a record that's been standing for a long time (since 1989) and it's still standing." Randle had 16 points, while Anthony Brown scored a season-high 26 in last week's 78-75 triumph against Vanderbilt in the quarterfinals.
ABOUT OLD DOMINION (27-7 SU, 17-14 ATS, 8-17 O/U): The Monarchs are back in the NIT Final Four for the first time since 2006, having won nine of their last 10 games in large part thanks to Freeman (17.1 points this season). The junior guard battled an ankle injury earlier in the tournament but came up huge against Murray State as Old Dominion prevailed despite blowing a 10-point lead with under 3 1/2 minutes left. Arledge added 12 points in the quarterfinals and is averaging 14.7 points on 50 percent shooting in the NIT, up from his regular-season numbers of 8.3 points on 42.8 percent from the field.

TRENDS:
* Cardinal are 6-1 ATS in their last seven non-conference games.
* Under is 9-4-1 in Cardinal last 14 overall.
* Under is 5-1 in Monarchs last six overall.
[ad_2]