[ad_1]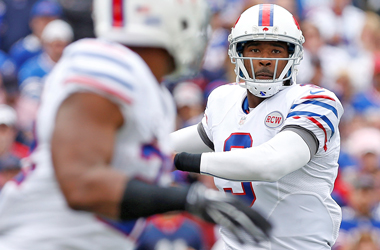 USA Today Images
Each week during the pro football season, Covers
Expert Art Aronson of AAA Sports looks at the NFL odds and
tells you which spread to bet now, which one to bet later, and
which total to watch as the week plays out.

Spread to bet
now
San Diego Chargers at
Buffalo Bills (-1)
By the time we get into the holiday season it's likely that
lack of depth will have brought the Bills down to earth, but
for right now it's time to enjoy the ride. The 2-0 Bills are
alone in first place in the AFC East and are slight favorites
at home when the Chargers travel 3,000 miles East for what
amounts to a 10 a.m. kickoff for San Diego this Sunday.
Buffalo has to love the way the season has unfolded, with QB
EJ Manuel doing nothing to disrupt an offense which has
turned the ball over only once in eight-plus (overtime in
Week 1) quarters. Buffalo can flat out run the ball behind
Fred Jackson and C.J. Spiller, and Sammy Watkins (eight
catches for 117 yards and a TD against Miami in Week 2) is
frightening good.
With a new deep-pockets owner ready to take over, things are
looking up for the first time in a long time in Western New
York. This one is set up for the Bills to win.
Spread to wait on

Houston Texans (-2.5) at New York
Giants
Who would have thought it would come to this – the Giants
underdogs at home to a team that was the worst in the league
last season?
That's where the G-Men find themselves after submitting two
turkeys in a row to start the year. Fingers are being pointed
at orchestra conductors Tom Coughlin and Eli Manning, and
another bad game at home could make things very ugly, very
fast in East Rutherford.
Early wagers have hopped on Houston and if the number sticks
at 2.5 for another day, it could move to a field goal by
midweek. So, if you like New York to get things turned
around, hang on a bit and see if you can get the significant
half point.

Total to
watch


Green Bay Packers at Detroit Lions
(52)
Everyone is 1-1 in the wide-open NFC North, and the only
thing for certain is that the Packers defense doesn't appear
to be able to stop anyone.
Both Green Bay games have gone Over despite the fact that the
offense hasn't kicked it into second gear yet. The inability
to run the ball (no Green Bay running back has more than 43
yards in a game this year) has puts some pressure on Aaron
Rodgers, and the Lions' D-Line will only make matters worse.
Bettors should take a good hard look at the Over in this game
as the Packers spend the week trying to mend their defense.
[ad_2]

Source link