[ad_1]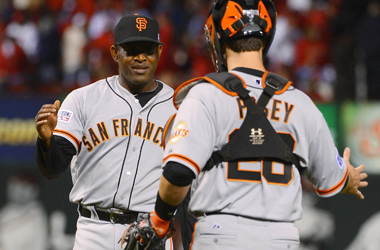 USA Today Sports

San Francisco Giants at St. Louis Cardinals (-130,
6.5)
The San Francisco Giants look for their eighth consecutive
postseason road victory when they visit the St. Louis
Cardinals in Sunday's Game 2 of the National League
Championship Series. San Francisco won the opener 3-0 behind
7 2/3 stellar innings from ace Madison Bumgarner and three
hits from third baseman Pablo Sandoval. The Cardinals are
struggling offensively and have scored eight runs over the
last four games after putting up 10 in their postseason
opener.
The Giants are turning to Jake Peavy, who was acquired from
the Boston Red Sox in late July and has excelled since
getting the change of scenery and being reunited with Bruce
Bochy, his former manager in San Diego. "He has been very
much of an adjuster," St. Louis manager Mike Matheny told
reporters of Peavy. "He figures out what he needs to do in
his game to give himself a chance with the stuff that he has
right now." San Francisco was economical in the opener,
scoring its runs on Travis Ishikawa's bloop single, an error
and Brandon Belt's sacrifice fly.
TV: 8:07 p.m. ET, Fox Sports 1

WEATHER: There is a 30 percent chance of
thunderstorms by the start of gametime. Temperatures will be
in the high-50s.
PITCHING MATCHUP: Giants RH Jake Peavy (1-0,
0.00 ERA) vs. Cardinals RH Lance Lynn (0-0, 3.00)
The 33-year-old Peavy is 3-4 with a 2.97 ERA in nine career
regular-season starts against St. Louis. He has been
re-energized since being acquired with a 6-4 mark and 2.17
ERA in 12 regular-season starts and promises he won't lose
his composure on the postseason stage. "I'll be fiery," Peavy
said at Saturday's press conference. "I will be emotional but
I will be under control. With a game plan in place, we've got
our work cut out for us."
Lynn has been roughed up in three career regular-season
outings against San Francisco, losing each start to go with a
7.98 ERA. He has won 48 regular-season games over the past
three seasons and might be the Cardinals' best pitcher in
this series after Adam Wainwright's second straight sub-par
effort in the opener. "Confidence has never been a problem,
that's for sure," the 27-year-old Lynn said at Saturday's
press conference. "I just go out and pitch. I don't worry
about anything. Pretty simple."
WALK-OFFS:
1. Sandoval has 10 career multi-hit games in the postseason,
second in franchise history behind Hall of Famer Frankie
Frisch (15).
2. Cardinals LF Matt Holliday is 8-for-28 with a homer
against Peavy, while SS Jhonny Peralta is just 7-for-34 with
a homer.
3. Giants C Buster Posey is 4-for-6 with a homer against
Lynn, and INF Joaquin Arias is 4-for-5 with four RBIs.
[ad_2]

Source link