[ad_1]

The Philadelphia Eagles begin life without Nick Foles as
the Mark Sanchez era begins with a visit from the Carolina
Panthers on Monday Night Football to conclude Week 10's slate of
games.
Books opened the Eagles anywhere from -5.5 to -6.5 and that
presently sits -7. Philly has posted a record of 3-1 both
straight up and against the spread in its last four games,
while Carolina has lost four-straight SU, but has gone 2-2 ATS
over that stretch.
In order to get a grasp on this primetime matchup, we've
enlisted the help of those who know these teams the best.
Expert NFL bloggers Bill Voth from Carolina blog Black and
Blue Review and Brandon Gowton from Philadelphia blog
Bleeding Green Nation
strap on the pads and debate which team will not only win, but
cover the spread Monday night.
WHY CAROLINA WILL COVER
Bill Voth writes for Black and Blue Review. You
can follow them on Facebook and on
Twitter @BlackBlueReview.
Health
The Panthers suffered a rash of injuries at running back and on
the offensive line in the first half of the season, but they're
almost completely healthy after their 'mini-bye.' Eleven days
separated from their Thursday night loss to the Saints in Week
9 to this Monday night game. The only players ruled out are a
couple rookies: right guard Trai Turner and nickel corner Bené
Benwikere. And while both are starters, this is the healthiest
the Panthers have been since they began the year with two wins.
'Double Trouble' is back
The best chance the Panthers have to win Monday night is to
take the air out of the ball. That means they'll give a lot
more work to running backs DeAngelo Williams and Jonathan
Stewart, who have each recovered from early season injuries.
They only got eight carries apiece against the Saints, and the
Panthers lost in time of possession by nearly 11 minutes.
Williams and Stewart aren't going to be the backs of 2009 when
they each rushed for more than 1,000 yards anytime soon, but
they should be able to grind out some good yardage against the
Eagles' 20th-ranked run defense.
Mark Sanchez
While the Panthers are about as healthy as they can be, the
Eagles had two costly losses in their win over the Texans in
Week 9. Quarterback Nick Foles (collarbone) and middle
linebacker DeMeco Ryans (Achilles) each went down, and while
Ryans may ultimately be a bigger loss, what's more interesting
is who's replacing Foles. Mark Sanchez tossed two touchdowns
last week, but he also threw two interceptions. Perhaps the
former buttfumbler can revitalize his career under Eagles head
coach Chip Kelly but at the end of the day, Sanchez is still
the guy who flamed out with the Jets.
WHY PHILADELPHIA WILL COVER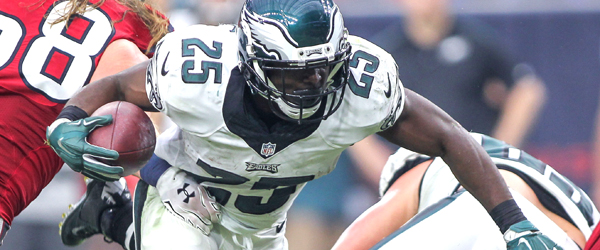 Brandon Gowton writes for
Bleeding Green Nation.
You can follow them on
Facebook and Twitter @BleedingGreen.
Refocused Run Game
With starting quarterback Nick Foles having gone down to a
shoulder injury, it's time for the Eagles to get back to what
they do best: run the football. Philadelphia's rushing attack
should be rejuvenated now that talented center Jason Kelce and
All-Pro left guard Evan Mathis have returned from injury. The
Eagles have something of a three-headed monster now at running
back with star rusher LeSean McCoy, veteran offensive weapon
Darren Sproles, and emerging bruiser Chris Polk. Philadelphia
will look to exploit Carolina's 26th-ranked run defense early
and often.
In Sanchez We Trust
The much-maligned Mark Sanchez is set to take over at
quarterback with Foles out due to injury. While Sanchez
struggled earlier in his career with the Jets, he has looked
comfortable moving the ball at times as a member of the Eagles.
Sanchez played relatively well for coming off the bench cold in
Week 9. This time around he'll have a full week of starter's
preparation heading into the game. A refocused run game should
lessen the burden on Sanchez and prevent him from having to
carry the offense on his back.

Home Field Dominance
The Eagles are very good when playing at Lincoln Financial
Field recently. In their last eight regular season home games,
the team is a perfect 8-0. Philadelphia has outscored their
opponents 268-147 in that span, an average of 33.5 to 18.4 per
game. Not only should the Eagles be able to beat the Panthers,
who own the NFL's seventh worst point differential, but they
should be able to do it comfortably.
Join the debate. Who covers the spread Monday
night: Panthers or Eagles?
[ad_2]

Source link