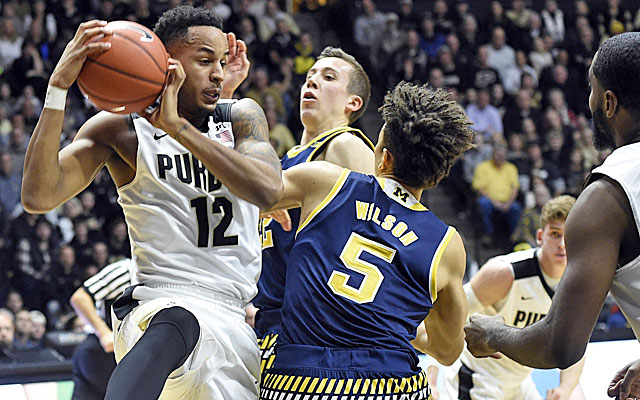 Purdue rebounded well — literally — from a home loss against Iowa last weekend with an 87-70 victory against Michigan on Thursday night.
The Boilermakers crashed the glass, shot 56 percent from the field and looked very much the part of the No. 1 defensive team in the country in beating the hampered Wolverines.
The Wolverines didn't stand much of a chance, all told, since their best player couldn't go on Thursday night. Senior Caris LeVert still isn't over a left leg injury he suffered in Michigan's game against Illinois on Dec. 30. As he did a year ago, before a season-ending injury to his left foot, LeVert leads the team in scoring (17.6), rebounds (5.4) and assists (5.2).
Purdue had a team-high 17 points and four blocks from A.J. Hammons, who was inserted into the starting lineup. Michigan shot 38 percent from the field and tried to win by shooting over Purdue's considerable length and height. Michigan was rushing to catch up the entire game, and missed 16 of 27 3-point attempts.
Purdue is now 14-2 and will remain in the discussion for the Big Ten's best, with Michigan State and Maryland, so long as they don't lost any more home games.
Michigan has plenty of proving left to do, though. Like a few other teams with solid records so far, the Wolverines' wart is this: The have lost to the best teams they've played. First Xavier at home, then a neutral-court loss to UConn, then a 24-point road loss to still-unbeaten SMU, and now a whooping by Purdue.
The Wolverines don't have the utensils to be a top-25 team this season, but if LeVert can get right, John Beilein has the offense and the acumen to still rally this team to a single-digit seed come March. The next two games stand to mean a lot for this team: home to Maryland on Tuesday, then at Iowa on Jan. 17.
[ad_2]

Source link