[ad_1]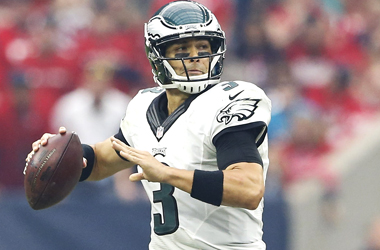 US PRESSWIRE
From the Baywatch-lookalike photo shoots to the butt
fumble, Mark Sanchez has made a habit of being on the wrong end
of jokes and criticism. Still, as he starts for the
Philadelphia Eagles in place of the injured Nick Foles tonight
against the Carolina Panthers, he has Monday Night Football
bettors in his corner.
"We opened at Philadelphia -6 and then quickly went to -6.5,"
Sports Interaction's Greg Sindall says. "At that point,
we started to take a lot of Philadelphia money and moved to
-7. The action has been fairly balanced on -7 but we're
seeing about 58 percent of the overall handle on
Philadelphia."
Sanchez relieved Foles after the starter went down with a
broken collarbone and went on to complete 15 of 22 passes for
202 yards with two touchdowns and a pair of interceptions.
"Sanchez hasn't really affected the line too much," Sindall
said. "Most of the early money was people betting against the
Panthers, who are falling apart. If Foles was starting, it's
possible the line would be a bit bigger but given Sanchez's
experience, the difference would not be all that
significant."
Sanchez isn't moving the needle much when it comes to the
total, either.
Sports Interaction had tonight's Over/Under at 48 at the
open and it dipped to 47.5 on Saturday before coming back up
to 48.5 on Sunday, which is where it sits now.
"Action on the total is pretty one sided with 71 percent of
the money on the over," Sindall said. "Bettors are counting
on Philly to light it up out there tonight."
The Eagles may have to do just that for over bettors to cash.
Philadelphia has scored just 36 points over its last three
games.
[ad_2]

Source link