[ad_1]

Each week during football season, Covers writer Colin
Kelly will be in the Las Vegas sports books profiling bettors
just like you, sharing their Sin City stories, big wins, bad
beats, and all the fun stuff that's supposed to "stay in
Vegas."

Chris Dods and Tyler Ciota arrived at the Palms Friday, ready for
a weekend of revelry at a friend's bachelor party. But Las Vegas
being what it is for such events, there comes a point when you
have to try to get some money back.
That point was Sunday morning, when Dods and Ciota hit the
Palms' sportsbook to take in some Week 3 NFL action – and to
have some action on those games. Or at least for Dods to have
some action.
"I didn't get my bets in on time," Ciota lamented, while the
early games were at halftime. If he had hit the betting window
on time, Ciota said he would have had money on his hometown
Chargers – which ultimately would have paid off.
But since Ciota was late, it was up to Dods to recoup some cash
before returning to San Diego Monday. He almost exclusively
bets parlays, so he got down a three-teamer of the Chargers,
the Patriots and the Saints – but with a little twist.
The pointspread is what makes football so attractive to bet –
it's the great equalizer. But Dods doesn't like dealing with
the points, so he instead took all three teams on the
moneyline: $60 to win $177, provided San Diego won at Buffalo,
New Orleans beat Minnesota and New England bested Oakland.
And he took a little heat from the ticket writer.
"I was criticized for adding New England to my parlay. He said,
'It's gonna add minimal value for the risk.' I said, 'Just take
my bet. It's my bet to make,'" Dods said.
Donning a Philip Rivers jersey, Dods had to include San Diego
on the three-teamer. But the bet wasn't all about being a
homer. There were several strategies at play.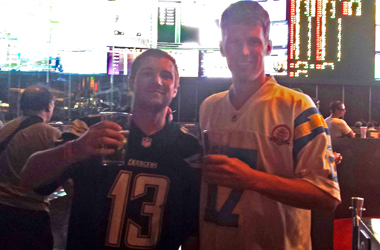 Tyler Ciota, left, and Chris Dods raise a beer
toast Sunday while taking in Week 3 NFL games
at the Palms' sports book. The two were in town from San Diego
for a bachelor party,
but found some time Sunday morning to get to the
book.
"For San Diego, I figured if we beat Cincinnati on the road in
the playoffs last season, we can beat the F-ing Bills on the
road," Dods exclaimed, careful to curb his expletive. "I need one
game that I'm kind of risking – that was San Diego. Then I pad it
with locks to hype up the bet a little bit. I try to avoid
spreads unless I know they're gonna beat it."
And the final piece of the strategy puzzle: No waiting. So the
three-teamer was all on early games, meaning payout or pain
would be doled out swiftly.
"I don't like waiting around. It's either instant gratification
or instant defeat," said Dods, with beer in hand well before
noon.
On Sunday, it was instant gratification indeed. The Chargers
rolled 22-10, New Orleans posted a 20-9 victory, and the Pats
squeezed out a lackluster 16-9 win. Had he bet against the
spread, New England would have spoiled his ticket as 14-point
chalk.
"I'm usually not too hot," Dods said. "But you hit a few of
them every now and then."
Hopefully it was enough for their final night of revelry, and
maybe some gas money to get back to San Diego.
Colin Kelly is a Las Vegas-based contributor for Covers.
Follow him on Twitter: @ColinPKelly29.
[ad_2]

Source link