[ad_1]

Each week during football season, Covers writer Colin Kelly
will be in the Las Vegas sports books profiling bettors just like
you, sharing their Sin City stories, big wins, bad beats, and all
the fun stuff that's supposed to "stay in Vegas."
Tim Sherman's granddad was a betting man, and he
regularly offered the same sage advice to his
grandson.
"My grandfather always said, 'Play your hunches,'" Sherman
said.
Sometimes, those hunches come in the form of a complete
stranger standing in line at a sports book, waiting to make a
bet, wearing a T-shirt that piques your interest.
That was the case for Sherman on Saturday morning at the
Venetian, where the book was packed with colorful characters
for another big day of college football.
Sherman, in town from Boston for the weekend along with three
of his hearty friends, was looking for some kind of sign, just
before East Carolina kicked off at Virginia Tech.
"I was in line to bet before the game, and there was a guy in
an ECU T-shirt. And I said to him, 'Do you guys have a chance?'
And he said, 'Yep. We have a good quarterback.' And that was
it."
The Pirates were double-digit underdogs most of the week and
went off as 9.5-point pups. But after his short conversation
with a complete stranger, Sherman played his hunch: ECU,
outright.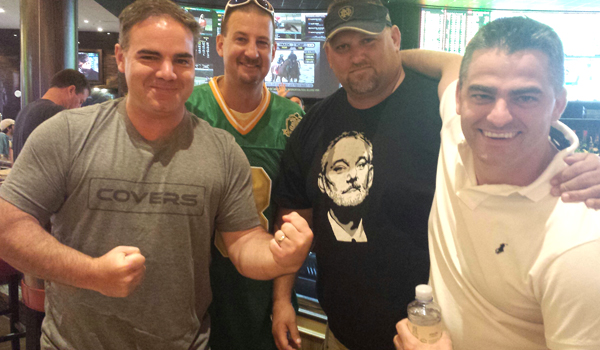 From left, Tim Sherman — a Notre Dame alum
striking his best mascot pose — and Boston
buddies Brad Mitchell, Matt Cotter and Chris Kilibarda revel at
the Venetian
sports book on Saturday after Sherman cashed a $50 moneyline
bet on East Carolina.
"I put $50 on East Carolina on the moneyline, at +300," he said.
It looked like a lead-pipe cinch when the Pirates stormed to a
21-0 first-quarter lead and were still up 21-7 at the half. But
Sherman was already concerned at that point.
"They had three blown possessions, so I knew the momentum was
gonna turn. It should have been 35-0," he said. "When a team
blows opportunities like that, the momentum is gonna shift."
Indeed it did. ECU couldn't mount any scoring drives, and Coach
Frank Beamer's Hokies finally got it together late in the game,
notching two fourth-quarter touchdowns to tie it at 21.
"I figured Virginia Tech was gonna block a punt, do something –
I figured Beamer Ball is gonna get some lucky bounce," Sherman
said.
Instead, ECU got a big lucky bounce. The Hokies tied it with
1:20 left in the fourth quarter, but the subsequent kickoff
went out of bounds, giving the Pirates great starting field
position. They went 65 yards in just three plays, with Shane
Carden – that good quarterback – running it in from the 1-yard
line with 16 seconds left to seal ECU's 28-21 upset.
"I was excited after Virginia Tech tied it, because East
Carolina could get aggressive then. They knew they had to move
the ball. But I was sweating it out," Sherman said, while
lifting up his arms. "Look at the pit stains right there. I'm
in Vegas. I always sweat."
But at least he got some sweat equity out of his strategy,
turning 50 bucks into 200.
"I like talking to fans of various teams, because a lot of
times, you'll get an honest opinion," Sherman said. "And you
don't see a guy in an East Carolina T-shirt every day."
Colin Kelly is a Las Vegas-based contributor for
Covers.com. Follow him on Twitter: @ColinPKelly29.
[ad_2]

Source link