[ad_1]

If you think you've seen it all in Las Vegas, just
remember: You've never seen it all.
Unless, of course, you can say you've met a stuffed panda who
apparently talks, drinks beer, has a driver's license and, by
the way, wins his wagers. Can you say you've seen that? Didn't
think so.
OK, so maybe Cheto Rampage Panda doesn't do all those things.
Maybe. But Lorena Ponce and her boyfriend (who wished to remain
anonymous) believe he does. And that's all that matters.
The trio of football fanatics darted from their home in Rancho
Cucamonga, Calif., bright and early Saturday morning – 4 a.m.,
to be precise – for another weekend jaunt of betting at the MGM
Grand sports book. They've been doing this every weekend for
five years (two of which they lived in Vegas, so it was a
shorter jaunt), driving home late Sunday night after a weekend
full of college and NFL watching and wagering.
"He's just our lucky charm. We take him everywhere we go,"
Ponce said. "He just has his own personality."
But does he really show you the money?
"He's been pretty lucky this season," she said. "Technically,
the bear hasn't had a losing season. And he's been increasingly
better each year. And he's a great icebreaker."
To that, I can indeed attest. Walking along the front row of a
packed MGM Grand book around lunch hour Saturday, it's pretty
hard not to notice Ponce, her boyfriend – and the
prognosticating panda.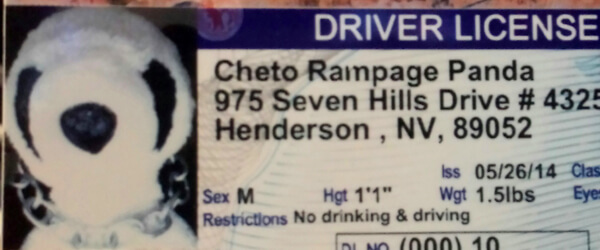 Cheto might be small in stature, but he stood
tall at the MGM Grand sports book this past
weekend.
So what are Cheto's most recent successes? Well, he had to leave
town before the Saints-Cowboys Sunday night game in Week 4, but
he had $955 on Dallas at +3. And he had a $2,500 ticket on the
Packers for their Thursday night rout against Minnesota. So when
he came back to town Saturday morning, he immediately cashed two
tickets for about $7,000.
"That's normal for the panda," Ponce said.
Really? And here I thought all pandas did was eat bamboo and
sleep.
Ponce admits that while she enjoys hanging out at the book all
weekend, it's her boyfriend and Cheto pulling the trigger on
all the bets. She's just there to try to keep them in line.
"I just come and have a good time. I make sure they eat, get
back to their room and get up on time," Ponce said.
So what happens when Cheto disagrees with a pick? Well, you
dance with the bear who brought you there.
"It doesn't happen often, but once in a while," Ponce said,
noting the Jets-Lions game from Week 4. "We were strong on the
Jets, but Cheto liked the Lions, because he's an animal. So at
the last minute, we went with a $200 bet on the Lions."
Detroit won 24-17 as a 2-point road underdog.
On this college football Saturday, he's particularly strong on
Auburn – which pays off in the Tigers' 41-7 blowout of
Louisiana State.
Cheto also likes to have his bases covered. On Sunday, he
wagers $1,500 on the Bills at +5 against host Detroit – he
knows not to take this animal thing too far — and figures why
not throw a $500 moneyline bet on Buffalo, too. He cashes both
tickets, with the Bills winning outright 17-14, turning $2,000
into nearly $4,400.
Cheto, now with an oversized beer perched in front of him, does
better than just wager on games. Ponce insists he influences
them – and not always for the good.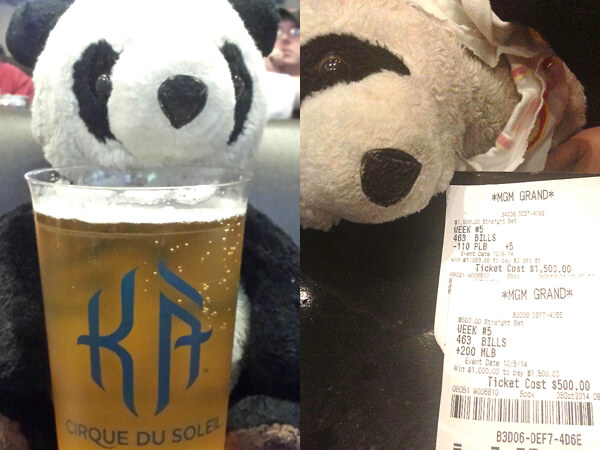 "He has a tendency to block kicks – when we need him to, and even
when we don't need him to," Ponce said. "So we'll cover his eyes,
his feet, everything when we need him to not block a kick."
So what's the secret to Cheto's success?
"I think it's the drinking," Ponce said. "That, and he has no
fear. That's what it is."
Fear the panda, indeed.
Colin Kelly is a Las Vegas-based contributor for Covers.
Follow him on Twitter: @ColinPKelly29.
[ad_2]

Source link