[ad_1]

Each week during football season, Covers writer Colin Kelly
will be in the Las Vegas sports books profiling bettors just like
you, sharing their Sin City stories, big wins, bad beats, and all
the fun stuff that's supposed to "stay in Vegas."
There's no getting around what it's all about in Las
Vegas on NFL Sundays: Betting, plain and simple. You can't walk
five feet in a sportsbook without stumbling over another tale
of the thrill of victory – or of course, the agony of
defeat.
But this past Sunday, at the Hard Rock Hotel's spiffy
sportsbook, it went a little deeper. Oh, there was betting and
all that, to be sure. More intriguing, though, was a huge
barrier overcome and a tradition continued.
Cody Powell hails from Castle Rock, Colo., a Denver suburb best
known for the picturesque Castle Pines golf course. He was the
first of his parents' four children and as each child turned
21, a celebratory trip to Las Vegas was undertaken. Now he's
the 44-year-old father of his own four children, continuing the
tradition, this time with offspring No. 2, his son C.J.
C.J. actually hit the magic age on July 7, but the trip had to
be tabled, with good reason.
"We had to wait for his girlfriend to turn 21," Cody said. "So
we all came down together."
Considering what C.J. has been through the past couple of
years, it's amazing the tradition lives on. An avid dirt bike
racer, he was involved in a terrible accident during a race,
cracking his T-5 and T-6 vertebrae. He's paralyzed from the
waist down.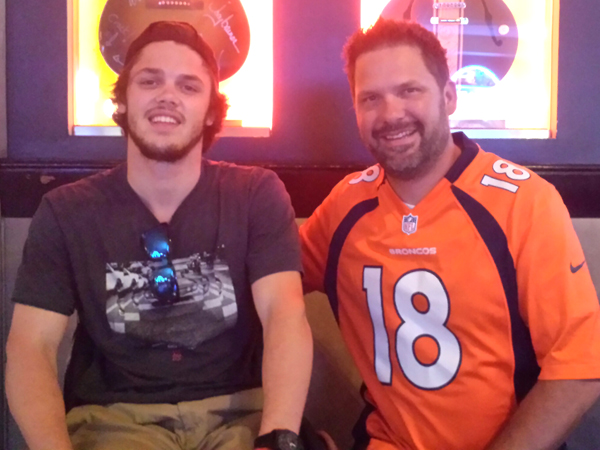 "If you can handle something like this in a positive way,
you can handle anything."
"I got a little loose and got ejected. I landed kind of folded
over," C.J. recalled, wheelchair at his side as he sat in a booth
with his family, loading up on football and good food just a few
feet from the sportsbook. He's very animated as he speaks, moving
his arms and upper body with no problem. It's hard to believe he
has no feeling in his legs, but he assures me that's the case.
"You could take that pen and stab me in the knee, and I
wouldn't feel it," C.J. said. "I did a good number on my spinal
cord."
But despite his accident, his attitude is stronger and more
positive than ever. Just like when his dad turned 21, he's
soaking up the scene on an NFL Sunday in Vegas. And you better
believe he's got some action: a three-team moneyline parlay on
the Packers, Eagles and Falcons, and another three-teamer of
Falcons-Vikings Under, Eagles-49ers Under and Saints-Cowboys
Over.
"I'm really passionate about football. I love it," C.J. said.
"The reason we came out here in September is so we could do
this. I love it. It's awesome."
Dad had to give the novice bettor a little flak, though.
"I told him on the Eagles (moneyline), he's throwing good money
after bad," Cody said, laughing.
As it turns out, the Eagles and Falcons blow up his first
parlay, and the Falcons-Vikings contest soars Over the total to
trash the second ticket.
His dad made up for it, though, hitting a $100 bet on a
two-teamer of the Packers -1.5 and the Colts -7.5.
"I don't bet a lot. It's just entertainment," said Cody,
sporting a Denver Broncos Peyton Manning jersey with "Sheriff"
on the back – a nod to what Jon Gruden calls the Denver
quarterback. "But I honestly find when I'm down here, I do
better at sports betting than I ever do at the table games."
C.J.s first sports betting venture proves bumpy, but he's seen
far more difficult days, so it bounces right off him.
"It just puts everything in perspective," he said of the
accident. "It's weird to say, but I just feel happier. If you
can handle something like this in a positive way, you can
handle anything."
And somewhere down the road, he intends to keep the family
tradition going.
"I'd say I'll probably take my kids here for their 21st, too,"
C.J. said.
Colin Kelly is a Las Vegas-based contributor for Covers.
Follow him on Twitter: @ColinPKelly29.
[ad_2]

Source link