[ad_1]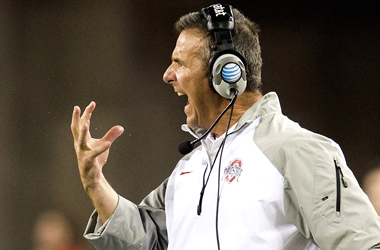 USA Today Images
Spot bets are classic handicapping practices that have
proven profitable no matter what sport you're betting. Whether
it's a team looking past this week's opponent, one coming off a
hard-fought victory, or a rough patch of schedule, bettors can
find value picking their spots. Covers
Expert Ben Burns points out his favorites:

Lookahead spot
Bragging rights in the Big Ten and the inside track to a spot
in the College Football Playoff is on the line when Ohio
State visits Michigan State in Week 11 of the NCAAF schedule.
But while the Spartans get a week off to prep for this
massive matchup with the Buckeyes, OSU is at home to Illinois
this Saturday in a dangerous lookahead spot.
Oddsmakers have installed Ohio State as a 28-point home
favorite versus the Illini. The Buckeyes nearly shot their
national title chances in the foot last weekend, blowing a
17-point lead against Penn State and needing two overtimes to
escape with the 31-24 win Saturday. Ohio State could dumb
down the playbook in preparation for MSU and allow Illinois
to sneak away with the backdoor cover. There is a lack of
focus already present with this Buckeyes squad, so bettors
beware.
Letdown
spot
The Pittsburgh Penguins have a possible Stanley Cup preview
on tap against the defending champion Los Angeles Kings
Thursday night. It's a classic matchup of the Penguins'
powerful scoring versus the Kings' lockdown defense. And for
Pittsburgh, which has already dropped two home games coming
into this week, Thursday's contest is a true litmus test to
see where it really stands in the NHL's pecking order.
The Pens are set up for a lofty letdown the game following
the Kings. Pittsburgh welcomes lowly Buffalo to the Consol
Energy Arena – a literal first-to-worst shift on the
schedule. Depending on how Thursday's tilt with L.A. goes,
Pittsburgh could come out flat against the Sabres Saturday
night. There could be big moneyline value with a flyer on
Buffalo.

Schedule spot
The Los Angeles Lakers have enough issues to start the new
NBA season. But the schedule makers couldn't care less,
penciling Los Angeles for four games in five nights to kick
off the 2014-15 campaign. The Lakers open the calendar
against the Rockets Tuesday, then travel to Phoenix
Wednesday, back to L.A. to face the Clippers Friday, and
finally go to Golden State Saturday night.
Los Angeles doesn't have much around Kobe Bryant, whose
health will definitely be an issue in the early going. The
team could limit his minutes in the opening slate of games or
just choose to rest him here and there. On top of that,
players are nowhere near in shape this early in the season.
So, even if Kobe is fresh, his teammates will likely be
dragging their Nikes after trying to make up for his lost
minutes. Keep an eye on Saturday's odds in Golden State.
[ad_2]

Source link