[ad_1]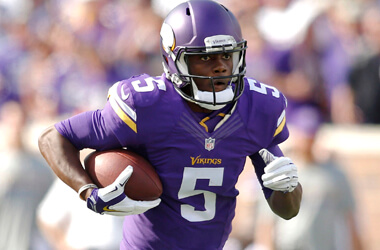 USA Today Images
The forecast in Green Bay is calling for a 70 percent
chance of rain for Thursday's game between the hometown Packers
and the rival Minnesota Vikings.
While a little wetness won't force sportsbooks to adjust
their odds, bettors looking for an edge when capping the
weather need to look no further than Minnesota rookie QB
Teddy Bridgewater and his tender left ankle.
The slick field conditions could put an extra strain on
Bridgewater's ankle, something sportsbooks haven't overlooked
as Thursday draws closer, setting the Vikings as 9-point
underdogs.
"Bridgewater is still bothered by that ankle," says
Scott
Kaminsky of The Greek.com. "(The poor conditions are)
going to make it even more difficult on that sprained ankle,
and his plant foot could easily give out because of the
rain."
Bridgewater, who passed for 317 yards and scrambled for 27
more gains and a touchdown in his first career start against
Atlanta last Sunday, suffered the injury late in the fourth
quarter in Week 4 and has a short week to recover before
traveling to Wisconsin Thursday. Bridgewater remains
optimistic but did sit out practice Monday and Tuesday.
"If he doesn't play, this game goes up to 10 or 10.5," says
Kaminsky. "You're bringing in (Christian) Ponder. If
(Bridgewater) does play, there's a good chance the ankle goes
with all the sliding around and then you're stuck with
Ponder."
Kaminsky says that while most books are dealing this game
between 8.5 and nine, sharp bettors are buying points on the
Packers and taking Green Bay -10 and -10.5.
"Teasers are mounting on Green Bay. That could be an issue."
The total for Thursday's game is set at 47.5 points. The
Packers and Vikings are 20-8-1 Over/Under in their previous
29 head-to-head meetings.
[ad_2]

Source link