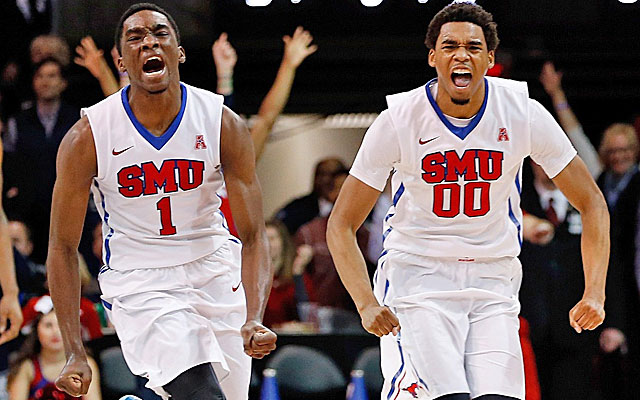 SMU's bittersweet season remains perfect.
The Mustangs rallied late at home on Thursday night to beat Cincinnati, 59-57, in a thrilling AAC game between, arguably, the two best teams in the conference. The Mustangs had four players hit double figures in scoring, led by Ben Moore's 15.
Southern Methodist and South Carolina, which won on Tuesday night, are the only teams left in Division I without a loss. That's 14 up, 14 down for Larry Brown's boys. This is the best start in the history of the program.
It's all the team has, considering it's not eligible for the postseason — and is now playing without Keith Frazier, the central figure of the NCAA case that led to such circumstances.
The win was even more impressive considering SMU closed the contest out with six scholarship players. Sterling Brown was ejected with 7:09 remaining in the first half, and the score knotted at 21.
It looked as though Cincinnati (11-5) was going to be the group to end the SMU streak; it had a seven-point lead with just over three minutes remaining. The Ponies MVP Nic Moore stepped up and hit back-to-back 3s to swing the thrust SMU's way. Moore is a heck of a player and one of the better guards in all of college basketball.
Cincinnati's chances ended when a fallaway Farad Cobb heave at the horn was long. Cincy had a game-high 18 points from Cobb, while Gary Clark had a terrific line in losing effort: 13 points, 11 rebounds, five steals.
The Bearcats have lost three of four and will get a road game against South Florida on Sunday.
SMU is looking will go for 15-0 on Sunday at home against 8-5 UCF.
[ad_2]

Source link