[ad_1]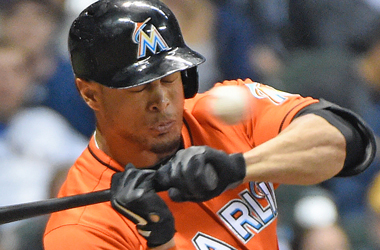 US PRESSWIRE
Miami Marlins slugger Giancarlo Stanton suffered a
scary injury against the Milwaukee Brewers, getting hit in the
face with an 88-mph pitch from Mike Fiers Thursday.
Stanton, who leads the National League with 37 home runs,
left the game in an ambulance and will miss the remainder of
the year with a facial fractures and dental damage, taking
perhaps the biggest bat in baseball out of Miami's lineup for
the home stretch of the season.
"Stanton is a big part of that team, but once you hit
September, with the expanded rosters and call-ups, and being
that the Marlins are pretty much out of it (9.5 games back of
National League wild card), he's probably worth between 3-4
cents (to Miami's moneyline odds)," Steve Mikkelson,
sportsbook manager at the Atlantis Casino and Resort in Reno,
tells Covers.
Mikkelson says Stanton would be worth a lot more had this
occurred in the spring – and before Miami lost starter Jose
Fernandez back in May.
"That would be devastating," he says. "Stanton is one of the
best hitters in the National League – maybe all of baseball –
in terms of power and presence at the plate."
While the main focus of the Miami media is on how the Marlins
will fare in the final weeks of the regular season without
their star outfielder, Mikkelson says baseball bettors should
be concerned about how this accident will impact the other
party involved: Fiers.
The Brewers right hander has been a steady arm for Milwaukee
during its recent slide. Fiers is 6-2 with a 1.84 ERA in 11
appearances (+517 units) – seven starts – in 2014. He was
shaken and apologetic after the game, reaching out to Stanton
via Twitter.
"He's been pitching good, so it will be interested to see how
this impacts his next start," says Mikkelson. "I think it
will get to him. A guy like Pedro Martinez wouldn't think
twice about something like this. But, I think it will rattle
(Fiers)."
The Brewers host Cincinnati for the weekend while the Marlins
travel to Philadelphia Friday.
[ad_2]

Source link