[ad_1]

Throughout the NFL season, we've enlisted the help of expert NFL bloggers across the league, who have debated why their favorite teams are the best bet in some of the biggest games of the year.
Now that we're down to just two – Seahawks blogger Robert Davies and Patriots blogger Richard Hill – and the "Big Game", rather than ask them why their teams will cover the spread in Super Bowl XLIX (which we'll give them a chance to, of course) we want to know what it is about their beloved clubs or next Sunday's matchup that scares the living crap out of them heading into the Super Bowl.
If you're going to fade the Seahawks or the Patriots on Feb. 1, these are the guys who would know why…
WHY SEATTLE BETTORS SHOULD WORRY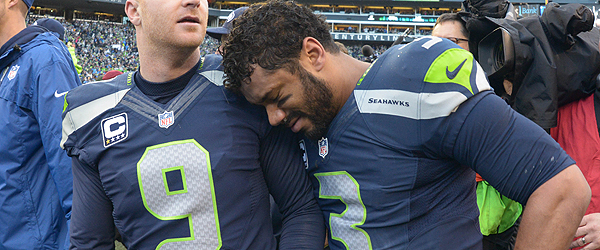 Rob Davies writes for Field Gulls. You can follow them on Facebook and Twitter @FieldGulls.

Defensive injuries
What scares me is that Richard Sherman and Earl Thomas are more seriously injured than we know. It's been eerily silent since Sunday evening, with both players simply vowing to play in the Super Bowl.
It's fantastic to hear, but they would've had adrenaline coursing through their veins during the game last Sunday, something that can't be replicated until game time come February 1.
One of them missing the Super Bowl would be bad news – losing both could prove catastrophic. You'd think Thomas should be OK, but Sherman's the major worry.

Emotional letdown
I'm scared that last Sunday's win over the Packers was the emotional victory to end all emotional victories. It could well be a case of "After the Lord Mayor's Show" for the Seahawks.
Now, as it's the Super Bowl and there's a bye week in between games, Seattle should have no problem being up this one, and it does seem ridiculous to even doubt that.
However, they've not scored a first half point in two of their last three home games (Rams, Panthers) and another slow start against the Patriots may not be enough for even this defense to help overcome.

Brady's Big Game experience
I thought that Tom Brady would struggle to overcome the crushing loss of Super Bowl XLVI, where Wes Welker dropped a catchable ball late in the game to seal victory. The loss, understandably, hit Brady hard, but he bounced back as though nothing had happened.
His potent mix of a short memory and championship blood saw to that. This is his and Bill Belichick's sixth Super Bowl together and what scares me is, just like the Seahawks last Sunday, Brady and his teammates riding into Glendale with a sheer will to win.
It's a force of spirit that can feel unbreakable and as this could be Brady's final tilt at a Lombardi, my fear is that he'll lead a team who won't know how to lose.
WHY NEW ENGLAND BETTORS SHOULD WORRY
Richard Hill is an editor at Pats Pulpit. You can follow them on Facebook and Twitter @patspulpit.

Seahawks run defense
The Patriots have faced three top five rushing defenses, by Football Outsiders' DVOA rankings. In those games, they've averaged a mere 55 rushing yards.
New England will need to find more offensive balance against a top-ranked rushing defense if they wish to dictate the flow of the game.

Offensive line health
The Patriots were able to protect Tom Brady against the weak defensive front, but the Seahawks feature one of the best pass rushing units in the league.
If the Seahawks can take advantage of the Patriots' weakened interior line, then the New England offense will have a difficult time sustaining drives.
Russell Wilson magic
The Seahawks quarterback seems to operate on a different plane of existence: one where he can scramble and throw and hit any and all passes at any time.
The Patriots have to hope to contain him inside the pocket to allow the New England secondary to play to their strengths and offer a chance to force turnovers.
[ad_2]

Source link