[ad_1]

Wichita State Shockers at Notre Dame Fighting Irish (+2, 137)
The Shockers clinched their third straight 30-win season with the victory over the Jayhawks and have a shot at a rematch with Kentucky, which ended their season with a 78-76 defeat in the round of 32 a year ago. The Shockers are best noted for their defensive prowess, but all five starters scored in double figures against Kansas.
The Irish have won seven straight dating to a loss to Syracuse on Feb. 24, but they've barely edged Northeastern (69-65) and Butler (67-64 in OT) in their first two games of the tournament. "We made big plays down the stretch," senior guard Jerian Grant told reporters. "We've been doing that all year. We're playing with a lot of confidence right now. We want to keep it rolling."
LINE HISTORY: Offshores opened this game as a pick with that moving to Wichita State -2.
CHEERLEADER WAR: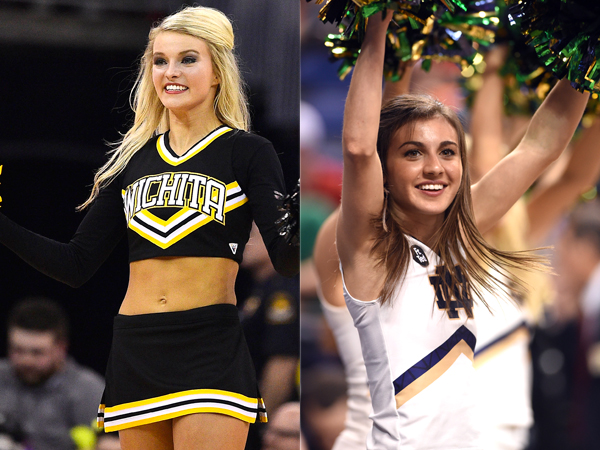 TRENDS:
* Under is 13-2-1 in Fighting Irish last 16 NCAA Tournament games.
* Shockers are 1-4 ATS in their last five neutral site games.
* Fighting Irish are 1-10 ATS in their last 11 NCAA Tournament games.

North Carolina Tar Heels vs. Wisconsin Badgers (-6, 144)
The Tar Heels may not have burly forward Kennedy Meeks (knee sprain) on Thursday, which would put additional pressure on forwards Brice Johnson and Justin Jackson to stay out of foul trouble against Kaminsky and company. "I can't think of another 5-man who gets out there and shoots 3s like Frank does," said North Carolina coach Roy Williams, whose team has held both of its NCAA Tournament opponents below 40 percent shooting. Paige is 10-of-21 from 3-point range in his last three contests while swingman J.P. Tokoto has 19 assists and three turnovers over his last three outings.
"These guys definitely have had the kind of season where they've earned every inch of this," Wisconsin coach Bo Ryan told reporters after his team's round of 32 victory over Oregon. "Hopefully we can go out to L.A. and get something done." Sam Dekker scored 17 points versus the Ducks and has shot at least 50 percent from the floor in four of his last five games while making seven 3-pointers over the last two games – his most in any two-game stretch this season. In addition to Kaminsky and Dekker, the Badgers also rely on Nigel Hayes (12.6 points, 6.4 rebounds) for additional scoring and rebounding help.
LINE HISTORY: The majority of offshore books opened the Badgers as 5-point faves and that has moved to -6.
CHEERLEADER WAR:
TRENDS:
* Under is 4-1 in Badgers last five non-conference games.
* Under is 7-1 in Tar Heels last eight vs. Big Ten.
* Badgers are 13-3 ATS in their last 16 vs. Atlantic Coast.

West Virginia Mountaineers vs. Kentucky Wildcats (-13.5, 136.5)
The Mountaineers forced 23 turnovers in the 69-59 victory over Maryland after badgering Buffalo into 17 during the NCAA Tournament round of 64. The tight defense takes some of the pressure off the offense, allowing leading scorer Juwan Staten to ease his way back into the offense after missing the final three games of the regular season and the Big 12 tournament with a knee injury, and Staten has been one of the keys to the pressure defense. "I'm pretty sure nobody in the world thinks we're going to get past Kentucky besides the 1.2 million that's in West Virginia," Staten told reporters. "So we're going to keep doing what we do. And keep playing."
The Wildcats are well-suited for the kind of pressure the Mountaineers will throw at them with multiple ball handlers and length at every position. Kentucky allows an average of 53.9 points and held Cincinnati to 31.7 percent from the field while forcing 14 turnovers and blocking six shots. "No one's going to surrender," Wildcats coach John Calipari told reporters of his players. "They're not going to surrender. So if you have to fight, you got to fight. I mean, I'm not going to lose going down not swinging. That means the games get physical. We had many physical games like this."
LINE HISTORY: Books opened the Wildcats as 13 or 13.5-point favorites.

CHEERLEADER WAR:
TRENDS:
* Under is 6-0 in Wildcats last six vs. Big 12.
* Mountaineers are 5-0 ATS in their last five non-conference games.
* Wildcats are 1-9-1 ATS in their last 11 Thursday games.

Xavier Musketeers vs. Arizona Wildcats (-10.5, 135.5)
Beating the Wildcats will be a tough chore but center Matt Stainbrook said the season-long journey has toughened the Musketeers for this moment. "We had a learning curve, and over the season we've done a good job of learning from our mistakes and getting a lot better," Stainbrook told reporters. "I think it's great that the Big East has been able to test us with some really tough teams, and I think the fact that we've grown as a team together has made us really special at this point." Forward Jalen Reynolds is coming off a big game in which he scored 21 points on 8-of-9 shooting against Georgia State.
Point guard T.J. McConnell had an exceptional game against Ohio State with 19 points, six rebounds, six assists and five steals but wasn't the lone hero. Backup guard Gabe York also was superb with 19 points and five 3-pointers and the Musketeers will surely pay close attention to him. "I wanted to be aggressive but also know that my teammates were going to find me in transition or throughout the zone with however many seconds were left on the shot clock," York explained to reporters. "I just did a great job of knocking down shots."
CHEERLEADER WAR:
TRENDS:
* Musketeers are 1-4 ATS in their last five vs. Pacific-12.
* Under is 5-1 in Wildcats last 6 neutral site games.
* Wildcats are 20-8 ATS in their last 28 games overall.
[ad_2]

Source link