[ad_1]

Akron Zips at Buffalo Bulls (+3.5,
50)
The Buffalo Bulls and Akron Zips have both been hemorrhaging
points over the past few weeks, so don't surprised to see a
shootout at UB Stadium on Tuesday night when the Mid-American
Conference rivals face off. The Zips come into this one having
dropped three in a row while surrendering 85 points during the
skid. The Bulls can do one better – or rather, worse; they've
lost four in a row while allowing an average of 32.5 points
during the streak.
The Bulls were never close in last week's 37-14 rout at
the hands of the Ohio Bobcats, falling behind 17-0 at halftime
before finally registering points on a Ron Willoughby 12-yard
TD reception and Boise Ross's 75-yard fumble return for a
score. Buffalo was torched for 389 total yards while managing a
scant 134 of its own. The Zips had 398 yards in last week's
loss to Bowling Green, but managed just a Jawon Chisholm
rushing TD and a Robert Stein field goal.

TV: 8 p.m. ET, ESPNU
WEATHER: Temperatures will be in the
mid-60s with a 20 percent chance of showers and wind blowing
north at 15 mph.
WHAT CAPPERS SAY: "The Zips enter on a 0-5 ATS
losing slide, while dropping the last three games SU as
favorites. An 18-7 turnover deficit over the last five games
has been the biggest culprit. On the flip side, Buffalo's
offense has been able to muster only 405 total yards since the
firing of former head coach Jeff Quinn. Pick your poison."
Covers
Expert Marc Lawrence
WHAT BOOKS SAY: "We opened Akron at -3. On
Monday morning, we got sharp bet on Akron, which caused us to
move the Zips to -3.5. The heavy majority of early money is
backing the Zips as well (83 percent of cash, 88 percent of
bets)." Mike Jerome of
TopBet.eu

CHEERLEADER WAR: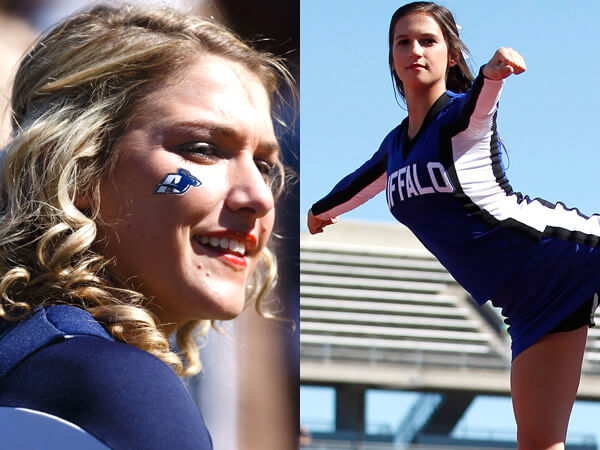 ABOUT AKRON (4-5 SU, 2-7 ATS, 2-7 O/U): It isn't enough that
the Zips have lost three in a row following a three-game
winning streak – they were also slight favorites in each game.
Quarterback Kyle Pohl returned to action following a two-game
absence and promptly laid an egg against Bowling Green, going
31-for-62 for 304 yards with zero touchdowns and three
interceptions. Chisholm was the lone bright spot for the Zips
in that defeat, rushing for 65 yards and a score on just 10
carries after being held to 19 yards on five attempts the
previous week.

ABOUT BUFFALO (3-6 SU, 3-6 ATS, 5-4 O/U): Junior
quarterback Joe Licata had what was easily his worst game of
the season against the Bobcats, completing just 9-of-20 passes
for 74 yards with a touchdown and an interception. Licata had
come into the game having thrown for 516 yards and five scores
over his previous two outings. No. 1 running back Anthone
Taylor also had a long day, compiling just 37 yards on 17
carries; it was the second straight dud for the junior, who had
14 rushes for 25 yards in a 20-14 loss to Central Michigan on
Oct. 25.

TRENDS:
* Akron is 5-1 ATS in its last six games following a
double-digit loss at home.
* Buffalo is 8-2 ATS in its last 10 games against teams
with losing records.
* Under is 13-3 in the Zips' last 16 road
games.
* Under is 13-6 in the Bulls' last 19 conference
games.

Toledo Rockets at Northern Illinois
Huskies (-4, 59)
A perfect record in Mid-American Conference play still isn't
enough to make the Toledo Rockets the favorite Tuesday night as
they visit the Northern Illinois Huskies in a pivotal West
Division matchup. The Rockets improved to 5-0 in MAC
competition with last week's 30-20 victory at Kent State, and
resume a stretch of four road games in five tilts Tuesday. The
Huskies have been impressive in their own right, winning three
in a row to move to 4-1 in MAC play.

The key to Toledo remaining untouched atop the West ledger will
be finding a way to slow down Northern Illinois running back
Cameron Stingily. The senior sensation rumbled for 148 yards
and three touchdowns on 26 carries in last week's 35-21 victory
at Ball State and has now scored six times in his last three
games. But the Rockets can certainly fight fire with fire,
coming into the week ranked 20th in the nation at better than
245 rushing yards per contest.

TV: 8 p.m. ET, ESPN2
WEATHER: Temperatures are expected to be
in the low-30s with cloudy skies and wind blowing to the
northwest at 20 mph.
WHAT CAPPERS SAY: " The Rockets enter 5-0 in
MAC play, but only 1-4 ATS in those games. They are also 0-3
ATS as dogs this season. Meanwhile, the Huskies stat sheet
matches its 7-2 SU record as they have out gained seven of
their nine opponents this season. Lean to hosts in battle for
top spot in the MAC West division, especially with UT
quarterback Logan Woodside being a bit wobbly." Covers
Expert Marc Lawrence
WHAT BOOKS SAY: "We still don't have a line on
this game until we find out more information on the status of
Toledo QB Logan Woodside, who's listed as questionable with a
leg injury. Also, Toledo RB Kareem Hunt is supposed to play, as
he's listed as probable (ankle)."
Mike Jerome of TopBet.eu.

CHEERLEADER WAR: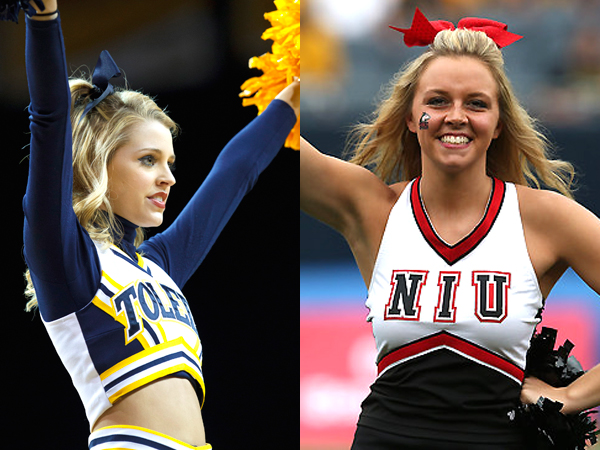 ABOUT TOLEDO (6-3 SU, 2-7 ATS, 6-6
O/U): The Rockets' offense is led by sophomore
running back Kareem Hunt, who has rushed for at least 100 yards
in all six games he has played this season. Hunt missed three
games earlier this year with an ankle injury, but has returned
with vigor – rumbling for 339 yards and a touchdown on 44
carries in victories over Massachusetts and Kent State.
Quarterback Logan Woodside suffered a leg injury against the
Golden Flashes and will likely be a game-time decision.

ABOUT NORTHERN ILLINOIS (7-2 SU, 4-5 ATS, 3-6 O/U):
Stingily has clearly put his mid-season struggles behind him;
after averaging fewer than four yards per carry in games
against Kent State and Central Michigan, he has run for better
than five yards per attempt in three straight games. His surge
has taken plenty of pressure off quarterback Drew Hare, who has
thrown just 47 total passes the previous three weeks. Hare has,
however, been a force on the ground, rushing for 386 yards and
three scores in that span.

TRENDS:
* Toledo is 1-6 ATS in its last seven conference
games.
* Northern Illinois is 1-6 ATS in its last seven home
games.
* Under is 8-0 in the Rockets' last eight road games vs.
teams with winning home records.
* Under is 3-1-1 in the last five meetings in Northern
Illinois.
[ad_2]

Source link